We know the struggle is real when it comes to choosing what to buy as a souvenir from Sweden.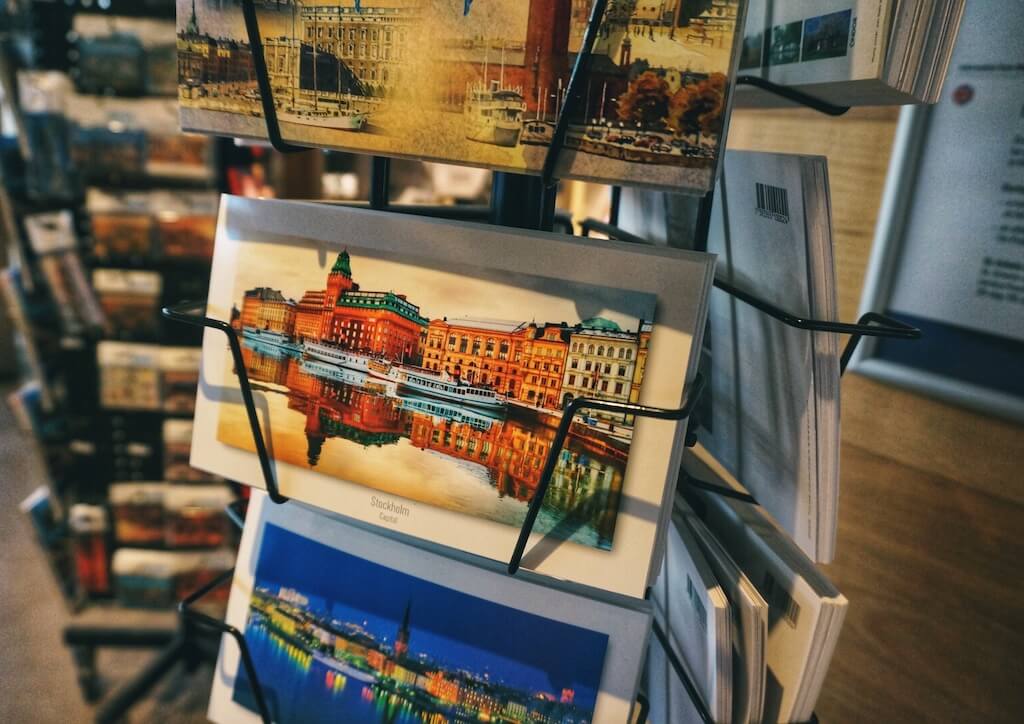 What, for instance, will really capture the tussle you had with a moose? The smell of wintery nights and summer days? And why is it so hard to convince the owner of your rental cabin to let you dismantle it, flat-pack style, and bring it back home?
Never fear. We've got a list of the 30 souvenirs from Sweden to bring home with you, starting with some traditional options.
Traditional Swedish souvenirs
1. A Dala horse
As you can see, the Dala horse souvenir is as versatile as it is stylish. If you want to branch out from the traditional wooden horse, you'll find Dala horses on everything from throws to tea towels in Sweden.
If you are a traditionalist, by all means, invest in a Dala horse. They can be pretty pricey, but they're absolutely worth the money.
Authentic Dala horses are hand-carved and painted, so each is unique even if they look similar to the untrained eye. Of all Swedish souvenirs, the Dala horse is the most easily recognizable and quintessentially Swedish.
Available at: Museum gift shops, Skansen, Tourist shops
2. Wooden kitchen utensils
Among the most common and typical Swedish gifts are wooden kitchen utensils. Yeah, the Swedes take the wooden spoon to a whole new level. Knives, forks — if you can eat with them, the Swedes make them out of wood.
The advantages of buying a wooden knife as a souvenir are numerous. Firstly, you'll never have to put up with torn bread again. Secondly, they look fabulous. This Swedish gift will ensure the safety of your future sandwiches and they're useful in the kitchen. It's a win-win.
Tip: for super fancy designs, head to Royal Design.
3. Scented candles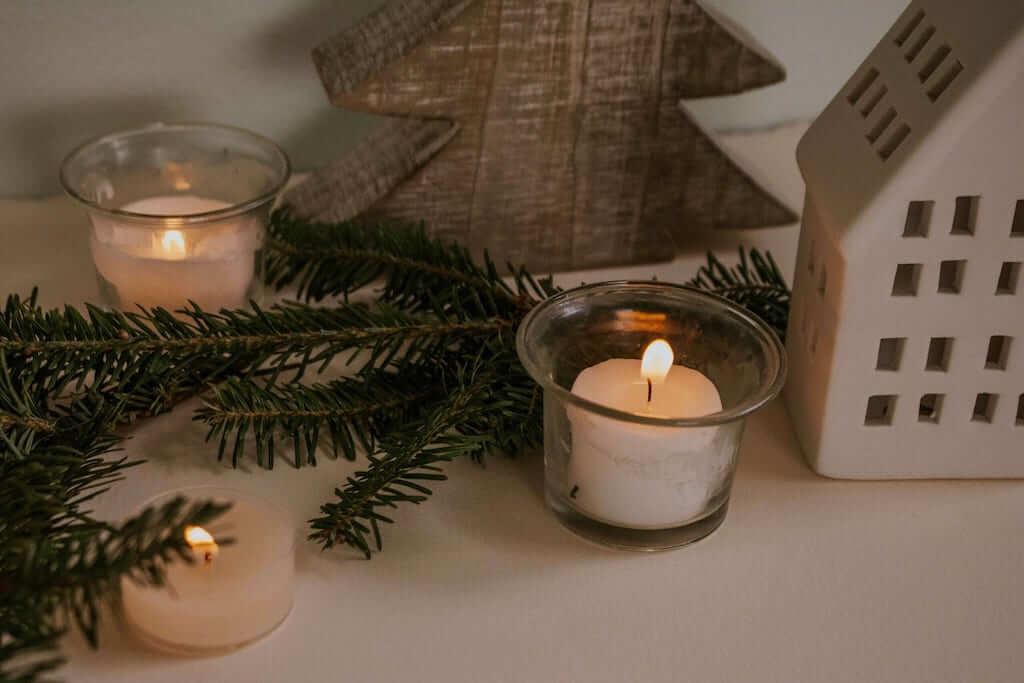 One of the first things I look forward to when I land in Sweden is the familiar smell of cinnamon, pinewood, and coffee. If like me, you can't get enough of these yummy scents, your perfect Swedish souvenir to keep your wanderlust at bay could be a scented candle!
Insider's tip: Scandi lifestyle books will tell you that scented candles are a no-no. They're right, but that fact is at odds with the overwhelming selection of scented candles available in Sweden! My favorites are cinnamon, birch, and pine.
Tip: Head to Lagerhaus (there's at least one in every city) for money-savvy alternatives
4. Candleholders
While we're on the subject of candles, a candleholder is another contender for the position as the quintessential souvenir from Sweden. Swedes certainly love their candles, but fairly often it's what's holding them that takes center stage.
What I love about this option is that it caters to all tastes and price ranges. If you're a bargain hunter, you should head to warehouse stores like Lagerhaus or Rusta. The charming gingerbread lady (above) comes in at just 100 SEK ($10).
You can also go for more bespoke alternatives such as iron, gold-plated, or even crystal candle holders, so the choice is pretty much yours!
5. Kosta Boda crystalware
If you've ever wondered what products Sweden is famous for, here's your answer. Fans of fancy tableware will already know that Swedish brand Kosta Boda is one of the world's most famous crystalware companies. And if "fancy" is how you'd like to describe the Swedish gifts you return with, then there can only be Kosta Boda!

For 200 years, Kosta Boda has made the world marvel at their designs which sparkle and glitter. You'll find everything from tumblers to carafes, vases, and even candy bowls made in the finest crystal.
Don't assume all of these products will break the bank, either: there's a fabulous outlet store in Gustavsberg, just half an hour from Stockholm's city center. Easily accessed by bus, car, or ferry.

Otherwise, look out for their products sold at Cevera, RoyalDesign, and NK.
6. Guest hand towels
The Swedes always have guest hand towels in their bathrooms. Wow your own guests at home by choosing a Scandinavian guest hand towel as your Swedish souvenir!
Many Swedes favor Marimekko for their fanciest guest hand towels, aka Finnish designer Maija Isola. Of course, you can also opt for Swedish designs featuring native Swedish animals or even Christmas themes.

Get yours at most Hemtex or Åhlèns stores (also available online).
Wearable Swedish souvenirs
7. Happy Socks
If you're looking for a practical Swedish souvenir, a pair of Happy Socks might just be for you. What better way to say "these made me think of you" than the gift of some crazy, colorful socks? Happy Socks have been making the perfect gift for people who already have everything since 2008.
The quality of Happy Socks is unmatched, and they're available to buy in box sets so they're easy to transport and gift wrap. Bring home some iconic Swedish sock designs by checking out the Minecraft box set, Swedish Edition collection, and Pippi Longstocking range.

Tip: Happy Socks are sold at Åhléns, MQ & online.
8. Viking jewelry
You don't need a doctorate in Viking history to appreciate how awesome it is. As terrifying and grizzly as their era was, all you need to watch out for these days is paying too much for inauthentic Viking Swedish souvenirs.
If you fancy pulling off Viking fashion, you can look as formidable as Thor, Loki, and Oden by picking up a Viking pendant of a rune or Mjölnir, Thor's hammer. They come in pewter, bronze, and iron varieties, and each is unique.
The runes also come with translations, so no chance you'll wander around wearing a rune that says something like "hot dog" without knowing it!
Tip: Authenticity is key when it comes to this type of souvenir, and I can highly recommend you pay Handfaste a visit if you're visiting Gamla Stan, Stockholm. The shops surrounding it can be super-touristy, but this one is an elegant gem.
9. A pair of Nudies
Don't be scared off by their name, Nudie are a jeans company from Gothenburg, western Sweden. They're also one of the most sustainable and fashion-conscious denim brands out there.
Sure, you can find them on sale all over the world, but there are more upsides to making a pair of Nudies your Swedish souvenir.
Firstly, there are repair shops all over the world that'll fix your Nudie jeans free of charge to ensure them the longest lifespan possible. Secondly, they're made with sustainable fabric and they'll last for years!

Available at: Nudie stores (and online)
10. Lovikka mittens
It almost goes without saying that some of the products Sweden is famous for were been born out of necessity. Case and point: Lovikka mittens. A pair of 100% wool mittens in the Lovikka design will keep your fingers snug and warm as you navigate Sweden's snow-covered streets — or enter into a snowball fight.
Lovikka mittens were first designed and made by the indigenous Sámi people, and the best quality ones to be found in Sweden will have their origins in the region of Norrbotten.

Tip: Many museum shops (such as Skansen) sell Lovikka mittens, and if you're in Stockholm you can get yourself a pair at Svensk Hemslöjd on Norrlandsgatan 10 or online.
11. Fjällräven accessories
The must-have accessory for any budding traveler is the Kånken backpack from Fjällräven, the Swedish brand favored by everyone from school kids to hikers.
If a backpack is a little out of your price range for your Swedish souvenir, don't worry — they've also got some pretty sweet accessories! Fjällräven has everything you need to equip you for harsh climates, so if you know it gets chilly where you live then this might be a great option for a souvenir from Sweden.

The largest store selling Fjällräven attire, Naturkompaniet, is located on Kungsgatan 26 in Stockholm. You can also find them online by visiting fjallraven.com.
12. Caroline Svedbom jewelry
This recommendation is mostly for my fellow magpies. If you can't resist going for a glittery souvenir from Sweden, I recommend taking a trip to Caroline Svedbom's sparkling jewelry store in Östermalm, Stockholm.
Caroline Svedbom specializes in jewelry designs containing crystals of dazzling colors, from pale lilac amethysts to turquoise topaz.
Although this falls into the category of luxury Swedish souvenirs, it's something that can be worn and cherished as a Stockholm keepsake for many years to come. Hard not to think of the dazzling lakes and snowdrifts when wearing opals and crystals, am I right?
Tip: You can also find Caroline Svedbom jewelry at some Åhléns stores.
Edible Swedish souvenirs
13. Lingonberry jam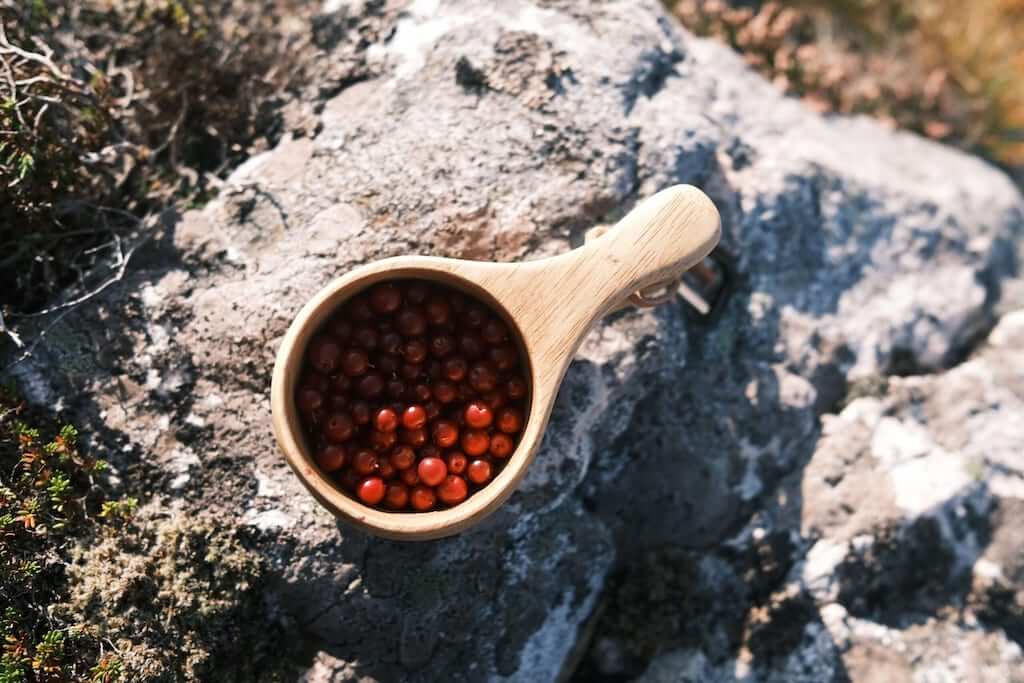 Classic Swedish dishes such as pancakes and meatballs just aren't the same without a dollop of lingonberry jam. Of all the Swedish food souvenirs, this one is particularly unique and can help conjure up some very fond memories.
There are a few options to consider when getting your lingonberry jam souvenir, depending on how much effort you want to put into procuring it.
Firstly, you can choose to go foraging for the berries yourself. Towards the end of summer and the beginning of fall (August through October), Sweden's forests start teeming with lingonberries. If you're a novice, ask a local or use Google to help you find a great spot and sort the Lingon from the poisonous berries!
If you'd rather not risk it, you'll find ready-made lingonberry jam in just about every supermarket in Sweden. You can even get a squeezy bottle so no need to worry about shattered glass in your bag.
14. Swedish crispbread
A delicious, healthy snack? Sign us up! One of the best edible souvenirs you can bring back from Sweden is crispbread. The most renowned brand is Leksands, and it's available in rye, wholewheat, and linseed varieties.
Crispbread is a snack that'll bring you back to that post-hike euphoria or sitting in front of a crackling fire after cross-country skiing. Why not prolong that feeling by swinging by a supermarket and getting some crispbread?
Available at: All major Swedish supermarkets
15. Flavored chips
Before you skip ahead thinking there can't possibly be anything different about Swedish-flavored chips compared to your own, stay with me. If you're looking for Swedish food souvenirs but hate cooking, this might just be for you.
Swedes, like everyone else, love their flavored chips. Favorite flavors include dill, sour cream and onion, and cheese. Even the sour cream-flavored chips in Sweden are vegan-friendly, but be sure to check the ingredients on the back before you buy if that's a concern for you.
Dill-flavored chips are pretty unique to Scandinavia, and their tangy flavor is so unique that you might even get away with serving them as an appetizer or a snack while you watch sports. That is, if you manage to not eat them all on the flight home.
Available at: All major Swedish supermarkets, Pressbyrån, 7-11
16. Tubed caviar
Ever heard the phrase: champagne lifestyle, lemonade wage? Well if that's you (or someone you know) a humorous and low-priced souvenir from Sweden could be one of the nation's favorite sandwich toppings: caviar. In a tube.
Looks like toothpaste, and tastes like salty, fishy tomato puree, but it's a classic. Kalles Kaviar is a Swedish souvenir that is guaranteed to take you back to topless sandwiches and listening to Swedes insisting this stuff tastes great.
If you know a Swedish expat, it's possible you'll see them lose their minds and all dignity if you show up at their house with one of these (even if they have a secret stash in the house, which many of them do).
Available at all Swedish supermarkets.
17. Marabou chocolate
Last but certainly not least on our list of Swedish food souvenirs is Marabou chocolate. A bar of this creamy milk chocolate is the ultimate easy-peasy Swedish gift if you're low on cash but big on love. After all, who wouldn't want a bar of chocolate in Swedish flavors such as Daim or, if you're feeling brave, salty licorice?
There are also more conventional favorites like Swiss hazelnut, orange zest, Oreo, and peppermint. Don't let anyone tell you these aren't just as delicious.
Available at: Major Swedish airports, supermarkets & convenience stores
Swedish Christmas souvenirs
18. A Christmas goat
Nothing says it's Christmas in Sweden quite like goats made of straw. Whether the sight of it makes you giggle or it conjures up happy festive vibes, a Julbock of your very own might be the only Swedish souvenir you need.
Available at: Most Christmas markets (see end of article) and Cevera
19. Hanging advent stars
With Santa just next door in Lapland, Finland, it figures Sweden has some iconic Christmas decorations besides straw goats.
In Sweden, Christmas decorations center around a julstake (Christmas candelabra) or an adventsstjärna (Star of Advent). This souvenir from Sweden will have you feeling more festive than usual in no time!
You can obtain candelabras or hanging advent stars in most stores in Sweden around Christmas time. If you live outside Europe and you're worried about needing electricity adaptors, don't worry, you can find battery-operated versions too.
An alternative is to buy the shell of the advent star (flat-packed, naturally) which comes in many colors and unique designs. Then all you'll need is a light bulb. Genius.
Available at: RoyalDesign.se, Designtorget
20. A Pärlans advent calendar
One of the best gifts from Sweden you can give has to be anything from the Stockholm-based confectionary store, Pärlans. Kick it up a notch by gifting someone (or yourself!) an advent calendar with 24 different flavors of caramels made lovingly by hand.

Of course, tradition dictates that you'll get to keep this box for 24 days as you make your way through it but…we won't blame you if you eat it all in one go. Just don't tell Santa!
21. Julmust & Glögg
If you want to put on a Swedish smörgåsbord-style Christmas buffet at home, you'll need something delicious to wash the food down with. Coincidentally, the two traditional options make excellent Swedish souvenirs – Julmust or Glögg.
Julmust is a bit of an acquired taste, but it's a true classic for Swedish kids at Christmas time. It's a soda drink with the same consistency and color as cola. I've heard it described as "medicine-like" in flavor – and needless to say, I disagree.
Love it or hate it, it's certainly not available anywhere else! Glögg is the grown-up alternative to Julmust, and is the Swedish equivalent of mulled spiced wine.

Tip: Available at most Swedish supermarkets or Systembolaget
Swedish souvenirs for kids
22. Swedish-themed coloring books

I won't tattle tale if you buy one of these for yourself instead of a kid. After all, adult coloring books are still growing in popularity.
However, if there are little ones expecting you to bring them the best gifts from Sweden, I'd recommend this coloring book themed around Sweden's varied and beautiful wildlife. It's got 35 pages of moose, lynx cats, owls, and more to teach tiny travellers about Sweden!
Available at: Designtorget & adlibris.com
23. Plushie forest friends
Moose, reindeer, and hedgehogs aren't the cuddliest of real-life friends so maybe it's just as well that it's frowned upon to try to persuade them into your luggage. Fret not, there are heaps of choices when it comes to finding high-quality, adorable plushie animals perfect for young ones in Sweden.
Notable brands to look out for include Bukowski and Teddykompaniet, both have earned their reputations as excellent plushie makers. Why not opt for animals modeled after the Swedish forest, such as the moose, fox, or reindeer?
Available at: Åhléns, Teddykompaniet.se & Bukowski.se
24. A game of Kubb
On your list of things to buy in Sweden should be a humble set of Kubb blocks.
Kubb is a game that will bring all your friends and family together and if you've spent Midsummer celebrating with Swedes, then you'll already know how these innocent-looking pieces of wood can make you want to scream in frustration — in the best possible way.
Tip: You can get a set of your own or as a gift from Jula, Clas Ohlson, or even larger supermarkets.
25. Swedish puzzles & games
For some brain workout Swedish souvenirs that can involve the whole family, take a look at some of the puzzles and board games on offer.
Check out the Stockholm City puzzle, which will help you reconstruct your memories of the Swedish capital – and look stylish on your wall if you frame it when you've completed it. Of course, you can always pick up a game of Swedish Monopoly (check to make sure there are rules/instructions in English before you buy!)
Alternatively, bring a little bit of Swedish "mys" (coziness) to your home by opting for the Hygge game. This little box contains questions that you and your nearest and dearest can ponder together as you wrap up warm and munch on cinnamon buns. Bliss!
Available at: Designtorget, Åhléns
Miscellaneous Swedish souvenirs
26. Arvid Nordquist coffee accessories
Spend any amount of time in Sweden and you'll realize it's coffee that's keeping the country fuelled.
If you love coffee as much as the Swedes (or you know someone who does) the perfect souvenir from Sweden could be anything related to coffee. If you're not fond of the filter coffee that Swedes swear by, why not opt for some coffee accessories instead?
Arvid Nordquist began selling coffee in the late 1800s, and today he's revered as one of Sweden's top coffee brands. Keep your coffee fresher for longer in Swedish style by opting for an Arvid Nordquist coffee tin as your Swedish souvenir. There's also a pretty stylish thermos available too!
27. Swedish city totes
Show off every time you go to buy groceries by picking up a tote with your favorite Swedish city on it!
Alternatively, if you're going Swedish souvenir shopping, you might as well have somewhere nice to put your goods. Whether you've fallen in love with Stockholm, Malmö, or Göteborg, let everyone know about it when you get home by using one of these tote bags from Designtorget.
28. Eco beauty products
Being kind to the Earth and its creatures doesn't have to mean neglecting your beauty regimen. Finding the perfect Swedish gift or souvenir could be as easy as visiting a local pharmacy before you hit the airport.
Sweden has been at the forefront of revolutionizing the beauty industry by using less harsh chemicals and advocating for animal rights and the environment.
For hair care, check out Maria Nila and Sachajuan for cruelty-free products. Some are suitable for vegans, too! They also smell amazing and contain fewer chemicals than many other big brands, it's a win-win!

If skincare is your concern, look no further than Björk and Berries or Estelle & Thild. They're made with locally sourced, natural products straight from Sweden's abundant forests to keep you soft and smelling great.
Also worth a mention is Löwengrip. Created by Sweden's most famous beauty blogger, Isabella Löwengrip, her products are cheaper but no less classy.
29. ABBA Memorabilia
Listen. Whether you want to admit it or not, I'm guessing many of you will have the ABBA museum on your itinerary while visiting Stockholm. It might even be the reason for your visit.
That's okay. If there's a lack of iconic '70s band merch/memorabilia in your home, then a trip to the ABBA museum gift shop is what's needed to help you get your fill.
It has everything from key chains to mugs, tees, and vinyl records for Dancing Queens and Super Troupers alike. The only question is Voulez-Vous some tips? Personally, I'm obsessed with this magnet of the band wearing catsuits. I'm out of puns, but check out their website to see the full array.
Tip: The ABBA museum is located in historic Djurgården, which is also where you'll find all of Stockholm's other main museums and attractions. It's a stone's throw away from the shopping districts of Gamla Stan and T-Centralen too!
30. Reindeer products
Lastly, northern Sweden (Lapland in particular) is famous for its large population of reindeer. These are cared for and herded by the indigenous Sámi people and are the main source of income in the area.
You'll find reindeer products ranging from meat to fur, as well as leather and everything in between for sale in Sweden.
Just a word of warning, however. Before you buy some reindeer jerky or a classy reindeer hide rug, it's worth finding out what your customs rules are on bringing animal products through border security. Reindeer are protected and so products derived from them can be extremely expensive.
Available from: Major Swedish airports, LovefromLapland.se
Sweden souvenirs online
Buying souvenirs from Sweden online is now easier than ever. Depending on where you are in the world, you might have the option to select shipping to your home country from the links provided here.
Failing that, there are business-minded Swedes around the world dedicated to getting some of the above to you without having to make the trip to Sweden yourself!
Australia: Aussies (or Swedish expats in Australia) can get their Swedish souvenirs or gifts from Nordic Fusion or FIKA Swedish Kitchen. No need to miss filter coffee or dill chips with these two around!
United Kingdom: ScandiKitchen, located in London, is a cafe and online business that supply Scandinavian favorites to the U.K market. Owner, Brontë Aurell (as well as being a lovely person) has written the ultimate Scandi cookbooks covering Fika and Christmas.

United States: Sweden's Finest do an excellent job of delivering all the Swedish souvenirs and gifts you could need from Fort Myers, Florida. They sell everything from Swedish calendars to Dala horses (and of course, food!).
Christmas Market info: Stockholm: Gamla Stan or Skansen. Göteborg: Liseberg. Malmö: Svaneholm Castle.
Whatever you love about Sweden, there's a tiny piece for everyone to take home as a souvenir and cherish. Whether it's the food, interior design, the quirky design, or the games Swedes play, it's here on our list of 30 souvenirs from Sweden to bring home with you.
What did you pick up in Sweden the last time you visited? Let us know in the comments below!

Also read:
Swedish souvenirs to bring home with you – Pin it!