Belgian chocolates are my personal favorite sweet treats.
Don't get me wrong, Swiss chocolates are pretty awesome too but the richness of a Belgian praline and the fragrance of a Belgian chocolate truffle are simply incomparable to anything else!
If you're a fan of Belgian chocolate like me, you'll understand. For the uninitiated though, here are 11 of the best Belgian chocolate brands to check out.
Trust me, they will make you absolutely fall in love with Belgium's premium desserts!
1. Godiva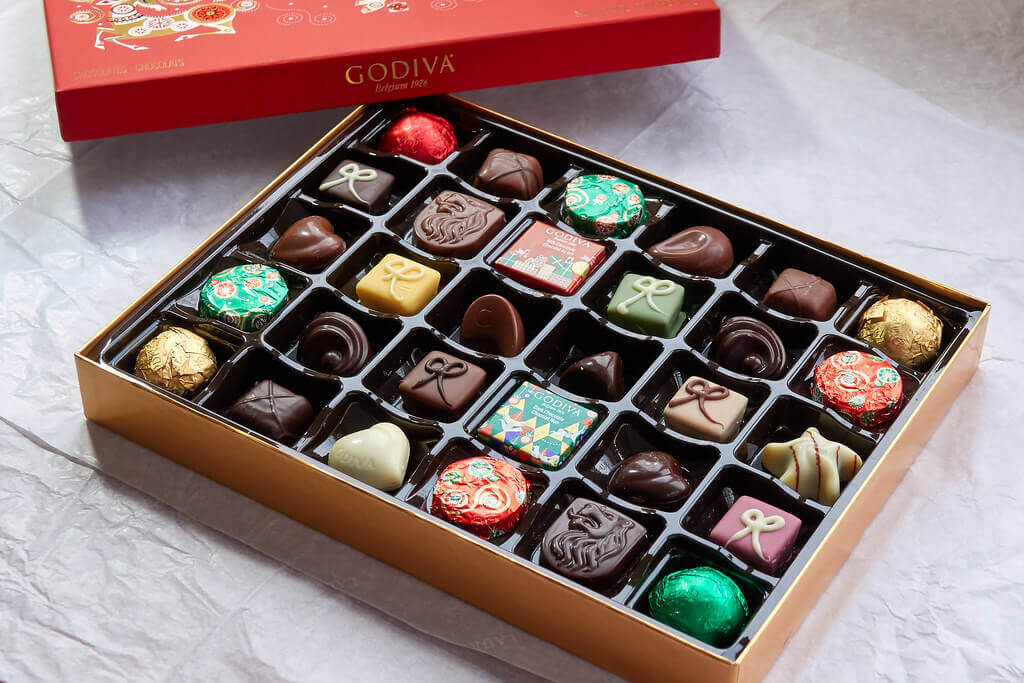 Out of all the Belgium chocolate brands on this list (and in the world), none are as globally famous as Godiva.
What started out as a small boutique in 1926 has now become THE premium chocolate brand from Belgium, well-loved by chocolate connoisseurs around the world. It's also MY personal favorite!
Back in its home country, this famous Belgian chocolate brand is an official chocolatier to the Royal Court of Belgium. Basically, their chocolates are fit for royalty!
Speaking of, their most famous product is their signature chocolate truffles. Made using the finest ingredients by some of the finest chefs, their sweet treats are absolutely delicious!
Here are our favorite picks from Godiva:
Obviously, you can't go wrong with a box of their chocolate truffles!
However, the best way to sample all the different types is to get one of these gift boxes. It features a variety of dark, white, and milk chocolate truffles that you can eat to your heart's content.
There are also different fillings encased in the rich chocolate. These include fruit preserves, ganache, salted caramel, and more. It's the perfect way to experience the pristine quality of Godiva chocolates.
Plus, personally, I think these are possibly the best Belgian chocolates you can buy online!
If you adore Godiva chocolate but would also like to watch your caloric intake, I recommend these instead.
Individually packaged, these fun-sized milk chocolate bars allow you to snack on deliciously smooth chocolate guilt-free. Just try not to eat too many in one go or it defeats the purpose anyway!
For the best Godiva experience, this 36-piece chocolate gift box is the ultimate indulgence.
Containing a wide variety of chocolate truffles including ganaches, pralines, and nut fillings, you can savor every delicious piece of chocolate as you leisurely take your pick from the box!
2. GuyLian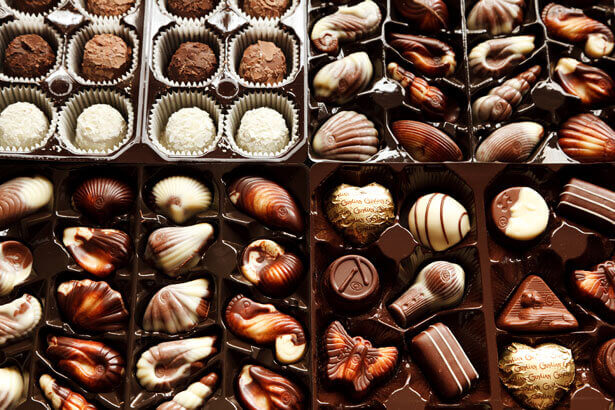 Although Godiva is easily the most famous Belgian chocolate brand in the world, GuyLian holds a special place in my heart.
While you may not immediately recognize the name, I'm sure you'll remember Guylian's signature seashell-shaped chocolates! I used to eat these all the time when I was a kid!
Having started out in 1958, GuyLian is actually now owned by the gargantuan South Korean company, Lotte. That being said, the recipe for its famous Belgian chocolate has not changed, even after over 50 years of quality and excellence.
The best way to sample this famous Belgian chocolate treat is to opt for one of these signature gift boxes.
Each set contains 22 GuyLian signature shell-shaped Belgian chocolates. Made using the finest cocoa beans and filled with fragrance roasted hazelnut praline, each piece will surely satisfy your palette.
The gift box also contains a mixture of white, milk, and dark chocolate so not only are the chocolates delicious, they're also extremely pretty to look at!
3. Côte d'Or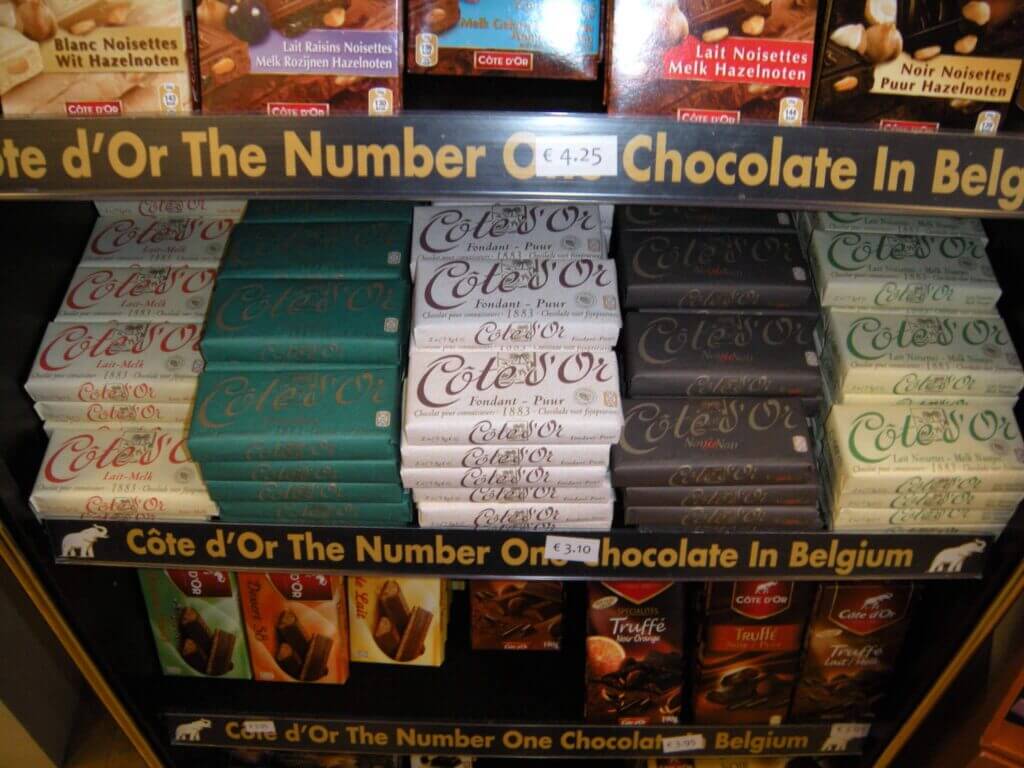 Côte d'Or is easily one of the oldest Belgian chocolate brands on this list. It was founded in the late 1800s by Charles Neuhaus and sells some of the best Belgian chocolates on the market today.
Côte d'Or's name and emblem are an ode to the country of Ghana, which is the main supplier of the cocoa beans the company uses.
Walk into most supermarkets in Belgium and you'll find plenty of Côte d'Or products. These range from milk chocolate bars to dark chocolate truffles and even caramelized cocoa nibs. The variety is endless.
Some of the best Côte d'Or Belgian chocolates online are:
Chokotoff Côte d'Or is one of the signature chocolate products of Côte d'Or. It is basically delicious toffee encased in a shell of rich dark chocolate.
Each individually wrapped chocolate toffee promises a (literal) burst of flavor and is definitely a must-try for any self-loving chocolate connoisseur!
However, if you want a more traditional taste of this classic Belgian chocolate brand, try their popular milk chocolate bars instead.
They come in a variety of different flavors but my personal favorite is the hazelnut milk chocolate. After all, you can never go wrong with this time-tested combination!
4. Neuhaus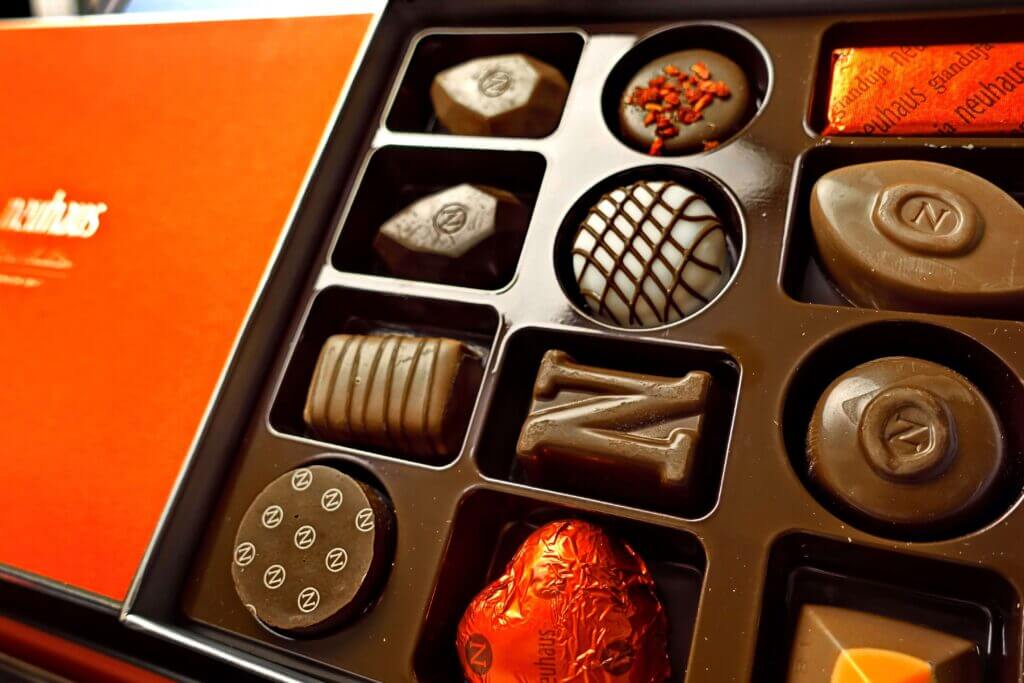 What if I told you that one of the most famous types of chocolate in the world today, the Belgian praline (chocolate with a soft center), was actually inspired by a doctor?
In the 1850s, a young doctor by the name of Jean Neuhaus opened an apothecary in Brussels. In order to encourage his patients to take their medicines, he started covering them in chocolate. Many years later, his grandson took this ingenious idea and invented the Belgian praline!
Since opening in 1912, Neuhaus has now grown to become one of the most popular premium chocolate brands from Belgium. Sticking true to their tradition, the recipe of their famous milk chocolate pralines remains the same. Although I personally prefer the dark chocolate version and their fun-sized bonbons!
5. Pierre Marcolini
When a chocolate brand shares the same name as a famous chef who's touted as one of the best pastry chefs in the world, you can bet it's crazy popular.
Despite being one of the youngest Belgian chocolate brands on this list, Pierre Marcolini (the franchise) has store locations all over the world including France and Japan. It's safe to say that this award-winning chocolatier is quickly establishing itself as THE premium chocolate brand from Belgium.
Pierre Marcolini uses cocoa beans sourced directly from local producers, ensuring that the chocolate that's manufactured is of the utmost quality.
Eager for a taste of premium Belgian chocolate by the world's best pastry chef? Then I recommend checking out their scrumptious truffles and their luxurious chocolate boxes.
6. Galler
While Pierre Marcolini is an establishment steeped in the glamor of a world-renowned chef, Galler, on the other hand, is a success story of humble beginnings.
Jean Galler, the founder, hails from a tiny village in the district of Liege. As a youth with a passion for chocolates, he started experimenting with different creations and even studied in Basel and Paris before finally opening his own chocolate shop at the age of 21.
Today, Galler is a popular Belgian chocolate brand that specializes in various flavored chocolate bars and chocolate tablets. The original shop and headquarters remain in Liege, a testament to Jean Galler's successful pursuit of his lifelong dream.
7. Leonidas
Despite its unique logo, Leonidas is actually not related to the Spartan warrior king of legend. Rather, it is a beloved Belgian chocolate brand with over 100 years of history and with physical and online stores throughout the world.
Featuring more than 100 different types of delicious Belgian chocolates, Leonidas prides itself on using only the finest natural ingredients. What makes this chocolatier unique is that it uses pure cocoa butter rather than palm oil, which is the conventional ingredient used in most chocolates.
Leonidas's best chocolates are its assortment of chocolate bars and orangettes (which is actually one of my favorite chocolate treats). For the uninitiated, orangettes are basically candied orange peels dipped in bittersweet chocolate. It's an amazingly balanced treat for the palette.
In addition, marzipans are also quite popular at Leonidas, even though they're not technically chocolates.
8. Wittamer
Wittamer is a Belgian chocolate brand that is often held in high regard. It's not just because it has almost 100 years of history and tradition though.
It's because, in 1999, this family-owned chocolatier in Brussels designed and created the wedding cake for Belgium's King Philippe and his wife, Queen Mathilde! While they don't often sell wedding cakes these days, their famous Belgian chocolates are still fit for royals!
We particularly like their ganache, truffles, and caramels. In addition to their heavenly chocolate, Wittamer also sells macarons and candy too!
9. Bruyerre
Bruyerre is another century-old Belgian chocolate brand with a worldwide fanbase. This widely popular chocolatier was founded in 1909 in the sleepy town of Gosselies. Bruyerre is known for its delicious premium Belgian chocolates and for its relatively affordable price tags.
The trademark of Bruyerre chocolates is the combination of smooth chocolatey textures and subtle fragrances. Their hazelnut pralines, ganache, and chocolate creams are easily their most popular products.
And, with international shipping, Bruyerre chocolates are arguably some of the best Belgian chocolates online that you can have delivered right to your doorstep!
10. Belvas
For a different kind of guilt-free chocolate, try Belvas!
What makes Belvas stand out from the crowd is that it is one of the first Belgian chocolate brands in northern Europe to market itself as a fully organic brand.
The amazing chocolates at Belvas are organic, fair trade, and even gluten and sugar-free! However, you probably wouldn't have known all that because their products are just as heavenly as any of the best Belgian chocolates on the market!
Despite having only been established in 2005, Belvas has an impressive catalog of products. Some of their best sellers which we recommend are their organic chocolate bars, sugar-free truffles, and broken chocolate series.
11. Mary
In 1919, Mary Delluc opened her first chocolate shop in the streets of Brussels. In an industry predominantly occupied by men, Mary relied on her innovative recipes and excellent chocolate to establish herself in the field.
Today, Mary chocolates are one of the most famous Belgian chocolate brands in the world! In fact, today, Mary chocolates are one of the few chocolatiers that have been honored by the Belgian Royal Warrant. This means that they make chocolates for the Belgian royal family!
You can sample some of the fine Belgian chocolates by visiting their online store and picking up some of their signature pralines. True to the nature of their origin, chocolates from Mary are packaged in elegant gift boxes that make them almost too good to eat!
In addition, their milk chocolate rounds with dried fruit and champagne truffles (which come in heart-shaped boxes!) are also pretty popular.
Conclusion
And voila, 11 ridiculously good Belgian chocolate brands to fully satisfy your cravings. I must confess that while writing this, I nearly made an impulse purchase of 10 boxes of Godiva truffles!
Can't get enough of the sweet, sweet taste of chocolate? Check out these chocolate brands from Switzerland, Italy, Germany and the U.S. too. Or read about the 15 countries with the best chocolates in the world.