Ohio: The Buckeye State, Birthplace of Aviation, and Heart of it All.

Ohio is known for Cedar Point, Rock and Roll Hall of Fame, and Pro Football Hall of Fame. For a day in nature, visit Hocking Hills. Ohio's inventions are the phonograph, gas-powered automobile, golf balls, and Superman. Then there's Neil Armstrong, the first person to walk on the moon.
I lived in Ohio for most of my life before relocating. Therefore, I can say that Ohio is never short on things to see or do.
I lived in Ohio for most of my life before relocating two years ago. Therefore, I can say that Ohio is never short on things to see or do. While the list is brief, if you're planning a trip, this covers the popular attractions along with some interesting facts.
Before you go…
Check out our favorite websites for travel planning and booking!
➡️ Find the cheapest flight options on Kiwi.com
➡️ Book your accommodation in advance on Booking.com

➡️ Find interesting tours and excursions on Viator or GetYourGuide
➡️ Buy your travel insurance on SafetyWing
1. Columbus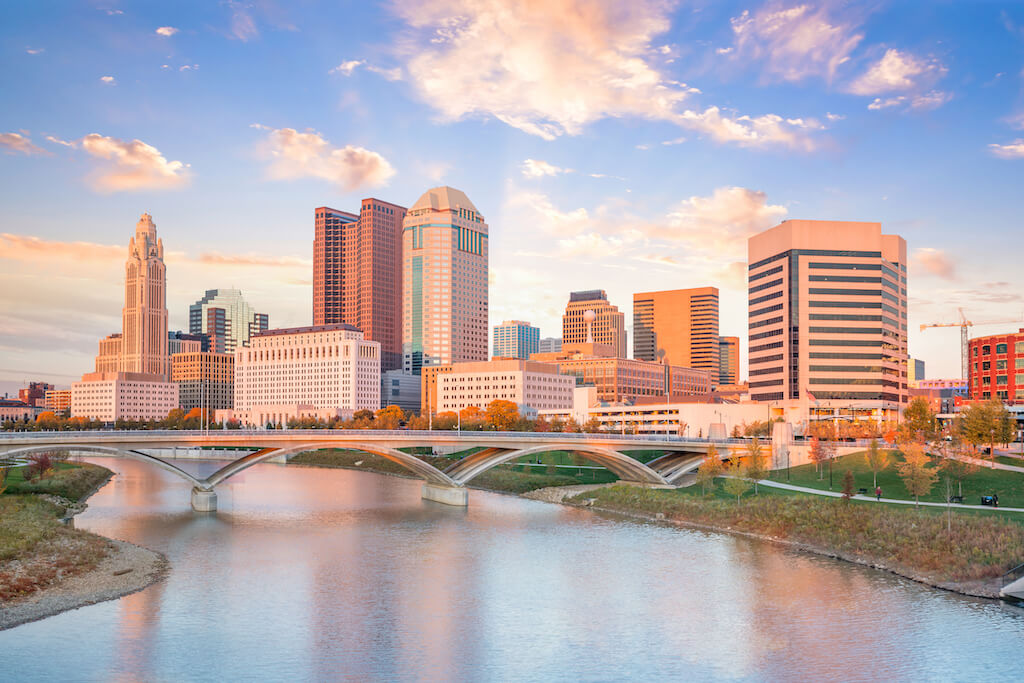 Ohio is famous for its state capital, Columbus. Columbus is located roughly in the middle of the state and is the most populated city in Ohio. Columbus has the slogan 'The Heart of it All.' This is because 48 percent of the United States population lives within 500 miles of the city.
Columbus is known for its sports and universities. Some of the top universities in the country reside in Columbus. These include The Ohio State University, Capital University, and Columbus College of Art and Design.
Six Fortune 500 companies also call Columbus Home. Amongst them are Nationwide, L Brands, and American Electric Power.
Columbus is also famous for having one of the most widely-known zoos. The Columbus Zoo and Aquarium gain visitors from all over. During a visit, you can expect to see more than 7,000 animals from seven regions. Some of my personal favorites are the elephants and giraffes.
Find out what else Columbus is famous for in this article.
2. Buckeyes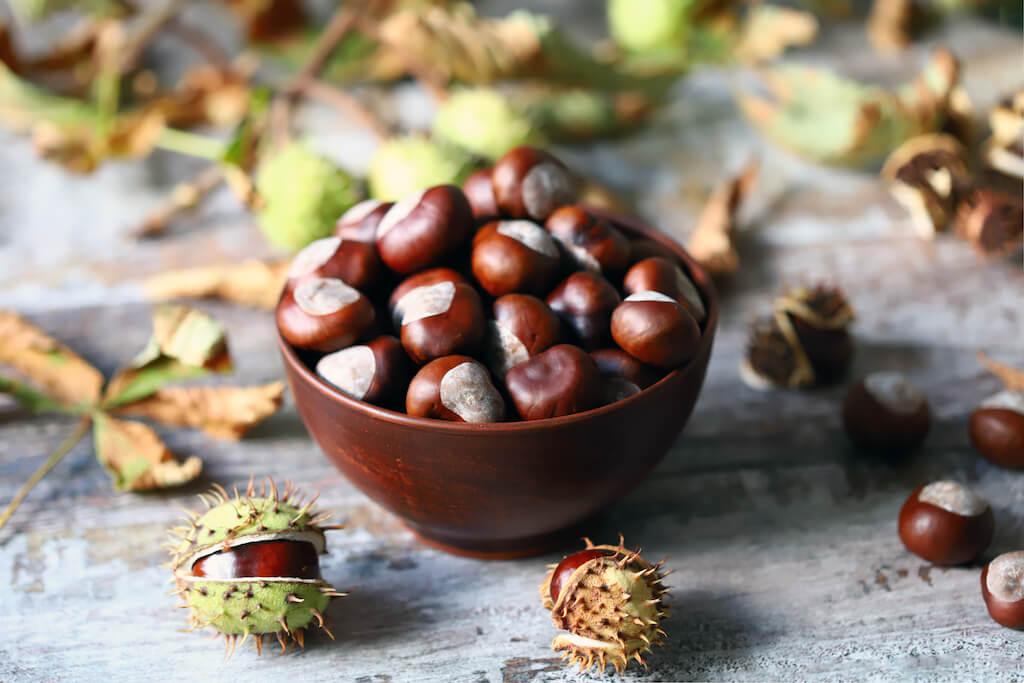 Ohio is known for being the Buckeye State. You may have heard of The Ohio State Buckeyes. It is, after all, the mascot for the largest university in Ohio.
So, what is a buckeye? Buckeyes are dark brown nut-like seeds with a lighter brown/cream-colored center. Buckeyes grow on buckeye trees, which are common throughout the state. That's why it makes a perfect Ohio souvenir.
In their natural form, buckeyes are toxic to humans. Eating them poses many health risks, including death. So if you find one, it is best to just keep it as a keepsake. In fact, across Ohio, it is considered a good-luck charm to have a buckeye in one's possession.
If you must eat a buckeye, though, stick to the candied form. These delicious peanut butter treats are sold widely across Ohio. A creamy peanut butter ball dipped mostly in chocolate, the candy buckeye resembles the nut. Recipes can be found to make them at home, and they are often a popular holiday or game-day sweet.
3. Sports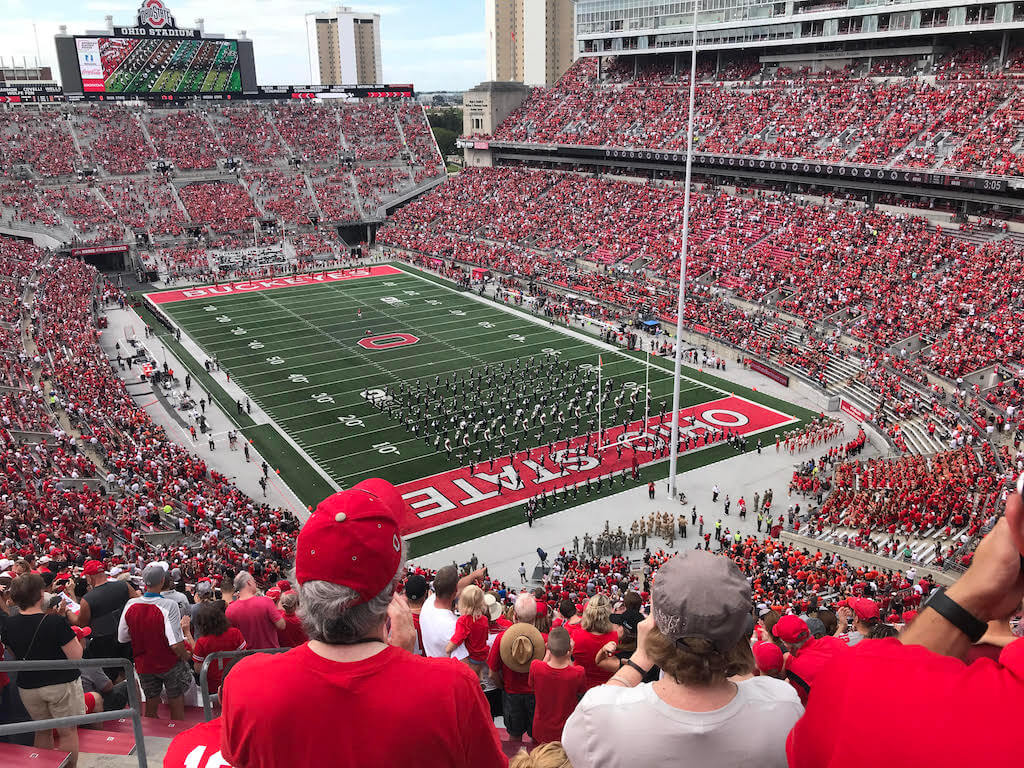 Ohioans love their sports. Ohio is famous for having a multitude of well-known college and professional sports teams. Whether it is a weekend or a weeknight, sports of some kind will be on millions of televisions in support of the home teams.
Of course, there is The Ohio State Buckeyes for college sports, including football and basketball, amongst many others. Ohio State football games pack in over 100,000 fans on game day. Go out on game day in Ohio, and you will be walking in a sea of scarlet and grey. Other universities across Ohio have teams of their own to show their pride.
There are many professional teams as well. For football, there are the Cincinnati Bengals and Cleveland Browns. Basketball gives Ohio the Cleveland Cavaliers. If you're a soccer fan, the Columbus Crew is the team to watch.
The Cleveland Indians, Cincinnati Reds, and the Columbus Clippers are Ohio's three baseball teams. They are spread across Ohio, making it easy to attend a live game.
Last but not least, there's ice hockey with the Columbus Blue Jackets for a chilly, action-packed night. If they score a goal, be ready for the cannon. It can be quite startling!
As you can see, Ohio is not short on sports. From college to professional, and everything in between, you're sure to catch a game any day of the week!
4. The Wright Brothers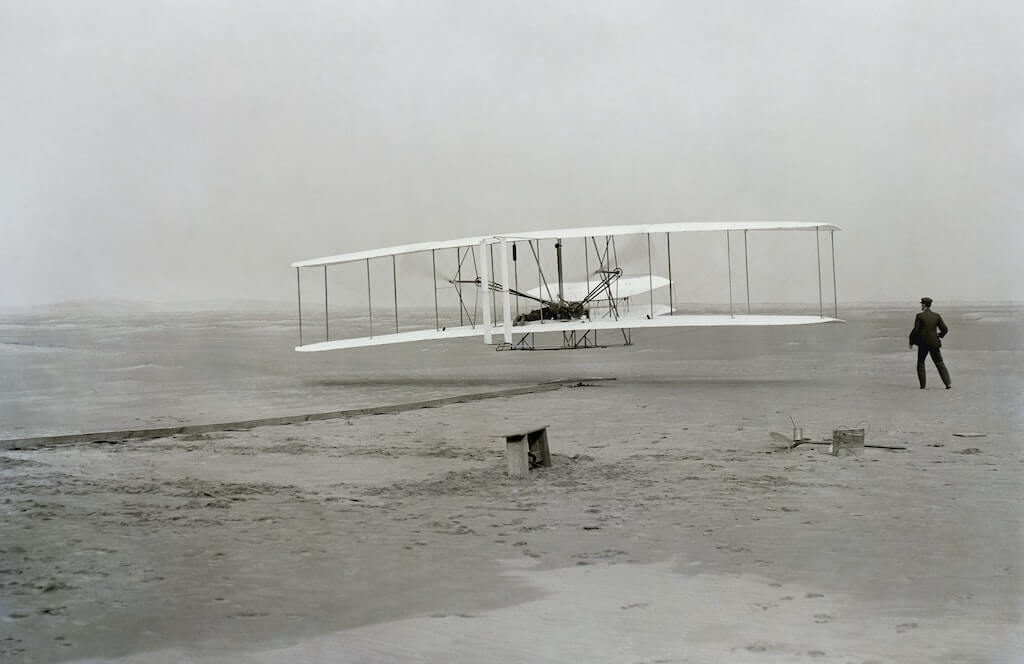 Ohio is famous for the Wright Brothers. Orville and Wilbur Wright are most famous for inventing the first successful motor-powered airplane in the world. On top of designing the plane in Dayton, Ohio, they also built and flew it themselves. Their accomplishment lead Ohio to become the known as Birthplace of Aviation.
Orville was the first to actually fly The Wright Flyer successfully in 1903. So, how did he win this honor? The fate was determined by a simple coin toss.
After that, the brothers took turns flying The Wright Flyer for a total of four flights that fateful day. Unfortunately, The Wright Flyer was damaged by a gust of wind on that very same day. The damage was irreparable.
The brothers flew together only once in 1910. This was due to a promise they'd made to their father in the event that a fatal accident occurred. However, their father made an exception one time, allowing them to take flight as a team. Shortly after, Orville took his father on the first flight of his life.
5. Ohio's Famous Museums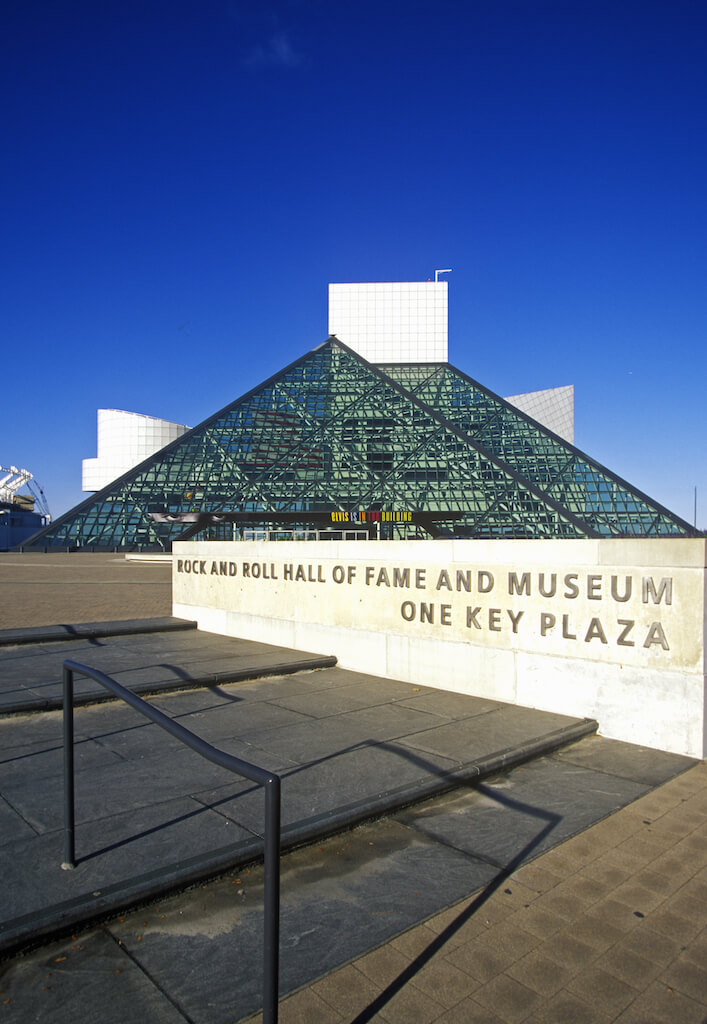 Ohio is famous for having several museums that attract visitors from all over.
The Rock and Roll Hall of Fame is one of the most known museums to lovers of music.
Located in Cleveland, Ohio, the museum documents rock music history while honoring notable figures who have influenced the rock genre. Being inducted into the Hall of Fame is considered to be of the highest tribute. Amongst the Inductees are Ray Charles, Elvis Presley, Johnny Cash, Aerosmith, and Whitney Houston.
Also located in Ohio is the Pro Football Hall of Fame, honoring remarkable figures in professional football. The museum is located in Canton, Ohio, and has been open since 1963. While there is no set number of nominees each year, between four and eight inductees must be chosen by a 49-person committee. The Hall of Fame hosts numerous football events throughout the year and can be rented out for private parties.
Ohio is famous for the National Museum of the U.S. Air Force, located in Dayton, Ohio. The museum is located on the Wright-Patterson Air Force Base. It is the largest military aviation museum on Earth. When visiting this awe-inspiring museum, you can view a display of over 300 aerospace missiles and vehicles. If that's not enough, there are thousands of other historical items to see during your stay.
6. The Ohio State Reformatory
Ohio is famous for the Ohio State Reformatory. The Reformatory was an intermediate prison for first-time offenders. The prison was built between 1886-1910 and housed prisoners until 1990. Although it was once considered to be one of the best prisons in the country, it ultimately closed due to overcrowding and poor living conditions.
But what is the Ohio State Reformatory known for? It is most known for being extremely haunted. Of the paranormal are both prisoners and prison workers. You can take a self-guided, guided, or inmate tour. If you visit during October, the Reformatory also has the Blood Prison Haunted Tour.
The Ohio State Reformatory is also known for having appeared in several famous movies. The Shawshank Redemption and Air Force One are likely the most well-known movies filmed in the Reformatory.
7. Amish Country
Ohio is known for its Amish Country. Holmes County is home to roughly 23,000 Amish citizens, making it one of the largest Amish communities in the world.
Amish are known for leading simple lives. Many still get around by horse and buggy, and much of modern-day technology is shunned. Schooling typically ends after the eighth grade. A large portion of the Amish makes a living from farming. Other sources of work include home construction, carpentry, and other trades.
You can visit Holmes Country and get a first-hand look at how the Amish live. Some shops sell Amish-made furniture and foods to take home with you. Amish cheese is some of the creamiest I've ever had! Or, eat in one of the restaurants for an authentic Amish home-cooked meal.
8. Ohio's Unique Flag
Ohio is famous for its unique flag. Designed by John Eisenmann, the Ohio Burgee is the only U.S. state flag that is not rectangular. The triangular swallowtail flag is red, white, and blue and was adopted as the state flag in 1902.
There is a theory that the shape and design of the Ohio Burgee represent much of what Ohio is. The blue triangle stands for Ohio's hills and valleys. The red and white stripes stand for the roads and waterways. The white circle with a red center is an 'O,' which stands for Ohio.
Then there are the 17 stars, 13 of which stand for the 13 original colonies. The remaining four stars at the apex bring the total to 17 because Ohio was the 17th state.
9. Northern Cardinal
Ohio is known for its state bird, the Northern Cardinal. Cardinals can be found in all 88 counties around the state and are known for their red coloring.
Males tend to be brighter in color, which is to help attract mates. Females are duller, which helps to camouflage them from predators. Cardinals are monogamous birds and stay with their mate year-round.
There are some mixed-sex cardinals that are bright red on one side of their body and dull on the other side of their body. The mixed-sex birds are non-vocal and usually don't mate.
One feature of cardinals is their short beak. Their beak has been adapted to help them break open seeds and berries.
10. Famous Inventions from Ohio
Ohio is famous for having many inventions that were developed in the state. In addition, several famous inventors were also born in Ohio.
Thomas Edison, perhaps one of the most heard of inventors, was born in Milan, Ohio. Edison is most famous for the invention of the light bulb. However, he also invented the phonograph and the incandescent lamp, amongst many others.
John W. Lambert of Ohio City, Ohio, is known for inventing the first American gasoline-powered automobile. Lambert also held over 600 patents for other ideas and inventions.
Other famous inventions from Ohio include rubber, the pop-top can, the cash register, the airplane, and the golf ball. And you can't forget Superman, who comes from none other than Cleveland, Ohio.
Well-known foods invented in Ohio are Quaker Oatmeal, Lifesavers, and the hot dog.
11. Corn
Ohio is known for being a leader in corn production. Ranked in the top ten in the United States for the crop, over half the state is dedicated to farmland. Ohio's corn isn't just for human consumption. It is also used for feeding livestock and poultry and for making clean-burning high-octane ethanol.
Of course, eating corn straight from the cob is the most popular way to eat the vegetable. Add a little butter, salt, and pepper to sweet corn, and you have yourself a real treat. Other popular recipes made from corn are corn salsa, cornbread, and corn chowder.
If you're ever in Dublin, Ohio, be sure to check out the concrete cornfield. It is a publicly funded art installation that is a bit of a landmark for the city. Its originating purpose was to pose as a reminder of Dublin's agricultural heritage.
12. Alcoholics Anonymous
Ohio is famous for founding the support group Alcoholics Anonymous, otherwise known as A.A. Alcoholics Anonymous started in Akron, Ohio, in 1935 in a meeting between successful men.
The founders Robert Smith and Bill Wilson were recovering alcoholics that were still struggling with temptation. A.A. is based on a 12-step program leading its members to a sober life. Sobriety chips are given to members for each sober milestone reached.
Since its beginning, the program has spread across the globe into over 180 nations. Membership stands at around two million.
13. Ohio's Amusement Parks
Ohio is known for its amusement parks. If you're looking for a thrill during your stay, you're never far from a roller coaster adventure.
Cedar Point is the most famous amusement park in Ohio. Located in Sandusky, Ohio, along the coast of Lake Erie, the park holds several records, including the most roller coasters at one park.
In addition, they are the second-oldest operating amusement park in the country. One of the most widely-known coasters at Cedar Point is Millennium Force, drawing in thrill-seekers from all over the world.
I have been on Millennium Force at least a dozen times myself. It is definitely one of my favorite rides. If you get a chance, ride it at dusk. Positioned right by the lake, you get gorgeous views while not being able to see the track for the first massive drop. Trust me, it adds to the fun! Another favorite of mine is Top Thrill Dragster. Don't let the height of it intimidate you. It's one of the best rides in the park!
Kings Island is another famously known amusement park in Ohio. Located just outside of Cincinnati in Mason, Ohio, Kings Island houses 15 coasters and 3 water rides. They proudly boast of being the largest amusement and water park in the Midwest. Most known for The Beast, the wooden coaster has given the park a world record for being the longest in the world.
14. Firsts for African Americans
John Mercer Langston was the first African-American elected into public office for Town Clerk in Ohio in 1855. He has several other firsts and accomplishments as well.
In 1854, he was the first African American to become a member of the Ohio Bar. In 1868, Mercer went on to establish Howard University School of Law and serve as Dean.
Ohio is also famous for having the first interracial and coeducating college. Oberlin College, located in Oberlin, Ohio, was the first college in the United States to accept African-American and female students.
One of the college's students was none other than John Mercer Langston, who went on to accomplish great things throughout his life.
15. Indian Burial Mounds
Ohio is famous for its Indian Burial Mounds. In total, Ohio has over 70 Indian Mounds. Many of them are open to the public. The mounds are burial sites for the Adena and Hopewell Tribes.
Serpent Mound is the most known Indian Mound in Ohio. Located in Peebles, Ohio, Serpent Mound is an internationally recognized National Historic Landmark.
The prehistoric mound is considered an effigy mound. An effigy mound is a mound that's shaped to look like an animal. It is an impressive 1,348 feet long and three feet high and is the largest in the world.
Because no artifacts have ever been found, the origins of the mound are unknown. However, it is estimated that the mound could be as old as 800 BC.
16. United States 'Test Hub.'
Columbus, Ohio, is known for being a major test hub in the United States for new food concepts and restaurants. This is partly due to 50% of the U.S. population being within a 10-hour drive of the city.
Columbus also has a large and diverse demographic and international presence. Because of this, it is said that if an idea can become popular in Columbus, it can make it just about anywhere.
Many widely known eateries first started in Ohio as test restaurants. Amongst them are Wendy's, Jeni's Ice Cream, Bob Evans, Max & Ermas, and Buffalo Wild Wings.
Another gem is Skyline Chili. Although not as popular, Skyline Chili definitely has its own following. What makes it different is that chocolate and cinnamon are part of the recipe. The uniquely flavored chili is either loved or hated. Me personally? I love it!
17. Hocking Hills
Ohio is known for Hocking Hills State Park. Hocking Hills is a hiking region that offers many trails to explore with gorgeous views. There are seven major hiking areas, all of which offer something a little different.
One of the most known trails is for Old Mans Cave. This trail is labeled as strenuous and takes you up steep climbs and uneven stairs. The trail has waterfalls and natural rock formations. If you're up for the challenge, it is definitely a hike that is worth taking. I've done it a handful of times, myself.
18. Famous people
Ohio is famous for astronaut Neil Armstrong. Born in Wapakoneta, Ohio, Armstrong is known for being the first person to walk on the moon.
Famous actor and comedian Drew Carey was born in Cleveland, Ohio. Carey is most known for The Drew Carey Show and Whose Line is it Anyway. He is currently the host of the long-running show The Price is Right.
Actress Sarah Jessica Parker is from the small town of Nelsonville, Ohio. Sarah Jessica Parker is famous for being in the series Sex and the City. She's also been in films including Failure to Launch, Footloose, and The Family Stone.
Conclusion
There it is! A list of things that Ohio is known and famous for. Hopefully, you learned a thing or two and found a few places worth checking off your bucket list.
Let me know in the comments which of these are your favorite! If I left anything out, or you have your own fun facts, be sure to let me know!