Located in the middle of Ohio is the state capital, Columbus. With a population of 909,000, Columbus is the most populated city in Ohio. Amongst Columbus's nicknames are Cbus, Cap City, Discovery City, and the Biggest Small Town in America.
Columbus is known for its contributions to history, many parks, and shopping destinations. It's also home to The Ohio State Buckeyes, most popular for football and basketball. Columbus is also famous for its food scene. Many popular chains started in Columbus, and the city is often a test hub for new food concepts.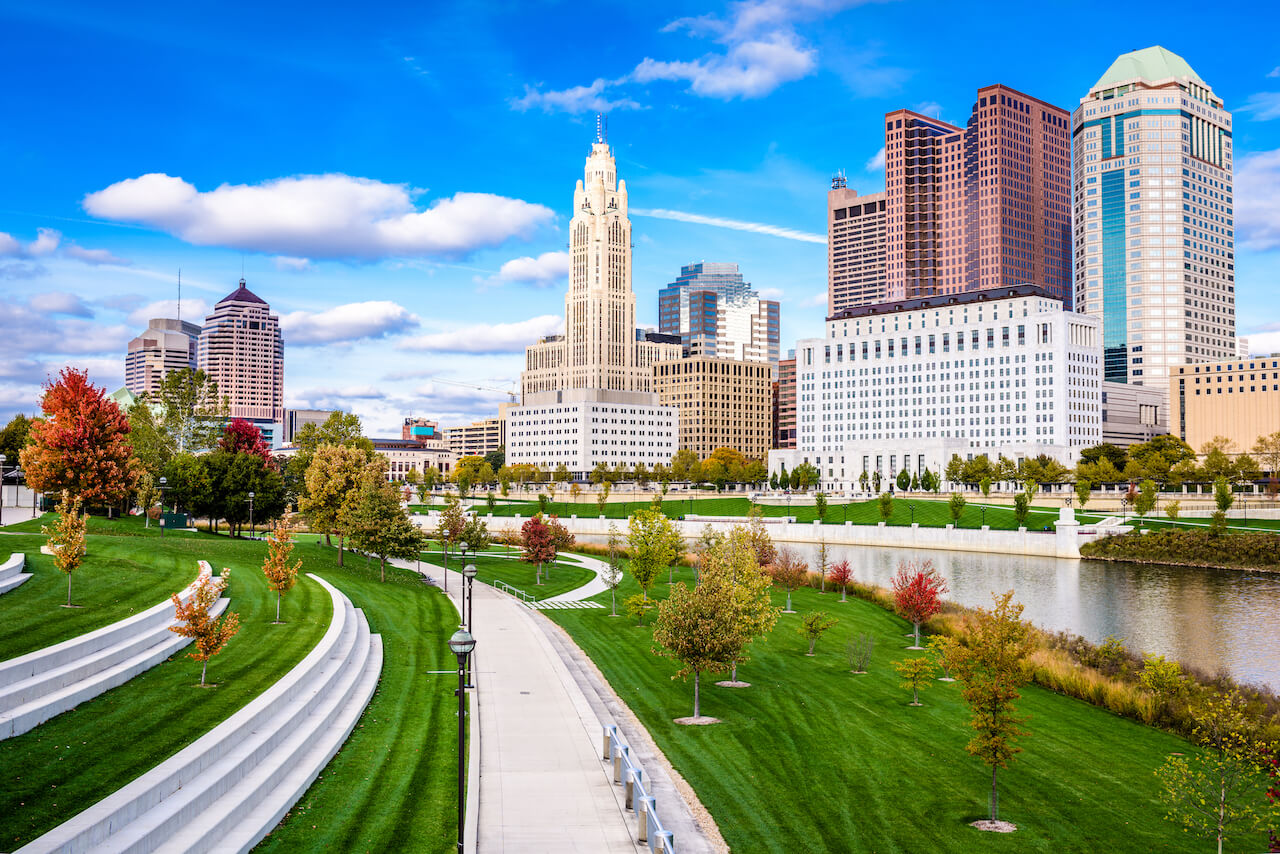 I grew up in Columbus. When I lived in the city, I would visit the Columbus Zoo yearly. Easton Town Center would be a monthly hangout location. Ohio State football games are something any fan should experience once, as the energy is surreal.
I had many great times in Columbus. There's a lot of history, so much to do, and a lot of delicious food to enjoy! Let's dive into the list of what Columbus is known for.
1. German Village
Columbus is known for German Village, a historic neighborhood built by German settlers in the 1800s. German Village stands out for its brick houses, shops, sidewalks, and streets, taking you back in time as you stroll through.
While in German Village, you can enjoy a variety of shops, restaurants, and coffee shops. Some of these have been running for generations under the same family.
Schmidt's Sausage Haus and Restaurant is one of the more popular German Village staples. The cream puffs are divine and nearly the size of your head! You simply cannot visit without trying one.
Also in German Village is The Book Loft, one of the largest independent book stores in the United States. With 32 connecting themed rooms spread across two stories, it really is awe-inspiring. You don't even have to be a book-lover to be impressed. There are plenty of places within the shop to sit, relax, and enjoy whatever book you've fallen in love with along the way.
2. Ohio Statehouse
Columbus is famous for being home to the Ohio Statehouse. The Ohio Statehouse is the state capitol building and one of the oldest state buildings in the United States.
It was built between 1839 and 1861 and is considered Greek Revival style in architecture. Because of its history, the building is recognized as a National Historic Landmark.
The Ohio Statehouse has a museum inside where visitors can view works of art. Tours of the museum and the Statehouse are offered any day that the building is open to the public.
Brides and grooms to be can also rent a portion of the Statehouse for their wedding ceremony and reception.
3. Geraldine Fredritz Mock
Geraldine Fredritz Mock is known for being the first female pilot to fly unaccompanied around the world in 1964. The single-engine plane was named 'The Spirit of Columbus.' It departed from and landed in Columbus, Ohio, near where Geraldine Mock was born.
The 29-day flight had 21 total stops across over 22,000 miles. At the same time, Joan Mirriam Smith was also attempting to make history with this accomplishment.
There is a lifesized bronze statue of Mock in her hometown of Newark, Ohio. The statue was revealed in 2013 as a tribute to the pilot. It can be seen in the courtyard of The Works Museum.
4. Columbus Zoo and Aquarium
Columbus is famous for the Columbus Zoo and Aquarium. The Zoo has gained worldwide recognition and has been rated the number one zoo in America several times.
The Columbus Zoo homes more than 7,000 animals and 800 species, separated into regions of the world. For example, in Adventure Cove, you'll find sea lions, red foxes, and stingrays. Or, check out bison, black bear, and Alaskan Moose in the North America exhibit.
Other exhibits include Polar Frontier, Asia Quest, Heart of Africa, Shores and Aquarium, Congo Expedition, and Australia & the Islands.
Some fun facts that make the Columbus Zoo famous include a manatee rehabilitation program. They take in sick and injured manatees, nurse them back to health, then release them back into their natural habitat.
The Columbus Zoo is also known for being home to Colo the Gorilla. Colo was famous for being the first gorilla in the world born in captivity in 1956 at the Zoo. She was born still in her amniotic sac and was given mouth-to-mouth resuscitation to revive her.
Colo lived out her life at the Columbus Zoo, popular amongst visitors, zoo staff, and her caretakers. She passed away at the age of 60 in 2017. On her 60th birthday, she was celebrated as the oldest zoo gorilla worldwide.
In her lifetime, Colo mothered three. Her bloodline gave birth to the first second-generation and third-generation gorillas born in a zoo. A memorial for Colo can be found outside of the Columbus Zoo. Any donations are used to support the Zoo's gorilla conservation program.
5. America's First Middle School
Columbus is known for being home to the first middle school in the United States. The first junior high was Indianola Junior High School in 1909.
Previously, kindergarten through eighth grade was under one building. High school, consisting of ninth through twelfth grade, was in a separate building.
Around the time the middle school was founded, 52% of Columbus students dropped out before the tenth grade. Worse yet, only 7% graduated from high school. The hope was that restructuring grades with a new building would help increase the graduation rate.
6. World's First Cargo Flight
Columbus is famous for being the location of the world's first cargo flight.
Piloted by Philip Parmalee, the flight traveled 65 miles between Dayton, Ohio, and Columbus, Ohio, on 7 November 1910. It was the first time an airplane was used solely for transporting cargo.
The cargo flight marked a huge turning point in aviation history. It was several years later, though, that shipping goods by air were economically viable.
So what was on this famous flight? 200 pounds of fabric that were needed for a store opening.
7. Franklin Park Conservatory
Columbus is known for Franklin Park Conservatory and Botanical Gardens. FPC showcases exotic plants from over 400 species and palms of over 40 species. Different biomes represent a variety of climate zomes from all around.  
Franklin Park Conservatory has the Blooms and Butterflies exhibit from late winter to early spring. It is the first Conservatory in the nation to have an annual butterfly exhibit.
Here, you can see hundreds of butterflies flying freely around you. It's such a neat and almost magical experience. The exhibition also has a variety of tropical flowers in a balmy, enclosed space.
Franklin Park Conservatory holds a special place in my heart. It is the primary location where my husband and I had our engagement photos taken. It is such a beautiful place with so much to see any time of year.
8. Stops in Underground Railroad
Columbus is famous for having more than 20 stations that were part of the Underground Railroad in the mid-1800s.
The Underground Railroad was a secret route network used to help bring slaves in the South to the North, where freedom would be possible. Stops along the way were safe places for the escapees to rest and hide during the day.
Ohio was considered a free state where slavery was illegal.
There is no public record of the stops due to many of them being at private residences. However, some of the sites are known. The Kappa Sigma fraternity house on The Ohio State University campus is one of these sites.
9. Goodale Park
Columbus is known for Goodale Park. Located in Victorian Village, Goodale Park is a public park that was donated to Columbus in 1851. It is Columbus's first park and is one of the oldest parks in the United States.
The 32-acre park is on the National Register of Historic Places and was a staging area during the Civil War for Union troops. During this three-month period, it was known as Camp Jackson.
Now, the park is a central point for the city. The location is home to several of Columbus's annual festivities. Amongst these is ComFest, a music and arts festival that spans several days.
Goodale Park offers beautiful views of the Columbus skyline. It also has tennis courts, a playground, walking paths, a pond, and a gazebo.
10. Guy Fieri
Famous restauranteur and chef Guy Fieri is from Columbus, Ohio. Fieri is most known for his television shows on the Food Network. However, he also co-owns several restaurants in California. He is one of the only chefs to earn a star on the Hollywood Walk of Fame.
Amongst Fieri's shows is Diners, Drive-Ins, and Dives. In the series, he travels across the United States to visit local eateries. The restaurants are typically known for something unique or special that they serve. Six Columbus Restaurants have been featured on the show.
So what are these Columbus restaurants that Fieri visited? Loops, Pierogi Mountain, Ena's Caribbean Kitchen, Ray Ray's Hot Pit, Momo Ghar, and Sweet Carrot.
When I lived in Columbus, I got to try Sweet Carrot several times. They serve just good, all-around comfort food. The Mac and Cheese make my mouth water just thinking about it! Unfortunately, they are only available for catering now.
11. COSI
Columbus is famous for COSI, also known as the Center of Science and Industry. COSI opened in 1964 and has been a popular science and research center in Columbus.
Rated the Number One Science Museum in the United States several times, COSI is a leader in learning and educational outreach programs.
COSI's exhibition areas are themed and feature over 300 interactive exhibits. Some of the themed areas you will find are Ocean, Space, Gadgets, and the American Museum of Natural History Dinosaur Gallery.
While at COSI, you can experience Ohio's largest planetarium. There is also a recreated small town in the Progress exhibit, walking you through what life looked like in 1892 and 1962.
COSI is fun for anyone at any age but is perfect for families with school-aged children. They have exhibits that will appeal to anybody with a curious mind and a want for learning, experiencing, and doing.
12. Park of Roses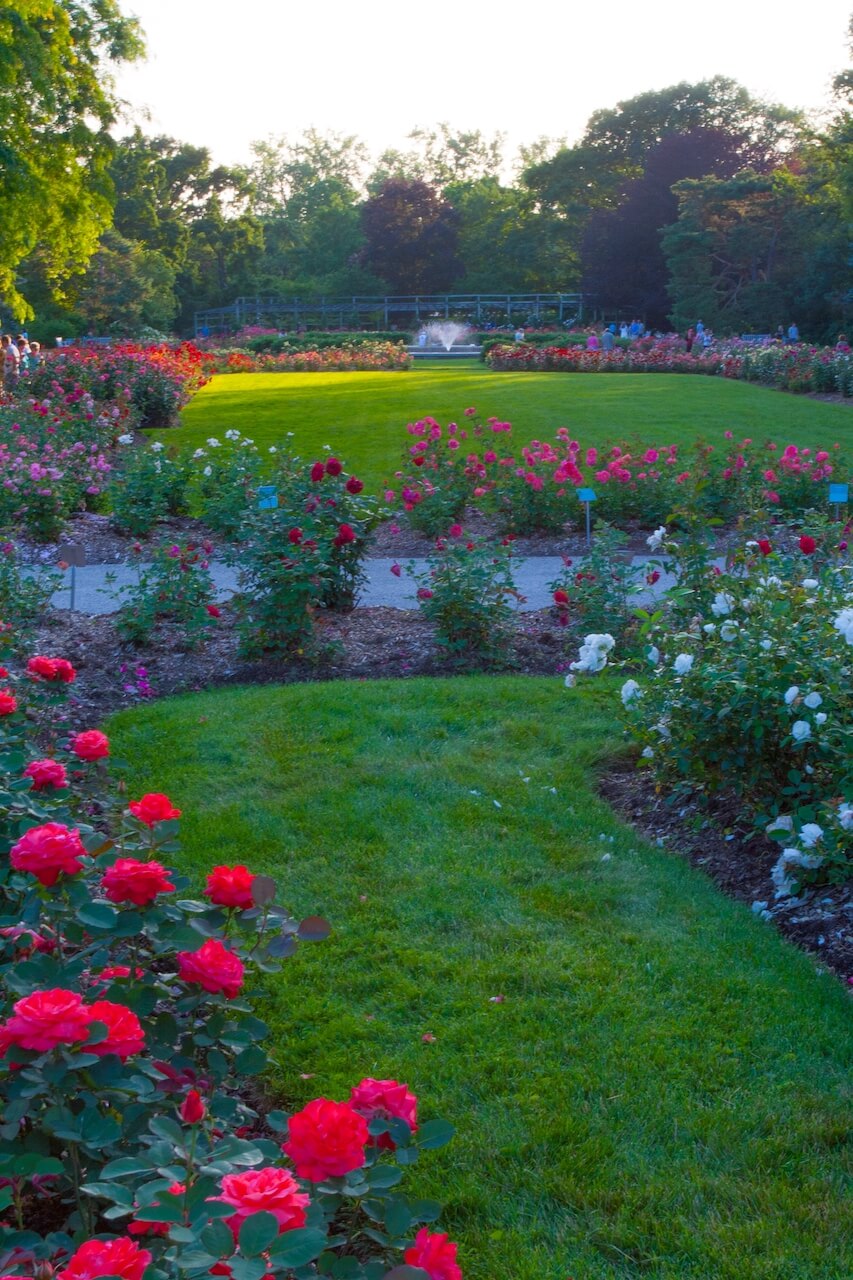 Columbus is known for the Park of Roses, located within Whetstone Park. The Park of Roses is one of the largest public rose gardens in the United States.
Spread across 13 acres, you will find more than 350 rose varieties amongst 12,000 bushes. Roses of every color take over the park, making it almost fairytale-like.
Do plan your trip accordingly, though, as the roses are not in bloom year-round. A little hint: the best time to go is in June.
The Park of Roses features walking paths, a butterfly breeding area, benches, a gazebo, and a fountain. It is a popular springtime wedding location due to the beautiful floral backdrop.
13. Easton Town Center
Columbus is known for Easton Town Center. Easton Town Center is a retail shopping center and mall spanning over 1,300 acres. It was built along streets to look like American towns in the early 20th century.
The indoor portion of Easton has a movie theatre, a comedy club, several restaurants, and two stories of shops. The outdoor section is where the shopping area shines, though. You can find upscale shopping, restaurants, and a quaint small-town feel. So stroll the outdoor space and enjoy fountains, water pads, and seating areas to relax and people-watch.
I've been going to Easton since it opened in 1999. My family would frequently go to the area for shopping and dining. Then, as I grew older, it became a hangout place to meet with friends.
Although I don't live near Easton any longer, whenever I travel back to Ohio, it always makes its way into my places to visit. Whether catching up with an old friend or window shopping, there's a lot to do.
14. Metal Whistles
Columbus is famous for being the only place in the United States to manufacture metal whistles. The American Whistle Corporation has been around since 1956 and produces one million metal whistles every year.
The Columbus factory cut, stamp, smooth, polish, assemble, solder, and pack each whistle made within its walls. All of the whistles are made of brass.
Brass does several things. First, it provides superior sound quality, and second is for uniformity in quality. Several finishes are offered, though, including nickel-plated and 24-karat gold.
The factory is the only United States manufacturer of the rubber Safe-T-Tips, too. The rubber tips help to protect the lips and teeth.
The American Whistle Corporation also has an in-house press. This can be used to customize whistles with whatever logo a buyer may need.
15. R.L. Stine
Famous Novelist R.L. Stine is from Columbus, Ohio. Born in 1943, Stine is most known for his Goosebumps and Fear Street book series.
Goosebumps is classified as children's horror fiction and is one of the best-selling children's series of all time. The Fear Street series is geared more towards teenagers, many of them being murder mysteries.
16. The Ohio State Buckeyes
Columbus is famous for being home to The Ohio State Buckeyes. Football and basketball are the most popular sports in Buckeye Nation. However, other Ohio State sports, including ice hockey, baseball, and soccer, draw a crowd as well.
The Buckeyes play on teams that represent The Ohio State University. Fans can be seen proudly wearing the school colors Scarlet and Grey. Ohio State Buckeye teams are known for frequently being well-ranked and performing well with several championships under their belt.
Football games are played at Ohio Stadium, affectionately nicknamed The Horseshoe. Capacity is nearly 105,000. Fans flock to the stadium for home games, tailgate parties, and to see one of the best marching bands in the nation.
Basketball games are played at the Schottenstein Center. At full capacity, 19,500 fans can catch a live game. Both women's and men's Buckeye teams play their home game at the stadium.
17. Restaurants from Columbus
Columbus is known for its food. Many popular restaurant chains originated in the city.
You can thank Columbus for Buffalo Wild Wings, as the very first one opened on High Street. As the story goes, the chain was born when New York natives who moved to Columbus were craving wings. With no viable options available, they decided to take matters into their own hands and open their own restaurant in 1982.
Today, more than 1,200 locations can be found.
Editorial credit: damann / Shutterstock.com
Wendy's is another famous food chain that started in Columbus in 1969. Wendy's is most known for its burgers. However, any fan of the chain can attest to how good their fries are dipped into a Frosty. A Frosty is a chocolatey ice cream dessert, almost like a milkshake. It sounds weird, but I can promise you it is delicious!
There are currently over 6,500 locations across 29 countries.
Jeni's Splendid Ice Cream also started in Columbus. There are nearly 50 locations across the United States. If you aren't closed to a storefront, pint-sized containers can be purchased at grocery stores near and far.
Jeni's is known for its richness and unique flavor combinations. Some of my personal favorites are Brambleberry Crisp and Lemon & Blueberry Parfait.
Conclusion
There you have it! A list of some things Columbus is known for and popular attractions within the city. While living in Columbus, I did many of these on more than one occasion. It really is a city with a lot to see, do, and explore.
I'd love to hear your favorite Columbus activities or fun facts in the comments!