Visitors to Paris should definitely look forward to shopping for souvenirs. There's a wide range of gifts to choose from, whether you're just walking along the Seine or actively bargain-hunting along Champs Elysees.
We know it's difficult to choose the best souvenirs from Paris because there are just so many good options. What should you buy in Paris? Where do you go? Fret not, we'll answer all your questions and more.
Here are some great souvenirs and gift ideas from Paris, that you can pick up either as memorabilia for yourself or to gift it to your loved ones.
The best souvenirs from Paris
1. Eiffel Tower Keepsake
Now hear me out. Yes, this is probably one of the most cliched souvenirs from Paris that everyone who visits brings back but that's fine. A keyring of the Eiffel Tower, a miniature, or a fridge magnet you get from Paris is sure to remind you of the wonderful time you had walking the streets or coming up the metro station when you were greeted by the very familiar silhouette of the Tower. So don't shy away from picking up this fantastic Paris souvenir.
2. Shakespeare and Company Souvenirs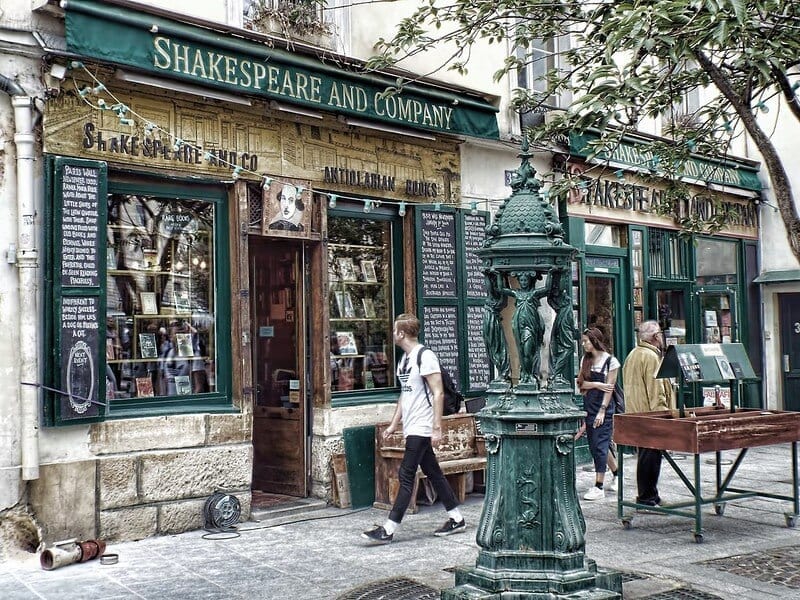 If you're anything like me, you'll love stationery, books and most importantly, supporting independent booksellers.
Located on 37 Rue de la Bûcherie, Shakespeare and Company is touted to be the most famous bookstore in the world! With unassuming exteriors, it has an incomparable charm, and has played host to many famous literary figures including Ernest Hemmingway, Jack Kerouac, and Scott Fitzgerald.
You could bring back Paris souvenirs like tote bags, books, notebooks, poems written by traveling poets that can then be mailed off to your loved ones — or yourself, whichever you prefer. This is sure to be one of the best souvenirs you can buy from Paris.
3. Bouquinistes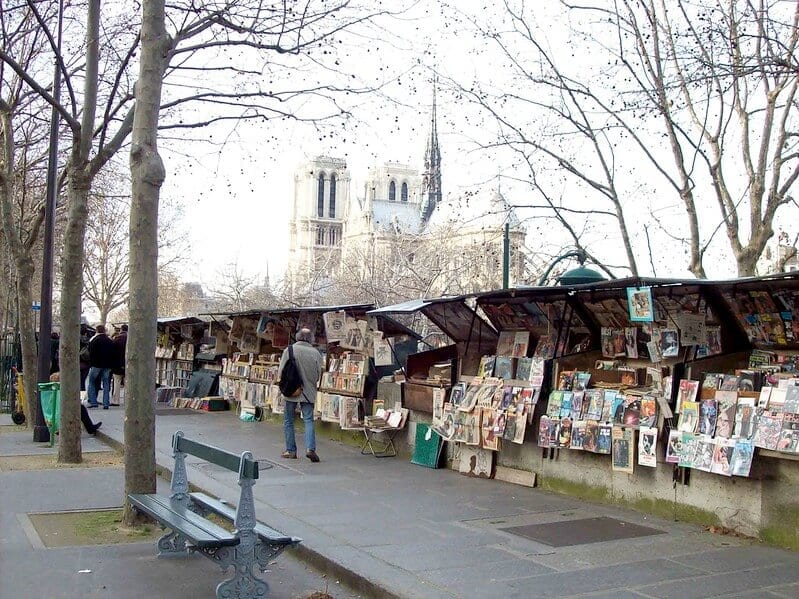 Bouquinistes are booksellers located along the banks of the river Seine. Boasting of over 900 book boxes, they have a huge collection of old and modern literature to discover. You could buy a second-hand book or postcards from the bouquinistes. These are a great gift idea to buy as souvenirs from Paris.
4. Wine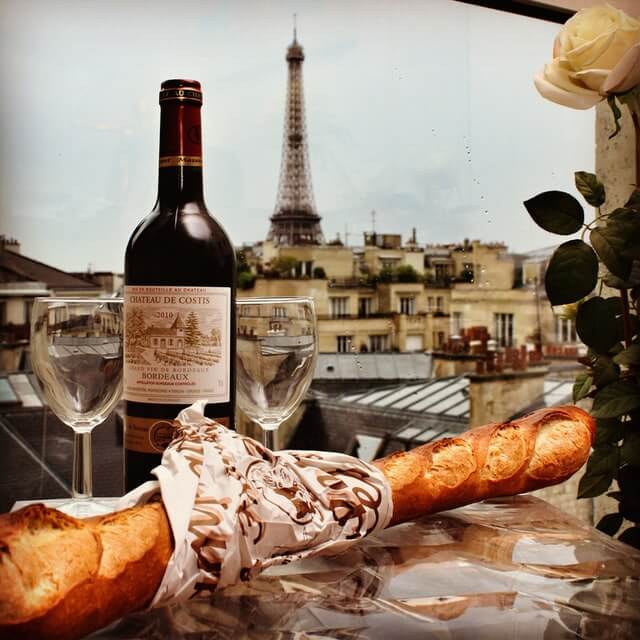 France is known for its wine, and for good reason. One great Paris souvenir that you absolutely cannot go wrong with is a bottle of wine. Especially if your trip includes a tour of a local vineyard or a wine-tasting experience, be sure to buy the wines that you like. You could visit boutique wine stores or the local Parisian stores to pick up your favorite wine or Rosé.
5. Champagne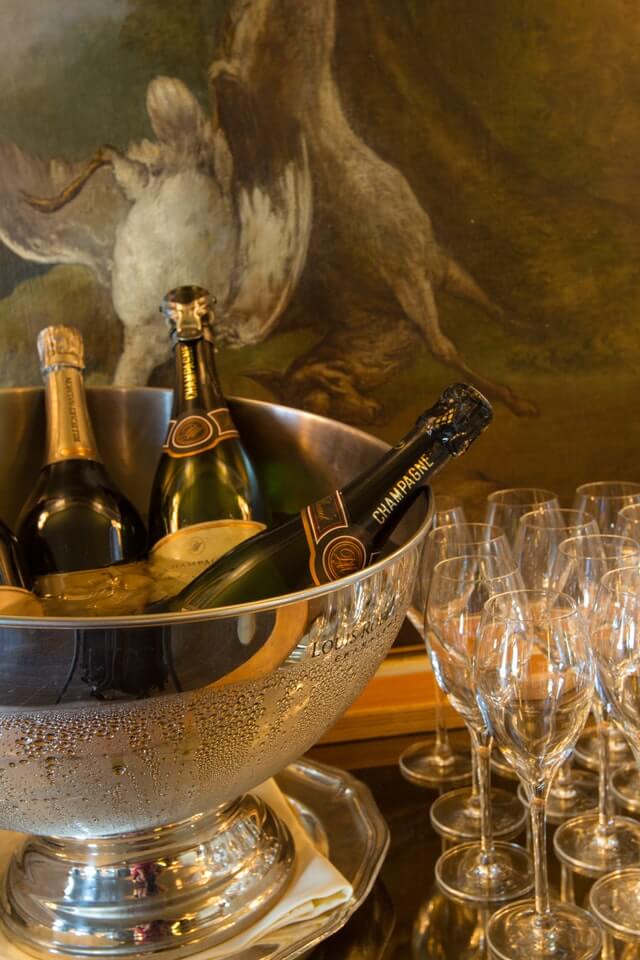 Did you know that sparkling wine is actually champagne but cannot be called that, unless it is produced in the French region of Champagne? Interesting tit-bit, isn't it? You can easily make a day trip to Champagne on your visit to Paris.
Champagne is usually consumed during celebrations to mark any special occasion. With the tag of luxury and sophistication, Champagne as a souvenir from Paris is sure to make your loved ones feel special. You could also buy an entire box and save it for your special events.
6. Cheese
French cheese is loved across the world. To carry these back home can be challenging, but is not impossible. And they make for great souvenirs from Paris. After all, you're carrying a bit of Paris with you! And they sure do make for unique Paris souvenirs!
You could look for cheese at local fromageries. Apart from the different types of specialized cheese such as Brie, Chèvre (made from goat milk) and Comté, you can also try the cheese off the shelves of the Parisian department stores. You'll be surprised at how delicious they are.
7. Macarons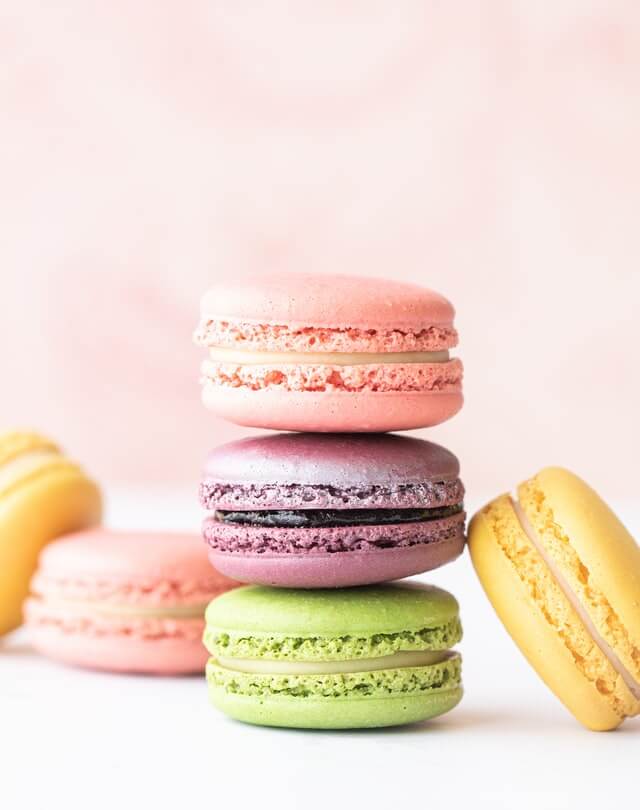 These colourful meringue-based pastries are much loved across the world. And without doubt the most famous chain that sells these is Laduree. If you're thinking of what to buy in Paris, I strongly suggest you take macarons as a Parisian souvenir. You can buy it from other stores as well, such as Pierre Herme and Jean-Paul Hévin.
Go on. Indulge your sweet tooth into the sugary goodness that is macarons.
8. Parisian Chocolate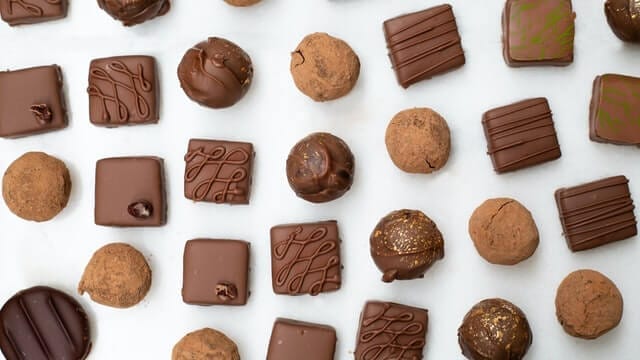 Chocolates are a fail-proof Paris souvenir. Everyone loves chocolates and you can't go wrong with gifting these little delights. There are a deliciously large number of stores in Paris from which to buy: there's the oldest candy shop in Paris À La Mère de Famille. Built in 1791, it is known for its chocolate offerings. Other options include La Maison du Chocolat, Pierre Marcolini, Pralus, Le Chocolat Alain Ducasse, and Patrick Roger.
9. Culinary delights
Chocolates, wine, Champagne, macarons are all great souvenirs for your loved ones back home. But Paris also has a collection of culinary delights — culinary souvenirs, if you will.
You could choose to take back French Sea Salt, Tapenade, Dijon Mustard and Calissons for your loved ones who have an especially refined palette. While these can be found in most places, you could check out these items at Lafayette Gourmet, in Galeries Lafayette, located at Boulevard Haussmann.
10. Art souvenirs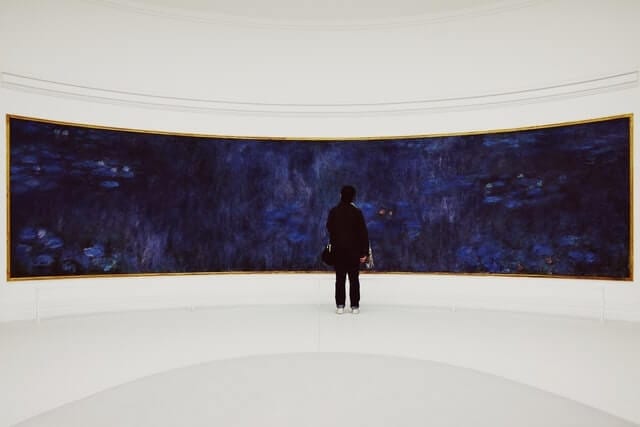 Paris is famous for housing some of the greatest artists in the world.
If you're into art and admire works of artists such as Vincent Van Gogh, Picasso and Monet, you can pick up lovely souvenirs at the gift shops attached to museums such as Musée de l'Orangerie, Musée Picasso, Musée d'Orsay, Atelier des Lumières, Musée Rodin, and Musée du Louvre.
Right from quality illustrated works to notebooks, mugs, magnets, postcards, bookmarks and other delightful knickknacks, you can find your perfect Paris souvenirs here.
11. Place du Tertre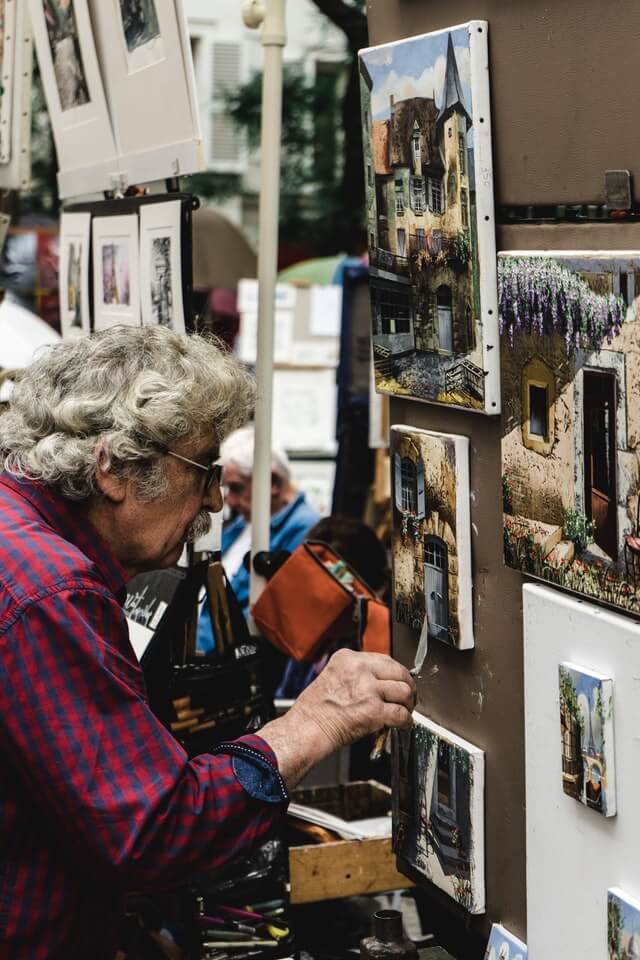 Montmartre was home to some of the greatest artists such as Dali, Van Gogh and Picasso. Today, this charming village with its cobblestone streets and lined cafes still plays host to a number of local artists. At Place du Tertre, located very close to the Sacré-Cœur Basilica, a number of local artists set up their easels, painting familiar Parisian scenes. You could either buy these as mementos, or get yourself painted by one of the artists.
PS: You get delicious crepes here!
12. Parfum
France is known for its perfumeries, and this makes for a fantastic, personal gift and is a unique souvenir to get from Paris. While Grasse in France is the hub for perfumeries, Paris too has been known for its perfumes. Some of the French brands include Fragonard, Molinard and Galimard.
13. Savon de Marseilles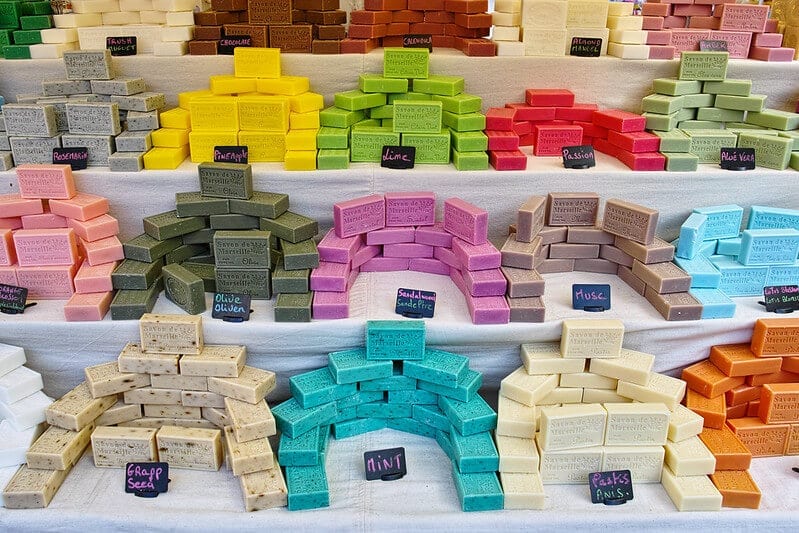 Interestingly, the French also make the most wonderful soap, which is gentle on the skin and smells heavenly.
The most famous brand that can be found everywhere is the Savon de Marseilles. This makes for a great French souvenir to remember your time in Paris. After all, olfactory senses are known to create nostalgic responses.  
If you are actually visiting Marseille on your trip to France, then check out this list of the best things to do in Marseille.
14. Antiques in Marché Aux Puces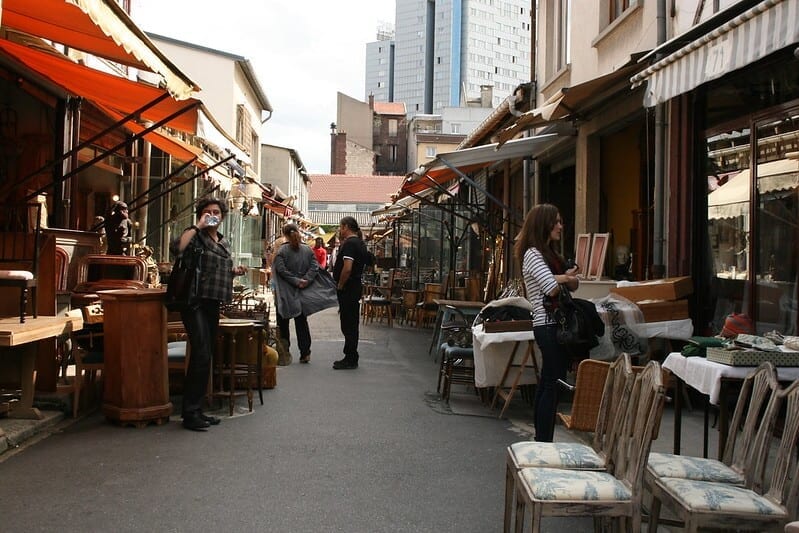 Another great place you can find hidden gems is the flea market. Like the Marché Aux Puces de Paris in Saint-Ouen.
Known for its antique furniture, this flea market boasts of having around 1,700 second-hand and antique dealers. According to the official website of the Conventions and Visitors Bureau, it is known for its charming atmosphere and, "the quality of its old furniture, faience, bronzes, records and other unusual objects for bargain hunters!" If you're looking for the quintessential French souvenir, look no further.
15. Le Chat Noir
Le Chat Noir, which is French for The Black Cat, was a Parisian entertainment center located in Montmartre. Born as a reaction to the censored "cafe concerts", Le Chat Noir was the cabaret establishment that was visited by the elite as well as those following a bohemian lifestyle. As Le Chat Noir became bigger and moved to more impressive premises, the now iconic poster was designed by Théophile-Alexandre Steinlen. Today, this iconic image can be brought back in any form: t-shirt, poster, coasters, postcard, or notebook. It's a great gifting idea from Paris.
16. Beret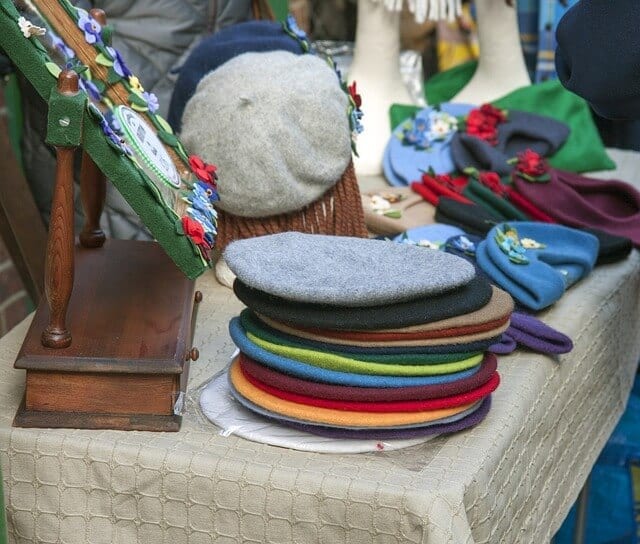 Beret is synonymous with the French, and while not every Parisian you pass on the street will don this hat, it's still very strongly associated with France. It will make for a great Parisian souvenir. The fact that you bought it from a store in Paris will only make it that much more special.
17. Foie-gras
One of the most controversial dishes, foie-gras has nevertheless been an essential dish during the Winter holiday, especially Christmas. Made of the liver of a goose or duck, you could buy foie-gras from any of the department stores. One famous place you can get them in is La Maison de la Truffe.
18. Table setting Souvenirs
The table settings in Parisian cafes are delightful. One can only hope to own these charming little pieces of delight. If you do want to bring back a piece of the cafe culture from this city which also doubles up as a unique souvenir to buy in Paris, you could visit the Cafe de Flore located at St Germain, which sell porcelain cafe souvenirs.
19. Parisian Fridge Magnets
Fridge magnets are, of course, the best, even if the most common, souvenirs to buy in Paris. They're miniature memorabilia. You can buy miniature magnets of the Eiffel Tower, Notre-Dame, Sacré-Cœur, Arc de Triomphe, and the windmills of Montmartre.
20. Madeleines
A popular sweet eaten as a snack, Madeleines are sponge cake with a distinctive shell-like shape. Made from French flour, sweet butter with a dash of citrusy flavour, Madeleines can make for a great souvenir from Paris for those who like food.
21. Scarves
Being the fashion capital of the world, it isn't surprising that Paris is famous for an accessory that most don't even consider important: scarves.
It is said that foreigners are often envious of the scarves available in Paris so why not pick a few up for your loved ones or even yourself? Add a dash of color as you flaunt the beautiful Parisian scarves with your outfits.
22. Louis Vuitton
Finally, the list would not be complete without mentioning the French luxury brand, Louis Vuitton. Founded in Paris, the brand's flagship store is at Champs Elysees, a street that connects the Arc de Triomphe with Place de la Concorde. The Louis Vuitton foundation also hosts a contemporary art center and a museum.
Best place to buy souvenirs in Paris
Now that we've mentioned what the best souvenirs to buy in Paris are, here, we'll tell you where you can buy these. A number of them will be available with local vendors, so you could buy from there. You could also check out Rue de Ravioli for souvenir shopping in Paris. Lined with stores, you are bound to find the souvenir of your choice, be it scarves, magnets or miniatures.
As mentioned in the points above, Saint-Ouen Flea Market is also a great option for those wanting to experience a foreign flea market. Who knows what treasure you'll stumble upon here? Another very famous area to shop is the Boulevard Haussmann, where the Galeries Lafayette and Printemps department store is located. You could visit these for culinary souvenirs.
The best place to buy souvenirs in Paris related to stationery items is Shakespeare and Company, and the Bouquinistes. Le Marais is another place you could go souvenir shopping in Paris. Of course, there's also the Champs Elysees, but it is considered one of the most expensive shopping streets in Paris!
So there you have it! We hope you found some helpful information in here and gave you an idea of what souvenirs to buy in Paris. Have you been to Paris before? What are some of the quirky souvenirs you picked up? Let us know in the comments below!
Also Read: 30 Things France Is Known And Famous For
Souvenirs from Paris – Pin it!