We've all had days where we fancied getting on a plane and waking up in France. Encourage those dreams to become reality by finding out 30 things that France is known and famous for!
France is famous for the Eiffel Tower in Paris and sweet-scented lavender fields in Provence. It's a well-known tourist destination that offers museums, art galleries and fine cuisine. France is also known for its varied landscapes, from the mountains in the Alps to the dazzling beaches of Marseille, Corsica and Nice.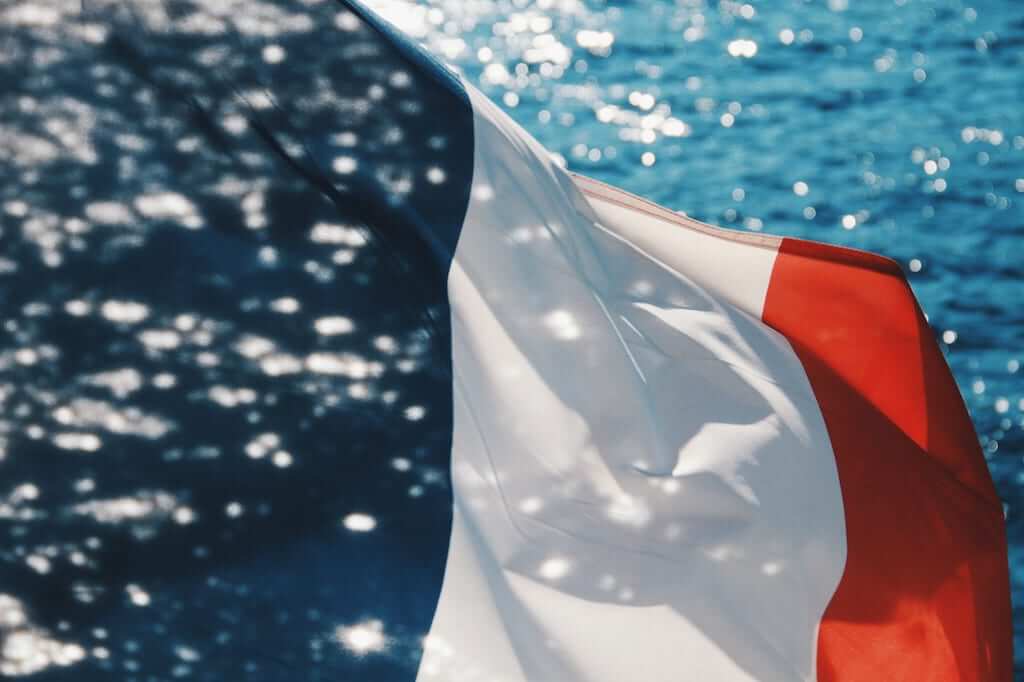 But that's just the beginning. Alors, let's dive in to some of the things France is known for!
Before you go…
Check out our favorite websites for travel planning and booking!
➡️ Find the cheapest flight options on Kiwi.com
➡️ Book your accommodation in advance on Booking.com

➡️ Find interesting tours and excursions on Viator or GetYourGuide
➡️ Buy your travel insurance on SafetyWing
1. Paris
The capital of France, Paris is famous for so many things that it's almost impossible to cram them all in here. It symbolizes much of what we expect about France – romance, food, beautiful buildings and of course, plenty of sightseeing.
Some of the most popular tourist hangouts in Paris are the Eiffel Tower, the Louvre, Notre Dame cathedral, Sacré-Coeur steps, the river Seine and Jardin Du Luxembourg. But Paris is more than just a tourist heaven. It embodies that French phrase we're all familiar with – je ne sais quoi – that something (I don't know what).
It's a place to dream big, dress well, and feel a part of something massive. Paris is quietly confident and boldly unique. There's something for everyone, and I can assure you that you won't go hungry.
There are also five statues of liberty in Paris. The only thing Paris hasn't got is a red stop sign – more on that later!
2. Tourism
Of course, Paris isn't the only tourist destination in France, but it's probably the most well-known. France is famous for having more tourists than anywhere else in the world!
The most visited paid attraction in the world is the Eiffel Tower, which comes as no real surprise. On the contrary, it's surprising that when it was built, many Parisians actually hated the look of it! The novelist Guy de Maupassant ate lunch there every day he hated it so much.
Seem strange? Well, he did it, in his words, because it was the only place he could eat without his view being impeded by the sight of the Eiffel Tower!
Outside of Paris, there's a whole country up for exploration. Tour vineyards, prehistoric caves, ski, beach-hop – you name it, France has its own unique version of whatever you're into.
3. Châteaus & Palaces
For many, the historical splendor of France is what entices them the most. France is famous for its many surviving medieval and historic châteaus and palaces. If modern life has drained you, good news – you can go back in time by visiting these incredible sites!
The most famous palace is that of Versailles, located about 16 kilometers (10 miles) south-west of Paris. It was the final home of the French monarchy, and has amazing tours that show you how the French royals lived. Check out Marie Antoinette's flashy private apartments "Trianon" or wander around the Hall of Mirrors to see what all the fuss is about.
Budding historians should also visit Château D'Angers in Angers, west France. There's been a castle there since the 900s, but the building you can see today was finished in the 13th century. If you want to see some truly spectacular historic art, Château D'Angers also houses a 100 kilometers (62 miles) long medieval tapestry, called the Apocalypse Tapestry.
4. Painters
It's easy to see why France is known for being the muse of many celebrated painters. Some of the biggest names in the art world lead back to France's countryside and cities, including Claude Monet, Édouard Manet, Auguste Renoir and Henri Matisse.
Claude Monet is perhaps one of the most famous of these names. He used to visit the Louvre in Paris frequently to surround himself in beautiful art so he too could capture the magic of nature on a canvas. He founded France's Impressionism movement, and today his work is still admired all over the world.
Pablo Picasso, although Spanish by birth, moved to France permanently in 1904. In the 20s, he hung around the same haunts as his famous contemporaries, including Hemingway, Matisse and Fitzgerald. One of their favorite restaurants is still open today, called La Rotonde Montparnasse, close to Jardin du Luxembourg.
5. Marseille
France is also known for its oldest city, Marseille. Located on the south-eastern coast, Marseille has plenty of beaches, history, and excellent Mediterranean food.
Traditionally, Marseille is where you'll find the best locally made bouillabaisse, a delicious seafood stew. The city is built around its port which was originally a trading hotspot before it became a popular university city.
Marseille is also renowned for its soap which has been produced the same way since 1370. Although it's located a stone's throw away from the lavender fields of Provence, Marseille soap is made with 72% vegetable oil, soda and usually no perfume. This natural home remedy sorts out everything from dry skin to stained clothes, and is still a valuable commodity.
6. Perfume
Just because Marseille soap isn't heavenly scented, that doesn't mean the nearby lavender fields of Provence aren't! France is famous for its perfume industry, and the Perfume Capital of the World is the small town of Grasse, south-east France.
French perfume brands make up a huge chunk of what's available in stores today, including Givenchy, Chanel, Yves Saint Laurent, Lancôme, and Guerlain. France didn't invent the perfume, but they certainly popularized it.
Grasse used to be the center of leather tanning, which if you don't know involves marinating cow hide in animal excrement. No wonder, then, that in the Middle Ages the Grasse locals wanted to get rid of the terrible smell!
Wild jasmine, myrtle, lavender, rose, orange blossom and much more flourish in the Mediterranean climate of Grasse. They took extracts from the plants and made the first modern perfumes we use today! You can take perfume tours of France's oldest perfumeries still in use today, including Fragonard, Galimard, and Molinard.
7. Nice
The city of Nice, southern France, is one of the country's most stunning metropolises. Nice combines much of what France is famous for, beaches, wine, excellent food and an abundance of culture. It belonged to Italy until 1860, and you'll hear both Italian and French spoken among the locals.
The city of Nice was founded by the Greeks, and they named it after Nike, the goddess of victory. You can walk on the Promenade Des Anglais, a stretch of road beside Nice's coastline, or check out what France's second most museum filled city has to offer. There are also many art galleries, some of them displaying works by Matisse and Chegall.
There are so many culinary flavors to Nice, and experiencing them is a pleasure. Be sure to order ratatouille, a French vegetable stew, or a salade Niçoise – an anchovy salad made with eggs, olives, and summer veggies. You also haven't tried the best apple pie before you've eaten Tarte Pomme, a flaky crust apple pie served with vanilla custard.
8. Wine
You'll hear and see a lot of trivia thrown around about French wine, but one thing is certain: France is famous for drinking, making, and being pretty serious about wine.
The French consume 60 liters (15.8 gallons) of wine per person annually – more than anybody else in the world. They're also the third largest producers of wine – Italy and Spain take spots one and two respectively.
The French are famous for swilling wine glasses and sniffing it before they drink – this is done to determine whether the wine will "pleurer" (cry) or not. If droplets fall, it's a good wine. If not, feed it to a nearby pot-plant.
Different regions are famous for different wine types, and contrary to popular belief it's got very little to do with the grapes. For the French, it's the soil and where the wine's been made that counts.
Lastly, check out the back corners of French supermarkets: I've been in a Carrefour (French supermarket chain) with a wine-tasting corner so you can try before you buy. Seriously!
9. Cheese
If you're dairy-intolerant, living in France might be difficult for you. Not only was pasteurization invented there, but France is famous for having over 1000 types of cheese!
The French eat the most cheese in the world per capita, around 20.4 kg (45 lbs) of it per year. There are three so-called "families" of cheese in France: pressed, soft, and blue cheeses.
You'll recognize some favorites that have exploded in popularity in other parts of the world, such as Brie, Camambert and Comté, but every region is famous for its particular type and brand of cheese.
Note that in France, it's common to be served cheese as a prelude to dessert, rather than as a side-dish. Oh, and crackers don't often come into it, either!
10. Health
If you're a gym bunny, you'll have to adapt to life in France. Gym culture is next to non-existent in many parts, and the cool, casual French people have a great mantra when it comes to health: existing, not exercising.
Only one in ten French people are obese, and compared to the four in ten in the U.S, they're not doing too badly! Not what you might expect from the world's largest consumers of cheese and wine, is it? Well, the secrets (apparently) are eating less but often, taking more time to eat, getting nine hours of sleep and staying active.
"Existing not exercising" encompasses all that we envy the French for. Walking everywhere, taking bike rides, making an effort to do chores rather than head to that spinning class. Turns out it's a lot easier to be active if you just live your life – at least, that's what the French say.
Also Read: 25 Fun Things To Do In Bordeaux
11. Sleeping
Talking of sleep, one French thing that almost all of us recognize is the song Frère Jacques: "Frère Jacques, frère Jacques, dormez-vous?" It turns out the answer to this age-old question is probably a resounding yes.
The song asks our good friend Frère Jacques (He's called Brother John in English) if he's sleeping. France is famous for being among the nations that get the longest night's sleep in the world, at a dreamy sounding nine hours! Other nations with locals that get over 8 hours of sleep a night are Belgium, New Zealand, and Australia.
If you can't remember the last time you slept that long, you're not alone. Singapore and Japan sleep the shortest amount of time at just seven hours and 24 minutes. The U.S falls in at just under eight hours, along with China and Italy.
12. The Alps
France is known for having two parts of the European mountain range known as The Alps.
In French, these regions are called Auvergne-Rhône-Alpes, and Provence-Alpes-Côte D'Azur. Mont Blanc, the highest mountain in Western Europe, is partially located in France on the French-Italian border (the Italians call it Monte Bianco). This region is particularly famed for its excellent ski resorts and conditions.
Skiing and snowboarding are popular winter pastimes in The Alps. In summer and spring, you'll find plenty of hikers, bikers and mountaineers making the most of the fresh air!
13. Driving
Driving stereotypes exist all over the world, but France is famous for being a country where drivers are laws unto themselves. It's an unfair stereotype for the most part, but some facts about French roads don't do much to stifle the rumors!
I mentioned that there are no red stop signs in Paris, well that's true! There used to be one but it was removed in 2012. Half of the world's roundabouts can be found in France and at 30,000 of them, you may feel like you've been going round in circles for hours.
Even registration plates have a place in French history. In 1783, King Louis XVI made it mandatory for coachmen to have metal plates attached to their coaches in Paris. In 1901, France became the first country to introduce motor vehicle registration which was later adopted by the rest of the world.
14. French: The language of love
France is known for being one of the most romantic countries in the world, helped by its language. French is literally a romance language, although all that means is that it belongs to a Latin language family, along with Italian and Spanish, for example.
Many English words for affection come from French. "Amorous" comes from "amour", the French word for "love". Some romantic French words translate to English seamlessly: "mon ange" becomes "my angel" for instance.
Others… not so much. "Mon chou" is a serious term of endearment, but don't take offence to the English translation: "my cabbage".
Want to learn French? Dive into the best French learning apps, books and podcasts, or this list of awesome resources to learn French.
15. Movies
Romance movies might be to blame for the modern obsession with connecting love with France. The French love their movies too, and there are more movie theaters per person in Paris than anywhere else in the world! France is famous for its booming, unique film industry.
In 2013, France was the second largest exporter of movies behind the United States, impressive considering the population difference. The Cannes Film festival is a huge celebration of international movies every year, held in Cannes, France. It started in 1946 and continues to this day. Actors, directors and producers hold it in high esteem.
Some of the biggest names from the red carpet also come from France, including Audrey Tatou, Marion Cotillard, Léa Seydoux and Jean Dujardin. If you're up for a French movie binge, some of my favorites are Rust and Bone (2012), Amelie from Montmartre (2001) and La Vie En Rose (2007).
16. Greetings
Remember at the beginning of Beauty & The Beast, when Belle walked down the street saying "bonjour" to everyone she saw?
Well, that's one thing Disney doesn't need to be embarrassed about stereotyping the French for. People really do greet everybody and anybody in France, and it's considered extremely rude not to do it yourself.
France is known for their customary air-kiss greeting, called bisou in French. One or two air-kisses are usually enough, if you're formally introduced to someone or you know them already.
Otherwise, the rules on greetings are pretty simple. If you walk into a shop, say "bonjour". When you leave, you can say "au revoir!" which means goodbye, or a fancy "bonne journée" which means have a good day.
France is not a place to be shy. It could even end up costing you, find out how next!
17. Manners
Avoid being stared at and keep your wallet healthy by being polite! Strange as it may be to us, France is known for going viral on the internet for their tongue-in-cheek signage and menus trying to teach better manners.
If you've worked in catering, you'll know that politeness can be pretty rare. It seems that some French café owners had enough, however, and increased the prices of coffee for customers who did not say hello or please!
One example, posted on Twitter, shows a snapshot from a French menu:
"Coffee: €7. A coffee, please: €4,25. Hello, a coffee please: €1,40." Apparently, it started as a joke but people actually changed their behavior after it stayed. So, unless you want to pay €5,60 ($6,63) more for your coffee, best to smile and impress with a "salut" and a "s'il vous plâit" when you order a drink!
18. Bread & pastries
France is famous for their signature bread, the baguette and their love of bakeries. In France, most main meals are served with bread and "croutons" aren't just for soup – although it's delicious to eat them with French onion soup.
The croissant on the other hand was actually an Austrian invention that Marie Antoinette brought with her from her homeland. Pain au chocolat followed a few years later, although the French are credited with making the croissant somehow even more delectable by adding chocolate.
One thing's for sure, you'll be eating a lot of French pastries. Just don't turn a baguette upside down as some older-generation French believe it will bring you bad luck!
19. Literature
One place you can find peace and quiet in France is in a library or a bookshop. France is famous for inspiring many authors of different centuries, and the French are great book lovers. There are 830 libraries in Paris, and bookshops like Shakespeare & Co are renowned all over the world.
Author Victor Hugo is particularly honored in France, and there's an unwritten rule that every town and city must have a street named after him. If you don't know who Victor Hugo is, he wrote Les Miserables and The Hunchback of Notre Dame.
From novelists to playwrights, France has produced so many huge names in the literary world it would take forever to list them all. If you want to check out some legendary French books before you go, take a look at Albert Camus, Marcel Proust, Voltaire and Charles Baudelaire's works!
20. Napoleon Bonaparte
Did you know that Napoleon Bonaparte wrote a romance novel? It wasn't his literary prowess that put France on the map, though. France is famous for its military achievements under the acclaimed general, Napoleon Bonaparte.
Yes, he conquered huge chunks of Europe, but he's also responsible for why we have street names and house numbers. He even managed to fit in popularizing sidewalk layouts with guttering down the side whilst he commandeered the French army! You'll find statues of him all over France, and to this day it's illegal to name a pig Napoleon there.
Unfairly, Napoleon's reputation outside of France lingers today for being a short, angry little man. In reality, Napoleon was of average height and very smart. He was however extremely vain. It's well-known that he would disguise himself and quiz random people on the street about "what they thought of that guy…Napoleon Bonaparte, did he say his name was?"
Also Read: 25 Fun Things To Do In Toulouse
21. Corsica
Yes, Napoleon has gone down in history, alright. But so has his birthplace, and not just because of him! France is known for its fantastic beaches, and some of the best can be found on the French owned island of Corsica.
Halfway between Italy and France, it's sometimes hard to tell which country Corsica resembles most. If you're looking for great hiking trails and abundant, undisturbed nature, head to the northern parts of the island. Plage de Bodri and Arinella are two wild beaches which only really get tourists during August – and the north is much cheaper, too.
The south coastline of Corsica feels made for sun-seekers and city-dwellers. If you like a bit of noise and commotion, the beaches of Palombaggia and Santa Giulia await you. They're both situated near bubbling metropolises so you can experience nightlife as well as bountiful sand and sun.
22. Bastille Day
We all know the French love to party, and the biggest public holiday, Bastille Day, in France is famous for its bloody history and show of national pride! On 14 July, 1789, the French Revolution started with a violent uprising which targeted the military fortress and prison called Bastille.
France was in turmoil in the 18th century; the famine destroyed crops and bread prices peaked so high that workers could spend up to 88% of their wages on one loaf of bread. The French took matters into their own hands and revolutionists broke into the prison and dismantled it. They captured the governor of Bastille, Bernard-René de Launay, executed him and paraded his head around Paris in victory.
These days, the celebrations are much less grizzly. On 14 July, expect plenty of sightings of the tricolor flag, and crowds singing La Marseillaise (The French national anthem) – both of which were born out of the French Revolution. There's also spectacular firework displays all over France on Bastille Day!
23. Snails
France is famous for its many delicacies but snails, called escargots in French, is one that won't appeal to everyone. Certainly not of interest to vegetarians and vegans, but snails are a national French dish with regional differences.
Traditionally, snails are served as either an appetizer or an entrée with garlic and parsley butter. This dish is sometimes called Escargots á la Bourguignonne, because it's believed to originate from the Burgundy region.
Snails are also occasionally served in a puff pastry dish, or even grilled in southern France. They're also usually accompanied by a baguette basket on the side to fill you up. And anyway, even though it's land snails that are served in France, how different is it from eating shrimp or mussels anyway?
24. Garlic
An enduring stereotype is that France is famous for putting garlic in just about every dish. Some even still believe that they wear it around their necks – which incidentally, they certainly don't. But the French love of garlic goes way back – and it's a less appetizing story than you might think.
In the 15th century, French cooks were using liberal amounts of garlic as seasoning – not so much for the flavor, but because of its ability to disguise the foul odor and taste of spoiled food. It was also believed to have medicinal properties, which as we know today, it does!
The Romans introduced garlic to France, bringing the bulbous plant back from Asia. The French word for garlic is "ail", so if you're not a fan of it or you're out of chewing gum, stay away from dishes containing "ail"!
25. Fashion
If you know anything about fashion, you'll know France is famous for being home to some of the greatest fashion designers of all time. My mom and I describe good fashion as "very Coco" and bad fashion as "not very Coco". We're talking of course about Coco Chanel, a French pioneer who fought for comfortable women's clothing.
Some of the biggest French names in fashion other than Chanel are Louis Vuitton, Christian Dior, Yves Saint Laurent and Isabel Marant. Although high fashion is what dominates fashion weeks from "The Big Four" – Paris, London, Milan and New York – it's French street-style that has influenced the masses.
Both men and women look to France as a country of fashion icons, from designers to models and photographers. Men's fashion has been highly influenced by French style – it's thanks to the French brand Lacoste that the polo top is still popular today!
26. Protests
France is famous for its national slogan: Liberté, Egalité, Fraternité (Freedom, equality, fraternity). The French are particularly outspoken when it comes to politics, and in recent years have made headlines with pronounced protests.
Even in the early days, the French persisted to make themselves heard. The October March in 1789 saw thousands of Parisian women march to Versailles to demand the French Royal Family accompany them back to Paris over the price of bread. They succeeded, and the march was seen as a pivotal step toward the French revolution.
More recently, in 2012, France made headlines for protesting against limiting freedom of speech. Charlie Hebdo, a weekly French satirical magazine went viral online with many joining in the protest using the hashtag "JeSuisCharlie" to show allegiance. In 2019, French protesters nicknamed "Gilets Jaune" or "Yellow Vests" protested against a planned tax increase on fuel.
27. Music
Do you like French music? I hope the answer's yes if you're going to listen to the radio. France is famous for its law that 40% of all the songs played on air must be in the French language!
Luckily, France has produced some artists that have risen to fame all over the world. The most famous for younger readers will be David Guetta, although most of his music has English lyrics attached.
I quite like this controversial law – Listening to French music is a great way to practice your language skills. I listened to a lot of Stromae and Yelle during high school, and later I felt really smart/cool when I understood the chorus from "Montreal" by The Weeknd. True story.
And no, Harry Styles' song "Cherry" doesn't count according to French radio's standards, even with its cameo appearance from Camille Rowe.
28. Not so "French" food
We've already mentioned a few of the dishes France is famous for, but some things taste so good people have assumed they must be (or just incorrectly named it) as French!
Take french fries for example – no, we can't credit the French with the "frites" we all know and love. They're actually Belgian, from the Meuse region. The first record of french fries is from 1686.
Similarly, French toast is a total misnomer. In France, French toast is called "pain perdu" meaning "lost bread". There's evidence the Romans ate a variant of French toast, but the reason we call it French is thanks to a New York innkeeper called Joseph French. He served it in 1724, forgot the apostrophe to indicate it was named after himself, and the rest is history.
29. Food sustainability
Authentically French or not, French people sure hate wasting food. France is known for being the best in the world when it comes to food sustainability. In the U.S, annual food wastage per person comes out at 95.6 kg (212.7 lbs). In France, that number is just 67.2 kgs (148.1 lbs).
The French government wanted to tackle food wastage at the source. In 2016, it became illegal in France for supermarkets to destroy or dispose of food that was still in, or just past, its sell-by date. Instead of lining trash cans, that food must be donated to charities, food banks or be reused as animal feed.
The Food Sustainability Index shows how well 67 nations in the world handle food wastage, sustainable agriculture and health and nutrition. After France, The Netherlands, Canada, Finland and Japan come in pretty close behind. The U.S and U.K have never been among the top 20.
30. The weird & wonderful
Lastly, if I can't persuade you to visit France with city-breaks, gorgeous countryside, delicious food or dazzling beaches, maybe this'll work. France is known for its many quirks – and a few of these might entice you more than another art gallery.
Why not check out a 17,000-year-old cave art instead? Near the Pyrenees, southern France, you can trek inside la Grotte de Niaux, an 8 mile cave adorned with paintings, as well as 400-year-old graffiti. You can visit the Cave of Forgotten Dreams, a natural arch formation cave with prehistoric paintings in Vallon-Pont-D'Arc, also in south France.
If you're truly fed up with art, you can check out the world's oldest basketball court from 1893 in Paris. If you're in the capital and don't mind being creeped out, visit the Museum of Vampires and Legendary Creatures. Jacques Sirgent, an eccentric collector obsessed with vampirism and esotericism, opened it to display his eclectic collection of creepy objects!
Those were just 30 of the amazing things that France is known and famous for, but we want to know what you love about France in the comments! Let us know below.
If Paris is too far away from you right now, check out our guides to the Paris' of the North, East, South and West.
What is France famous for? – Pin it!