What makes a classic American city? Is it the food, the culture, the history? The answer is different for each and every iconic destination. From coast to coast, this country is filled with famous US cities that shouldn't be missed.
Let's take a look at the 16 most famous cities in the USA.
1. New York City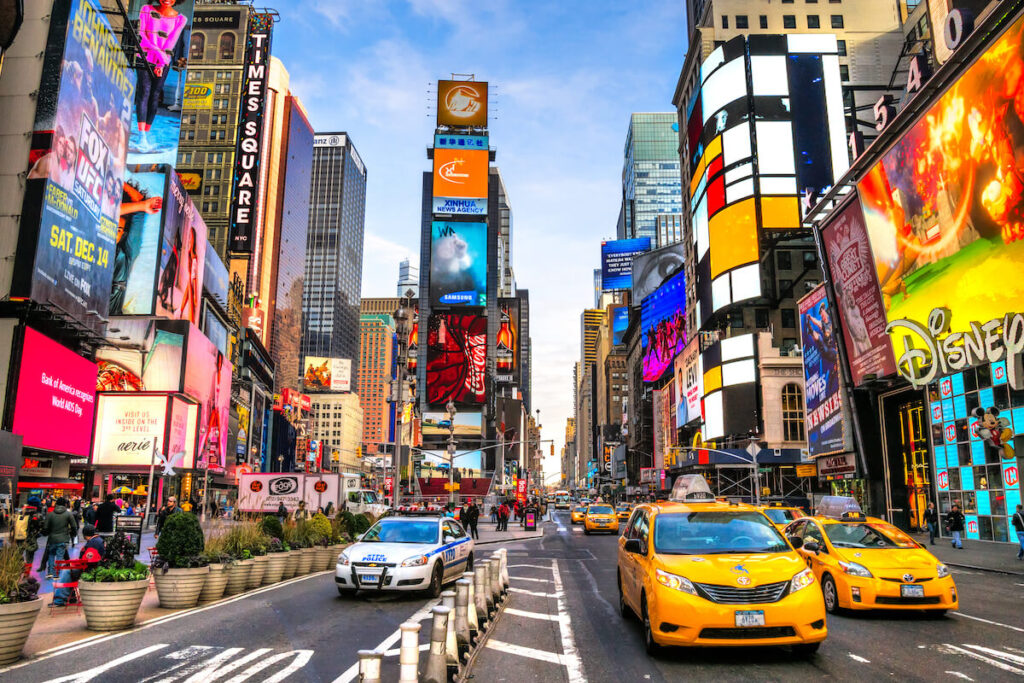 The Big Apple is easily the most famous city in the US. With notable interest points like Times Square, the Empire State Building, the Brooklyn Bridge, and One World Trade Center, there's always something to see here. If there's one place to visit in the country, it's undoubtedly New York City.
Beyond the typical tourist spots, there are hidden gems to uncover in every neighborhood. Local restaurants bring flavors from around the world right to your plate. You can enjoy world-class performances everywhere from Broadway to the corner bar. Even just the simple act of walking up and down the streets of Manhattan feels undeniably magical.
2. Los Angeles
If NYC is the heavy hitter for the East coast, then Los Angeles takes the title for the West. The glitz and glamor of Hollywood is known all over the world, making this one of the most famous cities in the US. From the stunning beaches to the countless celebs, LA has beauty wherever you look.
Disneyland isn't the only place that feels magical in LA. The amazing food, unbelievable views, and iconic sites all make this place feel truly unique. There's always been a bit of a NY vs. LA rivalry, but there's room for both on this list.
3. San Francisco
Take a 6-hour drive up the coast and you'll find yourself in another one of the most famous cities in the United States: San Francisco. Instantly recognizable for the Golden Gate Bridge with its signature color and moody fog, this Bay Area city is distinct from its Southern California cousin.
Whether you come for the landmarks, the tech industry, the food, or the culture, San Francisco has a lot to offer. But that doesn't mean it's all a walk in the park. The city's signature hills are no joke, and they'll make you work for all the beautiful views.
4. Seattle
Move even further up the West Coast to enjoy the jewel of the Pacific Northwest. Seattle is a thriving city known for its seafood scene and dedication to nature. This famous US city is the home of the Space Needle, the Pike Place Market, and the first Starbucks. 
Despite its cloudy and rainy reputation, Seattle has undeniable natural beauty. Mount Rainier serves as a stunning backdrop to the unique city skyline. Plus, the Puget Sound is an important and scenic waterway.
Seattle is the perfect mix of thriving city and beautiful destination, making it one of the most iconic places in the country.
5. Boston
Hop across America to the opposite coast and you'll find another city with an important body of water. The city of Boston (with its infamous harbor) is a well-known destination that's not to be missed. History buffs and sports fans alike thrive in this Northeastern city.
If you're looking for a bite to eat, Boston has no shortage of delicious dishes. Clam chowder, lobster rolls, baked beans, and cream pies are all famous foods in the area. When you're done eating, you can wash it all down with a local Samuel Adams beer.
6. Philadelphia
If you're looking for even more American history, you'll definitely find it in Philadelphia, Pennsylvania. Many important events during the founding of this country occurred right in this very city. But Philadelphia is way more than just its history. It has a rich, diverse culture made famous on the silver screen.
Whether you take a run up the Rocky steps or run around town chasing treasure like Nicolas Cage, there are plenty of iconic places to visit. To top it all off, no trip to Philly would be complete without one of the city's famous cheesesteaks. Try tourist favorites like Pat's or Geno's, or search for your own hidden gem.
7. Washington D.C.
Rounding out the famous historical East Coast cities is the nation's capital. Washington D.C. is home to dozens of important government buildings, most notably the White House. Take a walk through the country's current and past history with the wealth of monuments and statues.
The amount of information and knowledge to be gained in this city is limitless. There are countless museums that showcase the best of human and animal history. The Museum of Natural History is just one of the many Smithsonian museums that are worth exploring. Best of all, most of the museums in the city offer free entry.
8. Atlanta
Hop down the coast and you'll find a famous US city that's bursting with culture and personality. Atlanta, Georgia is where you'll find amazing food, a thriving music scene, and plenty of exciting sights.
Atlanta was home to the 1996 Olympics, cementing its status as an important US city. In recent years, Atlanta has gained fame from a popular TV series of the same name. Other popular attractions range from the Georgia Aquarium to Coca Cola World, demonstrating the wide variety of things to explore in this well-known city.
9. Miami
The final East Coast city on this list is unlike any other. Miami is a famous US city that sometimes doesn't really feel American at all. Miami is known for its distinctly Latin flair and influence. 
With its close proximity to the Caribbean and Latin America, Miami takes cues from and combines a wide variety of different cultures. You'll find delicious dishes with plenty of spice and Spanish music bumping from every corner. The food scene, the nightlife, and the art scene are all what make Miami so exciting.
10. New Orleans
Another exciting and famous city with foreign influence is New Orleans, Louisiana. The French impact on the city is evident in the food, the culture, and the architecture. Take a stroll through the French Quarter for a unique experience unlike any other. 
Of course we can't talk about New Orleans without mentioning Mardi Gras. This spring celebration is known for being a lively street party that's not to be missed. Floats, costumes, live music, and drinks are all integral parts of the week-long party.
11. Las Vegas
If we're talking about lively American cities, we have to talk about Las Vegas. No other city in the country is known for being as wild and unpredictable as Sin City. The iconic strip is filled with casinos, clubs, and plenty of interesting customers. 
In addition to the crazy gambling and club culture, the city is known for some amazing restaurants and performances. So even if you're not one for the slot machines or roulette wheels, there's always something new and exciting to discover in Vegas.
12. Dallas
A list about the United States wouldn't be complete without representation from The South, a uniquely American region with tons of soul. Dallas is at the heart of it all. They say everything is bigger in Texas, and that's definitely the case in Dallas. Big flavors, big personality, and a big focus on iconic Texas traditions. 
Spend your days eating barbecue and enjoy your nights in the local watering holes. Don't forget to partake in some of the local sporting events. Whether you prefer real cowboys or the Dallas Cowboys, you can always find some fun entertainment in the Lonestar State.
13. Nashville
Another famous city with Southern charm is Nashville, Tennessee. When it comes to Nashville, music is king. Take a walk down Broadway and pop into the local honky tonks to experience the local sound. Country music reigns supreme here, but expect to hear a wide range of other genres too.
Like many other famous cities, Nashville has a signature dish. For this spicy city, it's Nashville hot chicken. You'll find tons of spots slinging this extra spicy fried chicken dish, but none more famous than Hattie B's. Like most things in the city, this experience is worth the wait.
14. Chicago
The Midwest tends to be one of the less appreciated regions in America, but Chicago is here to defy those misconceptions.
This treasure of the Midwest is known for its iconic skyline, majestic waterways, and remarkable food scene. Take a picture with the famous statue known as "The Bean" or see the city from high above on the Skydeck for unforgettable memories. 
While Chicago is known for being bitterly cold in the winter, there's something to do in all seasons. Catch a Bears game in the fall, warm up with a hot deep dish pizza in the winter, celebrate St. Patrick's Day in the spring, and enjoy Lake Michigan in the summer. There's always something to enjoy in Chicago.
15. Detroit
Another Midwestern heavyweight that's one of the most famous cities in the US is Detroit, Michigan. Detroit is known for two things: motors and Motown. This city is home to some of the world's most famous automobile companies, notably Ford. It's also the birthplace of Motown music that gained popularity in the 1950s.
While Detroit has been in a bit of a decline since its heyday, it's still one of the country's most famous cities. A growing food scene and continued dedication to music make Detroit an amazing place to visit.
16. Denver
Rounding out our list of American cities is the famous Mile High City of Denver, Colorado. Known for its high elevation and beautiful nature, Denver is just one of the many beautiful cities in the US. Hiking, skiing, kayaking, and biking are just some of the exciting outdoor activities you can enjoy in this unique city.
If adventure sports aren't quite your thing, then Denver still has a lot to offer. The Red Rocks Amphitheater is a music venue known for its stunning views and popular headliners. Plus, the growing food scene and numerous craft breweries mean there's plenty of good food and great drinks on every corner.
Conclusion
Depending on who you ask, each person might give a different answer on what the most famous city in the USA is. All of these cities are so unique and exciting, with personalities that are remarkably distinct. The best way to judge is to just see them for yourselves.
What's your favorite city on this list?