Located in the heart of the U.S., Chicago is the nation's third most populated city and a visually-stunning destination. Ethnically diverse, it is home to large Mexican and Polish communities. The natural environment that this urban spot calls home is varied, green, and walkable, if a bit snowy in winter.
So, what is Chicago known for? Chicago is known for its architecture, food, and mobster history. It's known for its museums and cultural gems, making it an epicenter for tourism. Finally, Chicago is famous for its professional sports teams. Regardless of the game you prefer, there's a spectator sport for all seasons in the Windy City.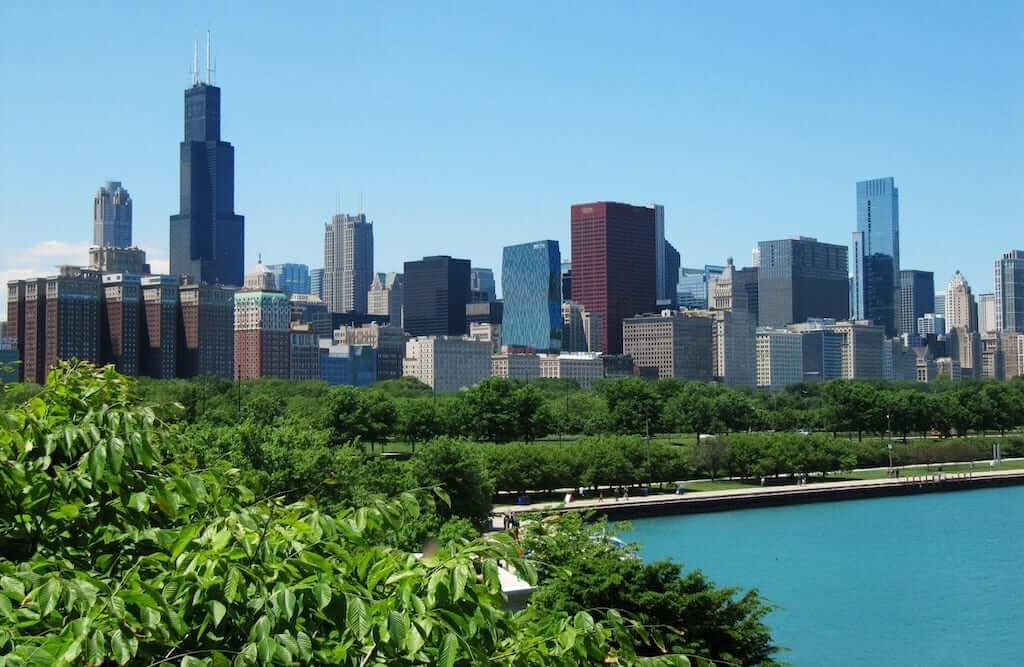 From those just driving in for a weekend getaway, to the most cosmopolitan travelers, this guide will take you throughout the city for a tour of the best it has to offer. Let's discover all the things that Chicago is known for.
1. Chicago Architecture Tour
There's no denying that Chicago showcases some of the newest, tallest, and most aesthetically pleasing buildings in the world. Indeed, Chicago is known for them.
From the tallest (the Willis Tower, where you can suspend yourself 110 stories above the earth with only a sheet of glass beneath you) to the most historical (the Wrigley Building), you'll view the city's finest structures.
You'll also learn about their history, including tidbits from their "cameos" in blockbuster hits filmed in Chicago. The Chicago Architecture Foundation, Wendella Boats, and SeadogCruises all offer tours. Chicago Water Taxi travels the same route, but offers only transportation. Regardless, many folks use the service to partake in a "self-guided tour" on the cheap, by purchasing a book ahead of time and using it as a personal guide.
2. The Lakefront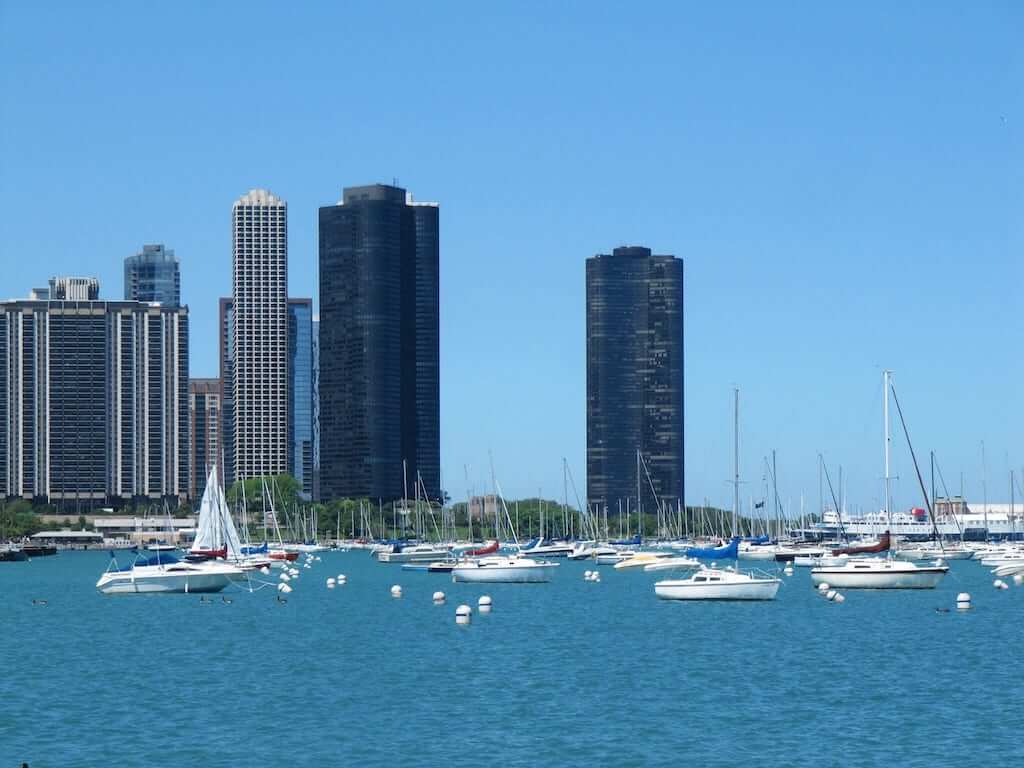 Chicago is famous for its lakefront, which provides a playground open to all. Spring through fall, it's lovely to walk along the path running from north to south along the lake. This path is popular with bikers, joggers, and photographers taking in the boats, windsurfers, and swimmers.
Beaches are at many points along Lake Michigan, from Rainbow Beach and Promontory Point on the South Side, to Oak Street and North Avenue on the North Side. Montrose Harbor features beaches for both dogs and humans, and an outdoor cafe where both species can enjoy lunch or a beer (only one for Fido– he's a lightweight). The Dock is open from Memorial Day through Labor Day.
3. The Bean (Cloud Gate)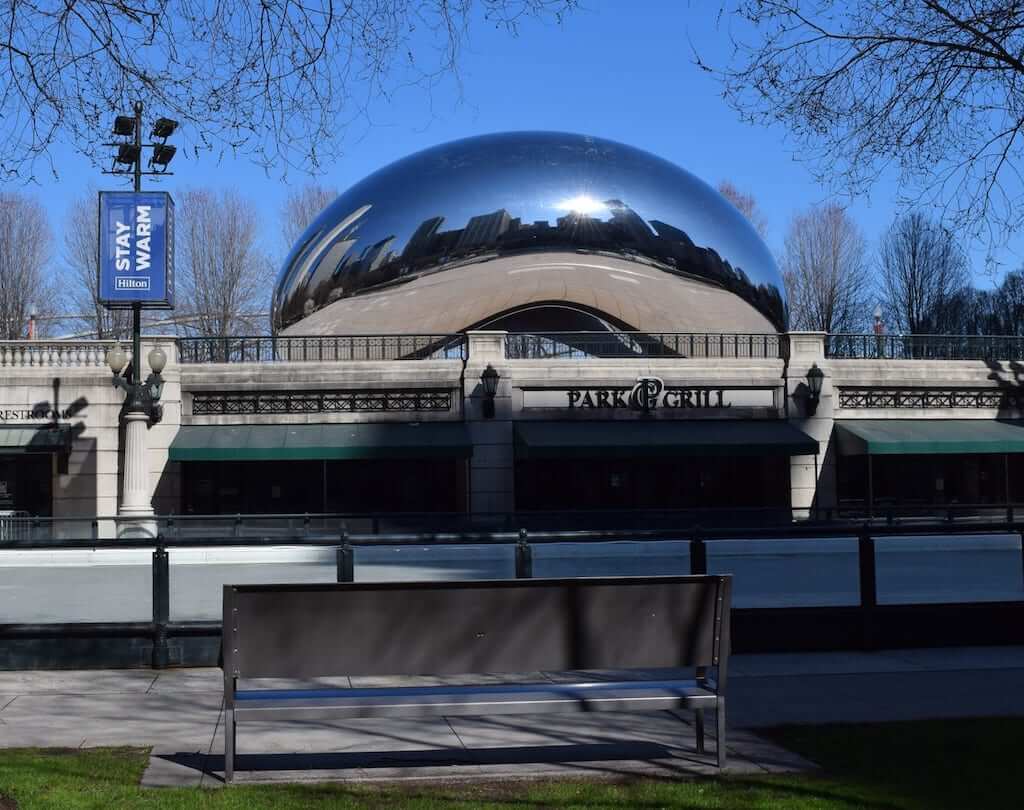 The Indian artist Anish Kapoor finished Chicago's most famous sculpture, "the Bean" in 2006, and it has since become a bucket list item for most travelers to the city.
Officially named "Cloud Gate," it reflects the skyscrapers surrounding it as well as whatever is in the sky– shades of blue, clouds, even raindrops make for a unique image. Up close, people take distorted selfies in the Bean, walk beneath its center arch, and experiment with photographic props like colorful umbrellas and hats. No matter your skill level, you can't take a bad picture at this artistic focal point of Millenium Park.
4. Maggie Daley Park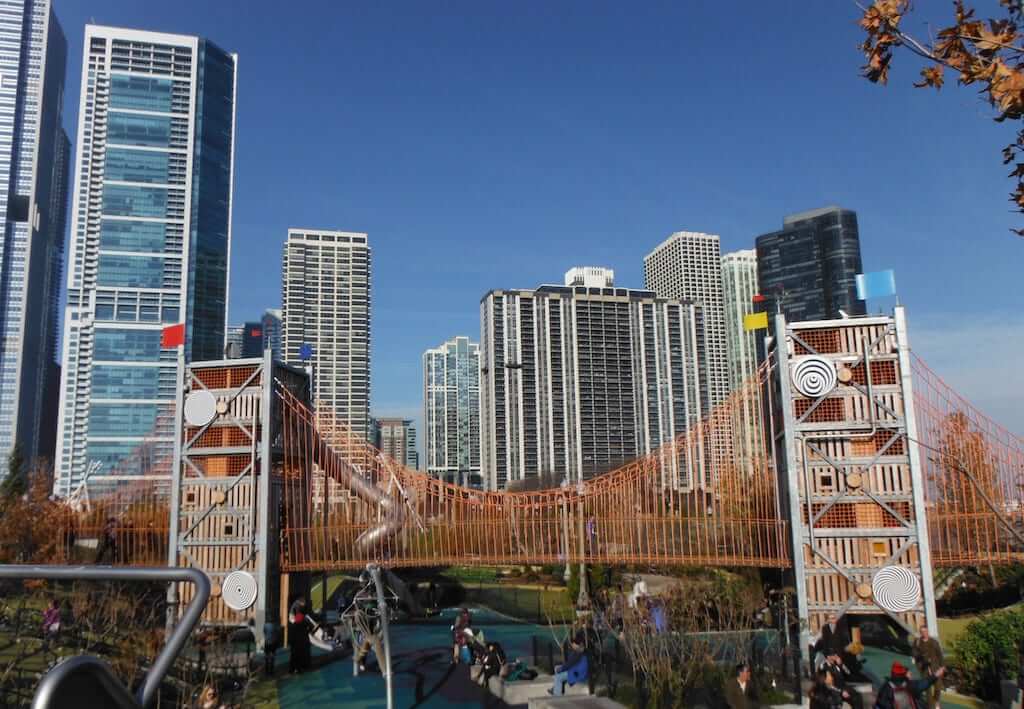 Named for one of Chicago's favorite first ladies, Maggie Daley Park is one of the city's newer additions.
A variety of activities for young and old exist within the large outdoor space. In warmer months enjoy rock climbing, and in winter skate through the Ice Ribbon, a man-made ice-skating trail winding through the greenspace. Or, you can simply take your time and meander through the gardens people-watching, taking in the traffic on Lake Shore Drive, or the boats on Lake Michigan.
Visitors with little ones won't be able to pry them away from the incredible playground, featuring the Tower Bridge and a great slide.
5. The Art Institute of Chicago
As if the Art Institute of Chicago was not mind-blowing as it was, recent years have provided a modern addition to the museum, contrasting beautifully with the traditional architecture of the original structure and containing even more works by the world's most renowned artists.
Whether it's the Institute's massive collection of Impressionism, or a work by Van Gogh, Grant Wood, or Andy Warhol you want to see, you'll find it at this award-winning museum. With the modern wing added, the building itself is immense; one could spend days here and not see it all.
Even for those with little interest in art, the Art Institute is a must-see, as it is one of the places Chicago is known for.
6. The Chicago Symphony Orchestra
Chicago is known for having one of the top five orchestras in the world.
The Chicago Symphony Orchestra sits under the baton of the great maestro, Riccardo Muti. They perform outstanding concerts that draw music lovers from around the globe; being in the audience you'll hear more foreign tongues than in just about any other place in Chicago.
Their seasonal productions, such as those for Christmas or Halloween have an appeal of their own. Indeed, the Halloween show pictured here features ghoulish tunes like "Night on Bald Mountain" and "Tocatta and Fugue," played by costumed musicians. It's frighteningly good!
7. The Magnificent Mile
From Van Cleef & Arpels to Bloomingdales, you'll find all the upscale shopping your heart desires on the "Magnificent Mile." Stand-alone shops as well as malls fill the skyscrapers along this section of Michigan Avenue, just north of Downtown. More mainstream options, such as Nike or the Apple Store, draw huge crowds, as does the American Girl Place. Don't miss this last vendor — it includes a high-end salon as well as a hospital, just for dolls.
8. The Chicago Riverwalk
The newly-redeveloped Chicago Riverwalk provides a scenic water-side path that is devoid of motor traffic. Those working Downtown often use it for lunchtime exercise on foot, but you can also rent from Urban Kayaks if you prefer to paddle. Otherwise, stop in for a bite at one of the many eateries located along the walk, or sip a drink and enjoy the view from one of City Winery's see-through igloos. Located below Upper Wacker Drive, this footpath spans the entire east to west stretch of the throughway.
9. Wrigley Field
Chicago is known for its iconic Wrigley Field, home to the 2016 World Champion Chicago Cubs. This famous sports venue nestles itself among an active community and plenty of restaurants, bars, and shops. Don't forget to sing "Take Me Out to the Ballgame" while you take a selfie with the Harry Caray statue in front of the stadium.
Alternatively, if you're more of a Sox fan, visit the crosstown neighbors on the city's South Side, at U.S. Cellular Field. Not much for baseball? Instead take in a basketball or hockey game — the Bulls or Blackhawks, at the United Center. If football or soccer is your passion, see the Bears or Fire play at Soldier Field.
10. Gangsters and Graveyards
Chicago is infamous for its mobster history. Al Capone, the St. Valentine's Day Massacre, and "Public Enemy Number 1," John Dillinger, all evoke images of gangster crime in the Second City.
Of course, this type of crime never ends well, and many of its ringleaders went to an early grave. Have an unpaid loan you'd like to speak with them about? Visit many of the city's most notorious criminals at Mt. Carmel Catholic Cemetery. Or, you can visit the burial sites of a more upstanding crew at Graceland Cemetery.
This gorgeous urban oasis has as many of Chicago's founders as the former cemetery has hitmen. See greats such as Marshall Field, Daniel Burnham, and so many more in this spacious setting filled with arts and natural beauty.
11. Gangsters and Theaters
If you'd like to see where the life of "Public Enemy Number 1" met an equally public death, visit the Biograph Theater where he was shot. While Dillinger is dead, the theater is still very much alive. It features live productions and still maintains many original elements, such as a well-known marquee. Several venues featuring similar live shows are in the same area, including the famed Apollo Theater, the Athenaeum, and ornate Aragon Ballroom just a bit north.
12. The University of Chicago
Though covered in ivy, the University of Chicago is often not afforded the "street-cred" of its Ivy League counterparts. However, it's consistently ranked a top U.S. university.
The University of Chicago turns out nobel laureates like they're going out of style! The campus is also a great place to take in a wallet-friendly play or musical production. You can also tour Frank Lloyd Wright's Robie House, or see a mummy at the Oriental Institute. If the mummy doesn't spook you, head to the Divinity School. Here you can have coffee at the Grounds of Being, and then head up to the third floor, where the Romanian secret police supposedly executed dissident professor Ioan Culianu, in a bathroom stall. Despite this tragedy in the early nineties, the divinity school cafe is still touted as "Where God drinks coffee." Finally, spend the evening watching a classic movie at Doc Films.
13. The Hip Music Scene
If you'd like to get a listen to the phenomenal jazz and blues that Chicago is known for, you have a variety of options.
Hear some great jazz in the same place Al Capone used to do it — the Green Mill Cocktail Lounge. Rumor has it he preferred the joint for its underground tunnels, still used today for storage. The walls feature amazing original murals. If blues is more your style, head a bit south to Kingston Mines, a long-time Windy City classic where Koko Taylor often took to the stage. Continuing to the River North neighborhood, the House of Blues is another fine option.
14. Fine Dining
In addition to its architecture, exceptional fine dining is something Chicago is known for the most. Celebrity chefs like Rick Bayless, Stephanie Izard, and Beverly Kim all have restaurants here, and their creations taste just as delicious in person as they look on television.
Visit Topolobampo or Girl and the Goat and you will not be disappointed — but call first because seats are taken up fast at these famous eateries. The area immediately west of the Loop on Randolph Street has a number of options, including much-lauded restaurants like Au Cheval, and right next door to one another, Avec, and Blackbird. Au Cheval even has its satellite Small Cheval in the Downtown and Wicker Park neighborhoods. The fare here is quicker and less expensive, and although the options are more limited, the food is of the same high quality.
15. Fine Desserts
You can sample scrumptious desserts at any of the establishments noted under "Fine DIning," or you can go to those dedicated to just desserts.
Chicago chef Mindy Segal, most famed for her cannabis edibles, had her signature full-service eatery "Hot Chocolate" in Wicker Park until early 2020. Now she owns nearby Mindy's Bakery, where you can delight in her unparalleled hot chocolate with homemade marshmallows. Take it from someone who used to hate marshmallows — these will change your mind. They are delectable, as are all of the offerings here.
Now that you've been introduced to the many things that Chicago is known for, it's time to planning your visit!
What is Chicago famous for? – Pin it!