It's the second-largest country on the map, but what exactly is Canada known for?
In addition to poutine and maple syrup, Canada is known for its friendly people, cultural diversity, and stunning landscapes.
Whether you are looking for outdoor adventure, a dose of history, or a bustling city vibe, this vast country truly has something for everyone.
Keep reading to discover 25 things that my homeland of Canada is famous for!
1. Beavers
Is there a more obvious symbol of Canada than the beaver? These hardworking creatures have been important to Canada's identity since the European settlement when the fur trade was alive and well.
The beaver embodies many Canadian qualities – they are busy, like to build things in nature, and can survive brutally harsh winters. Although beavers were once at risk of becoming extinct, the evolution of the global economy has ensured that the animal is alive and well across the country.
The Canadian beaver is also featured on Canada's five-cent coin.
2. Poutine
Of all the fabulous Canadian cuisine, poutine tops the list as Canada's most iconic dish. The traditional version of this not-so-healthy meal is made of French fries, cheese curds, and gravy.
Poutine first appeared in Quebec in the 1950s but can now be found in virtually every Canadian arena, pub, even McDonalds! There are even restaurants known as "poutineries" where you can get about any poutine variation imaginable.
This dish may look messy but it tastes incredible!
3. Multiculturalism
Canada is known for its ethnic diversity and multicultural society. The country even has a national policy of multiculturalism and boasts the highest number of foreign-born citizens anywhere in the world.
As millions of immigrants choose to make Canada home, they are encouraged to hold onto their cultures and beliefs where they are celebrated.
An impressive 195 languages are spoken across the country. Now that's multiculturalism!
4. Maple syrup
Did you know that Canada provides around 75 percent of the world's maple syrup supply? This sweet natural resource is big business and brings in about $320 million for the Canadian economy each year.
Most of the maple syrup comes from farms in Quebec, also known as sugar shacks. The syrup is harvested from maple trees where buckets are hung on sprouts to catch Canada's liquid gold.
The maple syrup possibilities go beyond pancakes in Canada. From cookies to cocktails, you can find maple syrup flavor in just about any food product. If you're ever visiting, make sure to embrace a unique variation of this Canadian delicacy!
5. The Canadian Flag
While we're on Canada's obsession with maple syrup, the maple leaf is also the iconic emblem featured on the national flag. The red and white single maple leaf design is highly recognizable and can be seen from a distance.
In comparison to other countries, the Canadian flag is not that old – it celebrated only its 56th birthday this year!
6. Hockey
Hockey is undoubtedly Canada's game.
It's believed that the first hockey game ever was played in Montreal in the 1870s, so it's clear to see why the Montreal Canadians were the first NHL team. Since then, Canada has dominated the winter sport in almost every major league and event.
Canada is now home to seven NHL teams and countless other hockey organizations and leagues. The hockey culture is so strong that 93 percent of Canadians say it provides a sense of community in the country. So even if you're not a sports fan, the uniting force of the game is undeniable.
Producing some of the most talented players in the world, Canada holds a total of 18 Olympic gold medals in hockey – more than any other country by a landslide.
7. Politeness
If you are traveling to Canada, expect to be welcomed with open arms! Canada is known for having the politest and friendliest residents in the world. Canadians like to apologize – even if they haven't actually done anything wrong!
Two students from McGill University conducted a study that showed the top 10 percent of words likely used by Canadians on Twitter. Among them were words like "great" and "agree".
No matter who's wrong or right, politeness comes first in Canada.
8. Cold winters
Canada is known for having some of the coldest winters in the world. Enduring a Canadian winter is a survival skill that residents must learn from an early age.
The next time you think it's cold outside, consider this: in January 1989, the temperature reached -91°C with the windchill in the Northwest Territories. So when you see a temperature recorded in the negative range, it's safe to add an additional 10 or 20 degrees when you factor in the Northern wind.
It's not too bad once you get used to it – just make sure your face is covered when you go outside so it doesn't burn.
9. The telephone
Did you know that the first telephone was invented by a Canadian immigrant? Scottish-born Alexander Graham Bell created the first working telephone in 1875.
Of course, his great invention has long evolved since then into that little device in your pocket known as a smartphone.
10. The Canadian Rockies
The Canadian Rockies are full of sparkling glaciers, turquoise lakes, and winding roads. The region is home to some famous National Parks including Banff, Jasper, and Yoho.
The Rockies offer an abundance of adventure for outdoor enthusiasts. From hiking to the tallest peak, or perfecting your paddle stroke out on the lake, there are endless places to explore. Even driving through little mountain towns like Golden or Canmore is an adventure in itself!
11. The word "Eh"
"Eh" is a classic Canadian term commonly used at the end of a sentence – any sentence really.
From statements to confirmations, exclamations to questions, there are many ways to incorporate the word "eh" into a conversation like: it's a pretty nice out today, eh? Or, we should get together sometime, eh?
The word has become somewhat of a Canadian stereotype and can be found on billboards, business ads, and television shows to poke fun at Canadian culture.
Pretty funny, eh?
12. Ice wine
Canadian winters can be bitterly cold, so it's pretty clear how the country can make rare ice wine – a dessert wine produced from frozen grapes.
Ice wine is about twice as sweet as soda pop. You will only need a tiny glass of it because a little goes a long way! It's meant to be served at the end of a meal, usually with foods like cheese, fruit, or chocolate.
If you're looking to sample the most authentic ice wine, Niagara Falls is the best place to visit.
13. Wildlife
If you're looking to spot some wildlife from afar or up close, Canada is the place for you.
From whale watching on the coast to passing a moose on the highway, the country is home to many majestic animals. Tourists are often astounded by the number of animal sightings in both remote and city areas.
One highlight is Churchill – a tiny town in Northern Manitoba. It's known as "The Polar Bear Capital of the World" and has the highest concentration of polar bears in one region.
To see the largest land mammal in North America, head to Elk Island National Park just outside of Edmonton, where you can see about 700 wood and plains bison.
14. Road Trips
A coast-to-coast trip in Canada would take you approximately 657 hours – and worth every second!
From Vancouver Island to Newfoundland, there are coastlines, Rocky Mountains, prairies, and cities to explore along the way.
Some of the country's most breathtaking drives are the Sea to Sky Highway in British Columbia and the Cabot Trail in Nova Scotia.
15. Mounties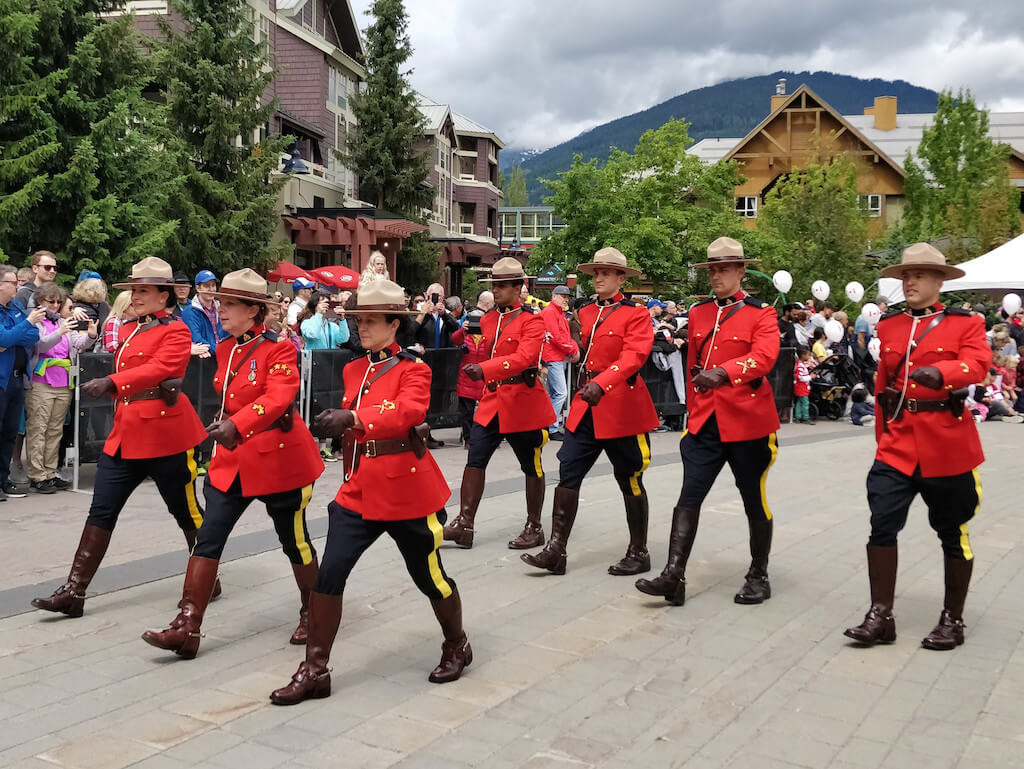 Canada's National police force, referred to as The Mounties, is about as Canadian as it gets.
You have almost definitely seen the traditional Mountie uniform made up of the red jacket, Stetson hat, and brown riding boots. While their duty uniform is that of a regular police officer, the red surge is still used for formal events – and costs an average of $3,500 per officer!
The Royal Canadian Mounted Police have a long history and remain to be one of Canada's largest national institutions. The Mounties currently employ over 35,000 police officers, civilian members, and public service members.
16. Quebec City
While there are many incredible cities in Canada, none of them quite bear the historical charm of Quebec City. The 400-year-old city is known for European-inspired cobblestone streets, incredible French cuisine, and delightful locals.
To learn more about what the province of Quebec is known, check out this article.
17. Drake
Canada is the homeland of many famous musicians, and one of the more recent phenomenons is Drake. The Toronto-born sensation is a brilliant rapper, singer, songwriter, and actor.
Throughout his career, Drake has always represented Canada with an incredible amount of pride; he even has the CN tower tattooed on one of his biceps! He can often be seen courtside cheering on his hometown NBA team, the Toronto Raptors.
18. The world's longest coastline
Although Canada is only the second-largest country in the world, it has the longest coastline with a length of over 240,000 kilometers.
With the Pacific Ocean in the west, the Arctic Ocean in the north, and the Atlantic Ocean out east, almost every province has its own coastline.
With its massive coastline and endless amount of freshwater lakes and beaches, Canada is truly a water lover's paradise.
19. Canadian bacon
People around the world love Canadian bacon – but did you know that it's actually referred to as back bacon or peameal bacon in Canada?
Whatever it's called, it's delicious!
This famous Canadian breakfast food is rolled in cornmeal, creating that iconic yellow crust. It's actually pretty hard to find it outside of Canada these days, so be sure to devour some alongside poutine on your next trip!
20. Tim Horton's
Double-double, anyone? How about a maple dip? Canada is famous for its widely recognized coffee chain, Tim Horton's. The restaurant serves coffee, doughnuts, sandwiches, and other fast food items.
Tim Horton's is about as Canadian as hockey or the maple leaf. To prove that point, the chain can be found in every major arena and has tons of maple-flavored menu items.
The coffee giant has even been referenced in pop culture shows like How I Met Your Mother.
21. Three million lakes
Canada is known for being home to the most lakes in the world – a whopping three million of them! In fact, Canada has more lakes than the rest of the world combined. Around nine percent of the country is covered by freshwater lakes.
Some of the most breathtaking lakes in the country are found in Banff National Park including Lake Louise and Emerald Lake.
Needless to say, an entire post would be needed to scratch the surface of Canadian lakes!
22. Expensive cities
Canada is known for being home to some of the world's most expensive cities.
In a recent article published by The National Post, four Canadian cities made the list for being the most expensive places to live in all of North America: Vancouver, Toronto, Hamilton, and Ottawa.
If you're looking to move to Canada anytime soon, don't worry – some affordable cities also made the list too!
To read more about what Vancouver has to offer, check out this article.
23. Higher education
Did you know that Canada is the most educated country in the world? Over half of Canadians hold a college degree – not bad for a population of only 35 million people!
Canada is also home to world-renowned institutions including McGill University, University of Toronto, and McMaster University.
24. Niagara Falls
Canada is famous for the incredibly popular tourist destination, Niagara Falls. It's made up of three massive waterfalls that can be seen from both the Canadian and United States borders.
Known as one of the world's natural wonders, about 28 million liters of water travels down Niagara Falls every second!
From zipping lining to jet boat tours, you can experience Niagara Falls from thrilling perspectives. You'll also find theme parks, vibrant nightlife, wine trails, and much more – making it the perfect spot for a weekend getaway.
25. Banff National Park
A trip to Banff is practically a given in a Canadian's lifetime, as well as one of the most popular tourist destinations. The park gets especially busy in the summer months as tourists swarm this mountain town.
The park's backdrop of mountains and lakes provides an endless amount of activities for the whole family. Whether you are looking for a challenging hike, or relaxation at the hot springs, a Banff getaway will never disappoint!
Conclusion
There you have it: 25 things that Canada is known and famous for. Did any of these Canadian facts surprise you? Let us know in the comments below!
For more on specific Canadian regions and cities, be sure to check out other articles in this series: