The second-largest city in Canada, Montreal is a French-Canadian cultural hub with a European feel. Montreal is known for being one of the most desirable cities to be a student or to create a start-up. It's famous for its diversity and inclusivity. It's also a tourist destination that appeals to foodies, music enthusiasts, festival-goers, and comedy lovers.
Let's take a deeper look into the 18 things that Montreal is known for:
1. An island with a unique climate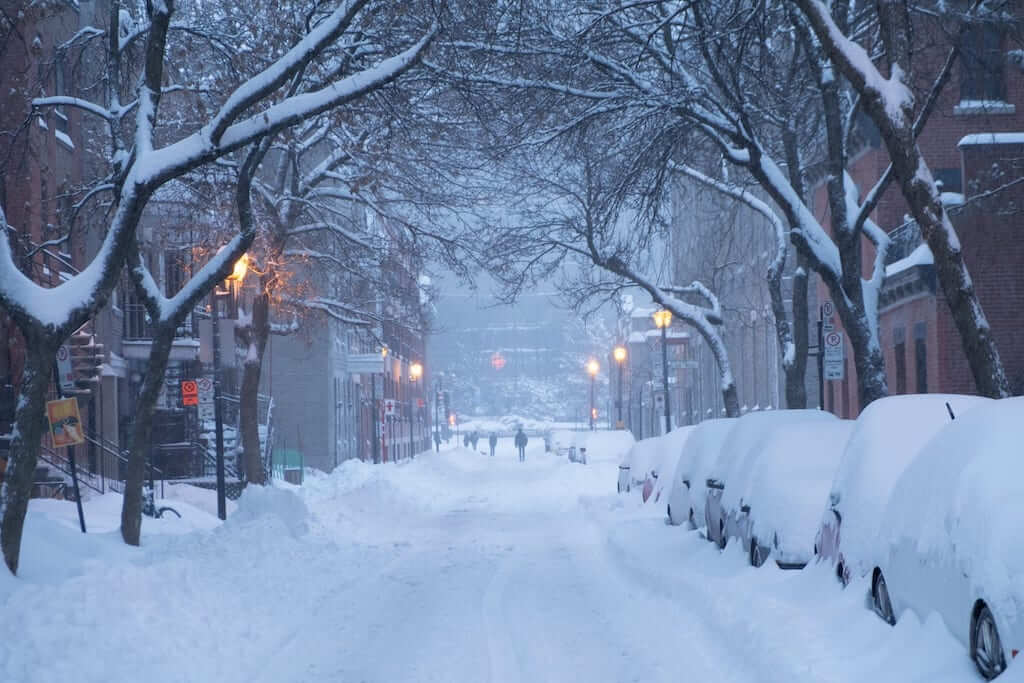 Montreal is an island surrounded by the Saint Lawrence and Ottawa Rivers. Typically, Montreal is known for its ice-cold winters with temperatures below -30°C (-22 F). It is a lesser-known fact that Montreal becomes hot and humid in the summer, sometimes reaching beyond 30°C (86 F). This climate makes Montreal unique because it can cater to some of the most exciting winter and summer events in the world.
2. Language and independence
Montreal's language politics also make it a unique city. Montreal's official language is French but most of its residents can also speak English. French language and culture are important for its residents.
Quebec has held two referendums to decide if Quebec should separate from Canada. The second referendum, held in 1995, was one that nearly changed Quebec and Canada's relationship forever. Only 50.58% voted against Quebec's independence!
3. History
Before the arrival of the first French colonial explorers in 1535, First Nations peoples occupied the land. Montreal was actually called Tiohtià:ke in the Mohawk language or Mooniyaang in Ojibwe. The land was considered an important crossroad for different First Nations.
There have been many movements to acknowledge the land's Mohawk name and the rights of First Nations peoples. The topic raised a lot of attention when the city celebrated its 375th anniversary in 2017. Many people argued that the anniversary celebrated French Colonialism and left those who had lived there for centuries prior feeling forgotten.
Since their arrival, French and British colonies fought over the land because it was important for the fur trade. In 1832, Montreal officially became a city and Canada's economic centre. From the late 19th Century, Montreal restored its francophone identity, which is still of great importance to its French-speaking residents today. Although Montreal was once home to many anglophone businesses, many eventually relocated to Toronto.
4. Diversity
Montreal is known not only for its First Nations, its French and its English identities, but also for its diverse immigrant demographic. It is easy to find Jewish, Haitian, Portuguese, Greek, Lebanese, Italian, Moroccan, Armenian, Chinese and many other immigrant communities throughout the city. This greatly enriches Montreal's identity as a vibrant city interlaced with many cultures. While walking down the city's streets, you can hear many languages spoken.
If you're lucky enough to come across one of these communities, don't be shy to follow your senses and try new cuisines. They make Montreal famous for being one of Canada's top foodie destinations.
5. The Gay Village
Montreal is proudly home to a large LGBTQ+ community, most openly celebrated in the city's Gay Village. The Village mirrors New York's East Village. You can find many LGBTQ+ businesses and residents in the area.
In the autumn, Montreal hosts an LGBTQ+ film festival. In the summer, residents and visitors can enjoy local bars and restaurants, as well as celebrate Montreal's Pride Festival in August. The streets are dressed with colorful bulbs and are closed to vehicle traffic. It's no wonder The Village attracts so many curious visitors.
6. Underground City
How do Montrealers escape the cold?
Well, did you know that underneath Montreal there is a large network of tunnels that relieve daily commuters from Montreal's famously freezing temperatures? These tunnels link the downtown business and shopping district to a Metro system that can take you wherever you need to go without stepping foot in an inch of snow. If you want to explore the whole of Montreal's underground city, be prepared to walk over 20 miles.
7. Expo 1967
In 1967, Montreal famously hosted the World Fair, during which many unique structures were built for hundreds of thousands of visitors from across the globe. One such structure is a large geodesic dome, which was initially built as the United States Pavilion, featuring a functioning Monorail. Unfortunately, in 1976 the structure caught fire but its bare bones remain today as the Montréal Biosphere. You can find the dome in Park Jean-Drapeau, on Saint Helen's Island.
Another world famous and photogenic brutalist housing complex, Habitat 67, was built for the Expo by architect Moshe Safdie. He attempted to bring the pleasures of suburban living to the urban centre for an affordable price-tag. Unfortunately, the structure's infamy pushed the units beyond your average rental budget.
The 1967 Expo also gave birth to the second largest amusement park in Canada, La Ronde. If you're lucky, you can catch the park's world-famous annual fireworks competition.
8. The Canadian Grand Prix
The Gilles Villeneuve Circuit famously hosts the annual Canadian Grand Prix competition, which is part of the Formula One World auto-racing championship. One weekend every summer, racing enthusiasts flock to the city to watch. Locals also love to use the 2.7-mile racetrack as a bike path during the off-season.
9. Old Montreal
Old Montreal is a historic district of Montreal, admired for its romantic cobblestone streets and architecture that dates back to 17th Century French expansionism. It is where you'll find the Old Port, built on the Saint Lawrence River as a fur trading post. Today, sightseers, cyclists and rollerbladers enjoy its facilities. Old Montreal is also a great place to find many high-end boutique hotels, praiseworthy restaurants, and cozy bars.
10. Mont Royale
Did you know Montreal's name originated from the mountain located in its centre?
Although residents may disagree about whether this extinct volcano is in fact tall enough to be called a mountain at all, it's worth the walk to the top where you can find the stunning views that Montreal is known for.
Don't forget to enjoy a picnic at the mountain's Beaver Lake in the summer or to bring your skates and a sled in the winter!
11. Tam-Tams
Visiting Tam-Tams at the base of Mont Royale is a rite of passage for any Montreal resident or visitor. Drummers join together to form a large drumming circle next to the Monument to Sir George Etienne Cartier. The tam-tam of the drums sets the stage for Live Action Role Players (LARPers) every Sunday. This scene is well known by any Montrealer.
Also Read: 20 Best Canadian Souvenirs Other Than Maple Syrup
12. The Mile End
If it's trendy cafes, bars, restaurants, bookshops and second-hand clothing boutiques you're after, Montreal's Mile End is the perfect spot for you. Don't be surprised to hear the sound of Yiddish spoken along its streets. The neighborhood is home not only to young creatives but also to a local community of Hasidic Jews. In the Mile End, you will also find some of Montreal's most infamous delicacies.
13. Bagels & other delicacies
Anybody who has visited Montreal can attest to the happiness felt when indulging in a soft warm Montreal-style bagel at St. Viateur or Fairmount in the Mile End.
The Montreal-style bagel has Eastern European origins, introduced to the city by Jewish immigrants. The bagels are initially boiled in honey and water before being freshly baked in a wood-fired oven, topped with sesame or poppy seeds, and your choice of butter or cream cheese. The world-famous bagels even joined bagel-loving astronaut Greg Chamitoff on a trip to the International Space Station!
If you happen to be strolling down Saint Laurent Boulevard, keep your eyes peeled for Schwartz Delicatessen. This famous spot was established in 1928 and continues to serve hungry foodies who line up patiently outside. Their reward is a towering smoked meat sandwich on rye with a side of dill pickle and coleslaw.
Honorable mention: don't forget to try the dish that French-Canada is really most famous for, poutine. Picture a large stack of fries drenched in hot gravy and sprinkled with melting cheese curds. Don't knock it 'til you try it!
14. Jean Talon Market
All Montreal foodies look forward to visiting the Jean Talon Market, which takes place outdoors during the warmer months of the year and is mostly covered during the cooler months. Butchers, florists, fishmongers, fresh produce and prepared food vendors line the market with mouth-watering goodies that will leave you feeling inspired to finally try all those recipes you once ambitiously bookmarked. The market is easily accessible by Metro or by bike for those looking to get with the local rhythm.
15. Nightlife
Quebec's relatively low drinking age is one reason why students love the great nightlife scene that Montreal is famous for.
In Montreal, you can find a venue for every niche. Whether you prefer enjoying carefully prepared cocktails in a dimly lit bar, sipping on craft beer while listening to your local band, or showing off your best moves on the dance floor, you surely won't be disappointed. Local restaurateurs and bar owners put a lot of emphasis on the details that make Montreal's nightlife world famous.
Montreal is also known for its underground club scene, if you can find it.
16. Festivals
Montreal is world-famous for its many festivals. In 2004, The Montreal International Jazz Festival earned a Guinness World Record for being the world's largest jazz festival. It boasts some 3,000 performers at 20 different stages and is visited annually by over 2 million jazz-lovers.
Have you ever heard of Igloofest? If not, you might be surprised to learn that electronic music lovers venture out to Montreal's Old Port in sub-zero temperatures to listen to their favorite DJ. Concertgoers huddle together in colorful snowsuits and toques with mulled wine in hand to keep them warm during Canada's coldest weekends of the year. They say if you keep your body moving, you won't even feel the cold.
Piknic Electronik is Igloofest's summer sister festival. It takes place every Sunday throughout the summer at Parc Jean-Drapeau. Local and international electronic musicians are showcased on two separate stages. As the name suggests, there is a tradition of bringing your own picnic to enjoy while listening to your favourite tunes.
For the more experimental types, Mutek features five days of digital arts and electronic music during the month of August. The festival has been known for embracing more alternative forms of music and digital art expression.
But wait, what would Montreal be known for if not its sense of humour? Just for Laughs Festival puts Montreal on the map by being the largest comedy festival in the world. It has famously taken place at several venues throughout the city since 1983. The festival began as a French-speaking comedy fest, later expanding to include English-speaking local and global performers.
17. Universities
Diversity, nightlife and culture make Montreal the perfect setting for Canadian and international students to spend their college years. Montreal is famously home to several internationally recognized universities such as McGill University, Concordia University, Université de Montréal, HEC Montréal and Université de Québec à Montréal.
Every year, Montreal attracts thousands of new students to live in what has been named one of the top cities in the world for students. Montreal is especially unique because students can take courses and submit their assignments in both French and English. At English universities, such as McGill and Concordia, you will likely meet many American students who prefer schools in Montreal due to their relatively cheap tuition fees.
18. Tech start-ups
So, what happens to all of the students who spend four years of their life enjoying a high standard of living at such a low cost? Well, since Montreal has already attracted some of the best global talents at the world's top universities, the city has become the birthplace of a growing tech industry. Low costs for businesses and innovators give Montreal a new identity as a tech start-up haven that millennials love to call home.
Montreal is world famous for being a playground for art lovers, music enthusiasts, language connoisseurs, foodies, and comedians. It is known for its green spaces and joie de vivre. It is also a political hot spot where locals won't shy away from what they believe in. It is certainly a unique city that would prove to be a great destination for any personality.
Which part of Montreal are you most excited to experience? Leave a comment down below if you have already been or would love to visit Montreal.
Now, hop over to read about other Canadian cities in this series:
What is Montreal famous for? – Pin it!