Founded by the French in 1718, New Orleans is a historic city renowned for its parties, its architecture, and its music. There's plenty to see here that's worth remembering, so pick up some souvenirs from New Orleans.
Although commonly regarded as a city of sin, more wholesome visitors will find their share of trinkets too. Spooky memorabilia is a must, and don't forget to pick up some cake!
If you are looking for New Orleans souvenir ideas, here are just 21 to start with:
1. Jazz Music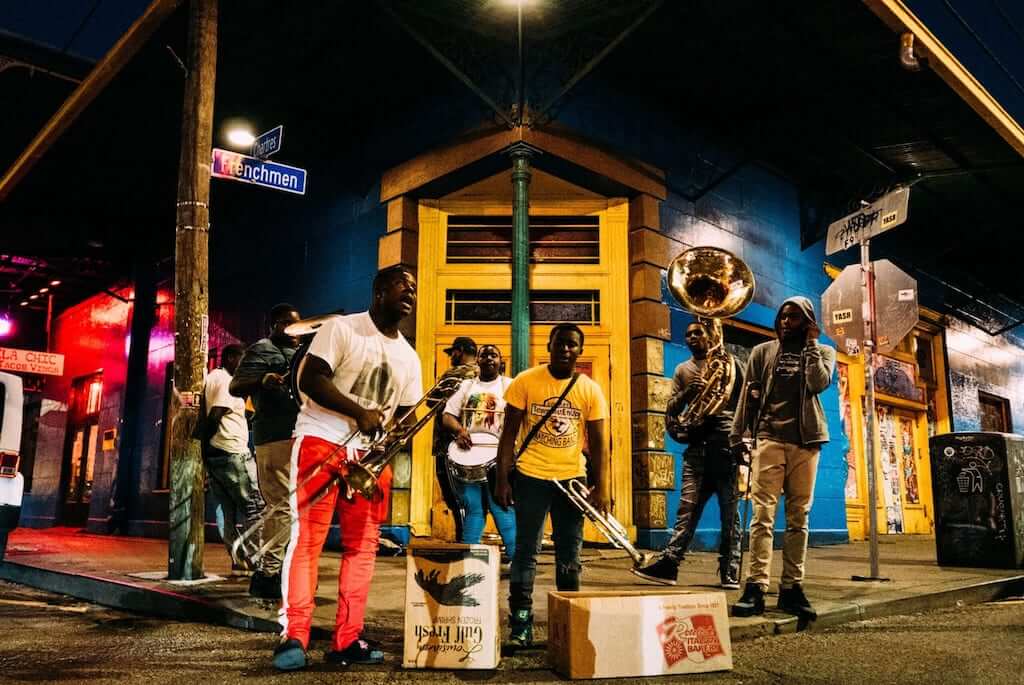 Although New Orleans is legendary for its music scene in general, Jazz is its most famous export and was born in the city.
How Jazz started is the subject of much speculation. It is believed musical traditions from West Africa brought over by the slave trade may have been the creative impetus that led to the genre's development.
Some of history's greatest jazz legends grew up and performed in New Orleans, and no visit is complete without a stop off at a Jazz bar.
The historic Spotted Cat Club and Preservation Hall are internationally renowned and feature many superstar acts. Lesser known but top-quality street performers in and around the French quarter are a really good way to discover new music. It feels great to support their efforts by purchasing their CDs.
Alternatively, pick up some Louis Armstrong, Pete Fountain, or Danny Barker, some of New Orleans' greatest hits.
2. A Creole Cookbook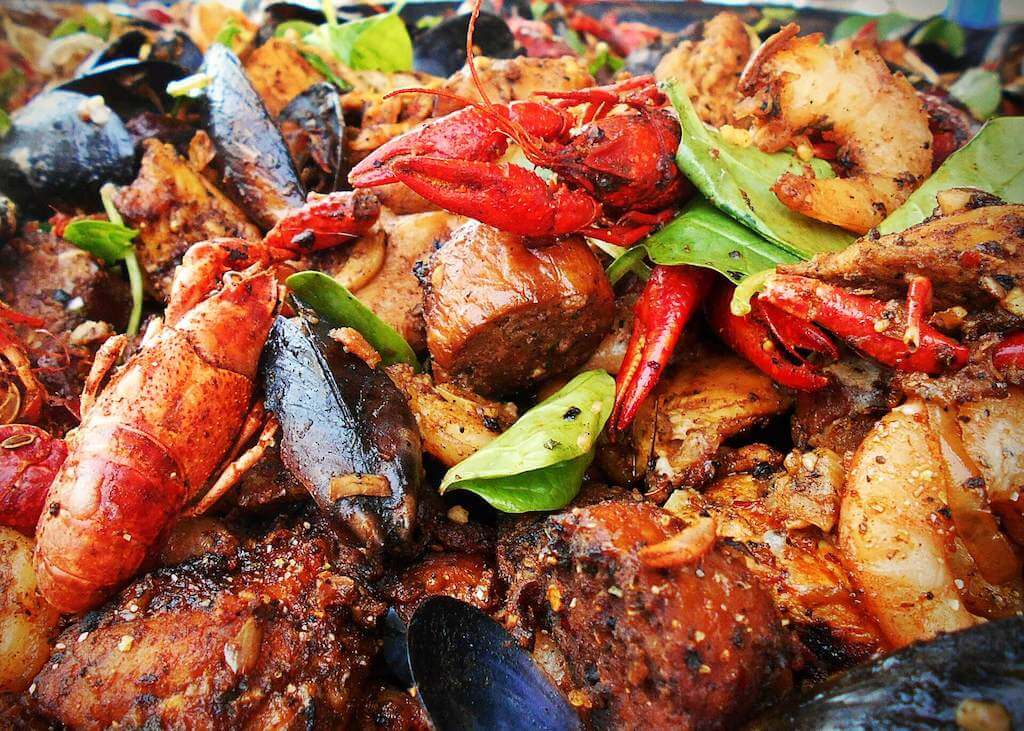 Born out of the melting pot of Louisiana, Creole cooking is characterized by blended herbs spices, and an abundance of butter, and shellfish. New Orleans has a great restaurant scene, and its food is something of legend.
Dishes such as Oysters Rockefeller and the Po'boy sandwich were invented here. Spanish, French, West African, and Amerindian cooking traditions have fused together to create culinary perfection. Shrimp and grits, jambalaya, gumbo, and crawfish etouffee should all be on your tasting agenda.
Pick up a creole cookbook to take the tastiness home with you.
3. Mardi Gras Throws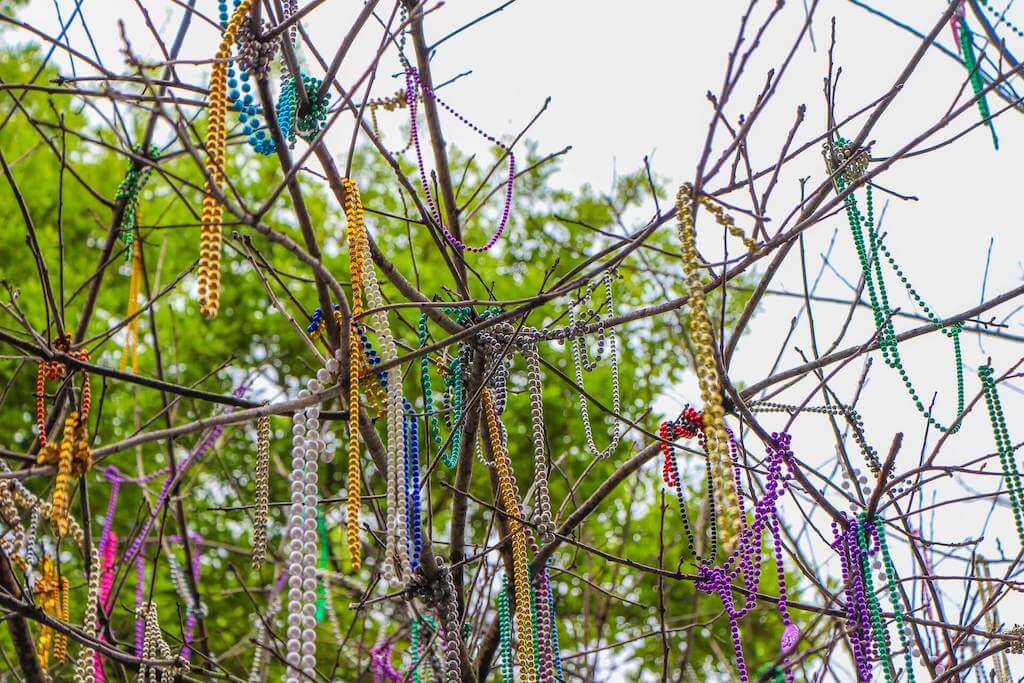 Made from beads, doubloons, and other trinkets, Mardi Gras throws were originally colored green, purple, and gold to symbolize the virtues of faith, justice, and power.
People deck themselves out in these beads at parties and carnivals. They are frequently used for the less-than-virtuous motive of bribing women to undress at Mardi Gras.
Although normally thrown into crowds at Mardi Gras, you will actually find them hanging off trees all year round.
4. Hot sauce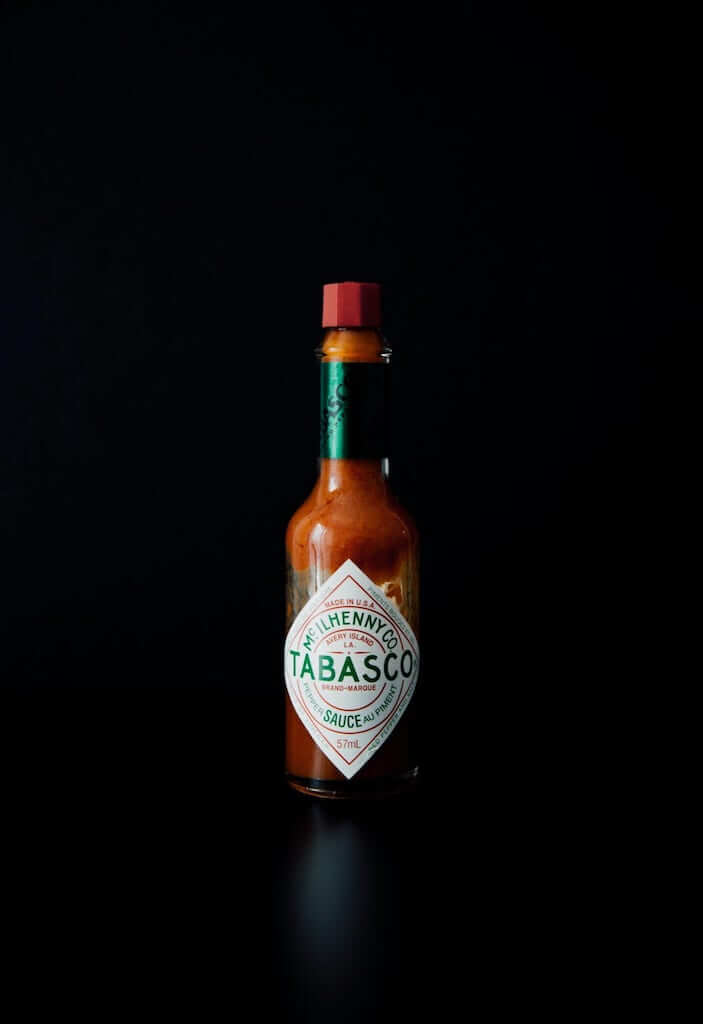 Hot sauce is top of the list for best food gifts from New Orleans.
Louisiana is America's hot sauce capital (unless you're from Texas), and Tabasco was invented here. Visit a hot sauce bar to taste a variety of blends that mix spices and garlic together to produce different flavors, from sweet to smoky.
If you are here for pure masochism, sample what claims to be the world's hottest sauce, manufactured by the New Orleans Hot Sauce Company.
5. Gris-Gris Bags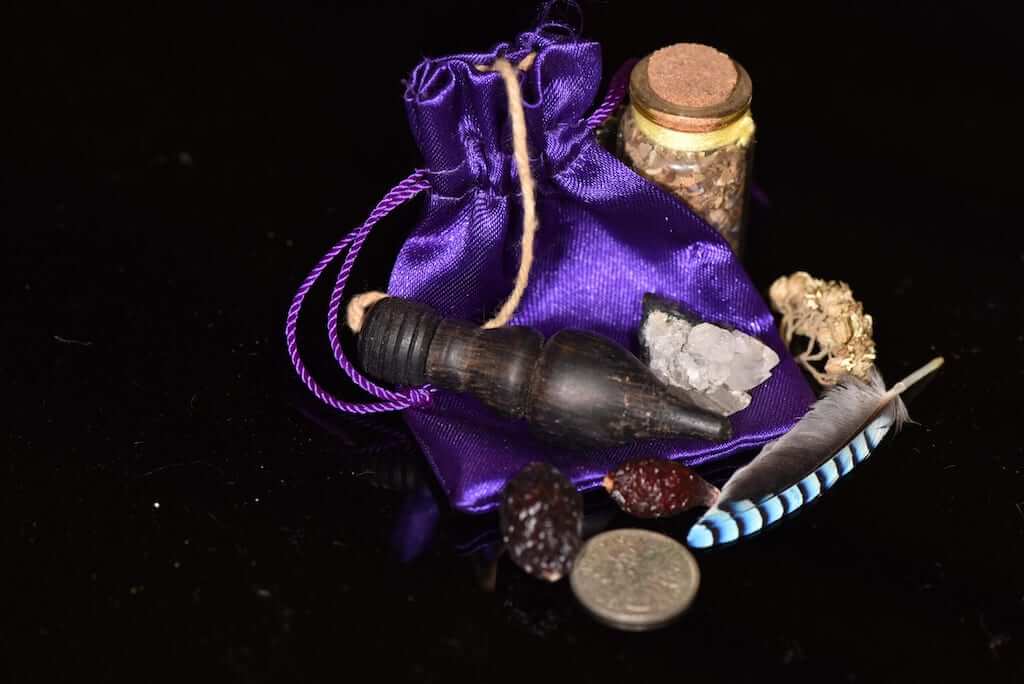 Louisiana voodoo evolved from the religions of the West and Central African population brought over by the slave trade. A number of New Orleans Voodoo kings and queens became so well respected they were visited by everyone, from ordinary southerners to the wealthy and powerful.
One of the most important things voodoo leaders did was supply protective charms called gris-gris bags. These little bags can have any number of protective objects in them, from incantations to talismans and herbs. They are traditionally kept in your left pocket or around your neck.
More authentic than voodoo doll, these bags make a great New Orleans souvenir.
6. Beignet Mix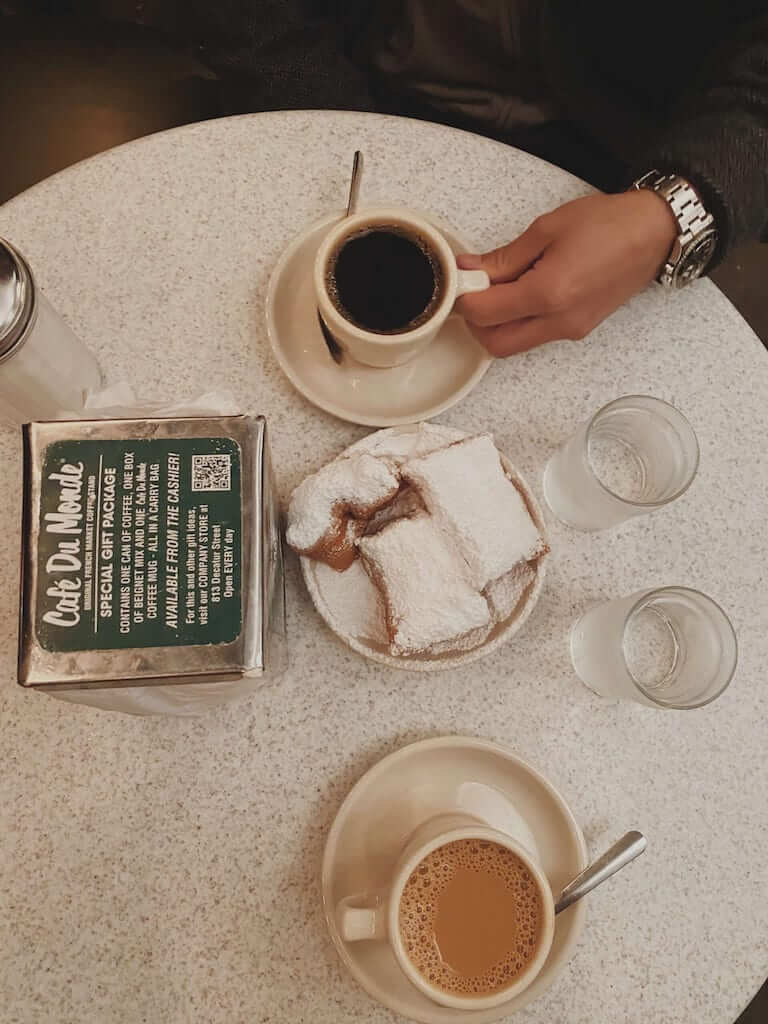 The beignet is an unspeakably decadent square of choux pastry, deep-fried and smothered in sugar. A delicious American version of a French-style patisserie, beignets are the must-have signature snack of New Orleans. They are perfect with a cup of coffee.
Most people get them at the Café Du Monde, open since 1862. You can pick up a batch of beignet mix to make your own at home.
7. Antique and Vintage Collectibles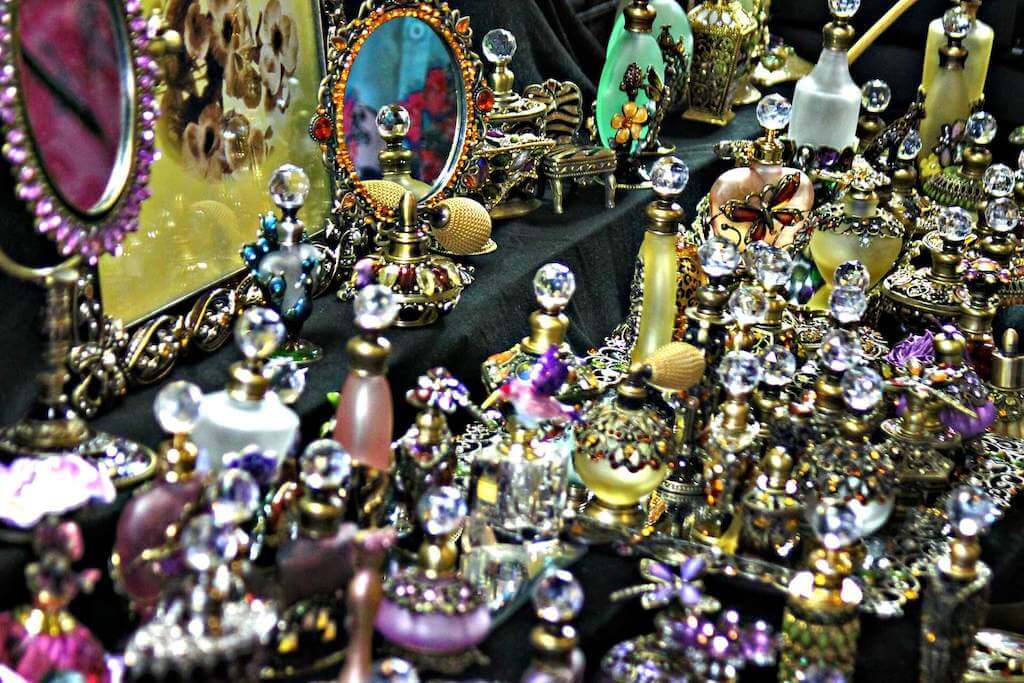 New Orleans is one of the oldest cities in America and has a lively history, having played host to many cultures. As a result, it is a fantastic place to find antiques, particularly for those interested in the antebellum south, jazz music, or Louisiana voodoo.
Due to New Orleans' connection with France, you will find a lot of French antiques on sale. For those unlikely to spend thousands on a priceless painting from the Napoleonic wars, antique pharmacy bottles and strange bits of taxidermy are among the more popular little items that make good New Orleans souvenirs.
Additionally, the French market sells all sorts of bric-a-brac, including vintage fashion, old posters, and postcards.
8. A Spice Mix
Purchase a blend of Cajun or Creole seasoning made by the experts. Cajun and Creole cooking have a lot in common and are frequently confused, but while both are from Louisiana, Creole is from New Orleans itself.
Both Cajun and Creole spice uses herbs common to French cuisine, such as bay leaf, oregano, and thyme, and blends them with new world spices such as Paprika and Cayenne. Cajun mixes are typically slightly hotter and use a range of peppers.
New Orleans is packed with specialist spice shops, so make sure you pick up a blend. These places smell amazing, and you are likely to learn a thing or two about cooking if you talk to the staff.
9. Anything with a Fleur-de-lis on it
The fleur-de-lis is the symbol of New Orleans, stolen from the French flag belonging to the House of Bourbon. There are many legends surrounding the royal French flower, including that it represents the lilies that sprang from Eve's tears as she left the garden of Eden.
Nowadays, it's more commonly associated with football, and the New Orleans Saints team sport the crest on their black and gold kit. You will find many things with this logo on in the city, from keychains to mugs, and they make great cheap souvenirs from New Orleans.
10. Masks
The masquerade is part of the New Orleans Mardi Gras celebrations. Mardi Gras gives people a chance to let the evil out and commit sins before lent starts. Revellers are traditionally supposed to wear a mask to hide their identity while they do so.
For those of us who commit sinful acts all year round, you can pick up a mask in one of New Orleans souvenir shops. Masks range from the cheap and simple to meticulously made works of art.
11. King Cakes
King cakes are traditionally eaten on holy days. It's made from dough twisted into a ring and splattered with colorful icing and edible glitter. You can find king cakes in a number of Catholic countries and they are generally sold from epiphany on the 6th of January till Easter.
While it is traditional the world over to hide things inside the cake, in New Orleans a tiny plastic baby is usually cooked into the center. In recent years you may be given your baby rather than forced to find it in the dough due to health and safety concerns.
One of the best food souvenirs from New Orleans, King Cake comes in a huge variety of flavors and styles, from the traditional to the artisanal.
12. Cigars
Due to New Orleans' proximity to Cuba and the Caribbean, cigars are a major feature.
New Orleans has some of that lazy Caribbean vibe which will have you kicking back with a cocktail on a warm summer's night. If you like to smoke or feel like pretending to be a Caribbean dictator for a day, New Orleans is a great place to pick up good quality smokes.
13. A Jean Lafitte Merch
Jean Lafitte was a French pirate who operated in and around New Orleans at the turn of the 18th Century. Known for his bad-boy behavior, flamboyant dress sense, and way with women, he is one of New Orleans' most infamous residents.
Although he and his brother ran an illegal smuggling business in Louisiana, he was pardoned for helping Andrew Jackson at the Battle of New Orleans in the War of 1812. He later turned spy for the Spanish and spent most of his career attacking merchant ships which earned him millions of dollars.
His mustachioed visage adorns plates, t-shirts, and coffee mugs all over the city and they make great unique New Orleans souvenirs.
14. Musical Instruments
Although not everyone may appreciate it if you come home with a trombone, the heart wants what it wants.
New Orleans is jazz central and there are quite a lot of stores that supply a range of guitars, brass instruments, and sheet music. If you are here on a musical pilgrimage, it's a great place to find top-quality instruments.
Some of Jazz's biggest names bought their first instruments here, and many seek to follow in their footsteps.
15. A Book of Ghost stories
A haunted plantation, ghost pirates, zombies, and America's most haunted cemetery, New Orleans is one of the spookiest places in the US.
In a city where belief in voodoo was strong, zombies were a chief concern. If that wasn't enough, one of the creepiest places in New Orleans is the Lalaurie mansion, owned by a wealthy couple in the 1800s, and revealed to have a secret torture chamber in the attic.
Due to the sheer number of famous haunted sights, ghost tours are a popular visitor attraction, and New Orleans is great on Halloween.
Visit one of New Orleans many bookshops, and occult stores to find a copy of the local legends that are part of New Orleans' distinct character.
16. Pralines
Another Louisiana import from France is the praline. One of the best food souvenirs from New Orleans, Pralines are made from sugar, butter, evaporated milk, and pecans cooked together to make a sugary snack.
A number of places in New Orleans compete for the title of best praline makers, although Aunt Salley's has been running since 1935 and is something of an institution. Variations on the snack include chocolate, coconut, vanilla, and rum, for those who like a kick.
17. A Voodoo doll
Voodoo dolls actually do not have much to do with voodoo outside of popular culture. They are part of a magical tradition found across multiple religions. Nonetheless, they are a staple product in New Orleans which has embraced its spooky reputation with gusto.
You will find little voodoo dolls everywhere ranging from the super creepy to the completely adorable. Whether you're longing to stab a co-worker, your mother-in-law, or your ex-boyfriend, voodoo dolls are one of the best souvenirs from New Orleans.
18. Literature
New Orleans is known first and foremost for being a party city, but it has its share of cultural giants too. Many world-renowned authors grew up or wrote here, inspired by the city's spooky atmosphere and simmering class tensions.
Among the canonical greats who worked here are William Faulkner, Charles Bukowski, and Tennessee Williams. William's is a bit of a darling in Louisiana, and the New Orleans literary festival is named after him.
Pick up a copy of the classic tale of snobbery, sexuality, and madness, A Streetcar Named Desire. Alternatively, if your tastes run more towards the fun and the spooky, Anne Rice, legendary writer of pulp vampire novels also grew up here and was inspired by the gothic setting of the Bayou.
19. A Bourbon Street Sign
Named after the French royal family, not the drink, Bourbon Street is one of the oldest streets in New Orleans.
It is one of the principal streets down which the Mardi Gras parade runs. Miniature parades, street performances, and live music can be found here at any time of year.
It is also home to some of the city's most famous clubs and restaurants, and Marie Laveau's House of Voodoo. You are sure to end up here at some point sipping a cocktail, and possibly dancing in an impromptu conga line.
Pick up a Bourbon Street sign from a New Orleans gift shop to relive the memories (or fill in the blanks).
20. Cocktail Ingredients
Not everyone who comes to New Orleans comes to party – but they are in the minority. While you are here you will probably do your share of drinking, and alcohol is a great present to take home with you.
The people of New Orleans evidently have a sense of humor, because their most famous drink is the hurricane. Made with some variation on lashings of rum and passion fruit juice, it was invented at Pat O'Brien's bar. Once only accessed in the prohibition era with the password "storm's brewin'", the bar nowadays sells Hurricane cocktail mix and souvenir glasses.
New Orleans other great institution is the Sazerac, created at the Royal Street Pharmacy in the 1800s. Previously labeled as "medicinal", it is made principally from Rye Whiskey or Cognac and bitters. Both can be found in abundance at specialist shops all over New Orleans.
21. WWII Memorabilia
For history buffs, New Orleans World War II museum is an excellent spot. The museum is in New Orleans because of the Higgins boat, which took American soldiers across the coast of Europe during WWII. One of the best museums in America, it has both immersive exhibits and real aircraft from the war.
In addition to its informative and atmospheric displays, the museum has a massive gift shop that stocks t-shirts, posters, metal signs, and collectibles such as dog-tags. It also has an extensive array of vintage and retro fashion, as well as replica military canteens and lighters from the war.
Best places to buy souvenirs in New Orleans
For general shopping, the French Quarter can supply most of your souvenir needs. The French Market, dating back to 1791, spans five blocks and supplies a range of trinkets, bakeries, local arts and crafts.
For spooky gifts
For Gris-Gris bags, voodoo dolls, and any number of occult paraphernalia, visit Marie Laveau's House of Voodoo, or Reverend Zombie's House of Voodoo, named for two important figures in voodoo culture. Alternatively, the Boutique Du Vampyre, a "metaphysical supply shop", stocks dolls, trinkets, and books containing local ghost stories.
For food souvenirs
The Southern Food and Beverage Museum is one of the best places to go for cookbooks, cocktail books, and a range of Creole food packaged up for you to cook at home.
The Spice and Tea Exchange in the French quarter has a selection of authentic spice mixes. Magnolia Sugar and Spice Bar has both a hot sauce tasting bar and an exquisite praline kitchen. Creole and cajun cookbooks can be found at the Kitchen Witch, dedicated to Louisiana cuisine.
For alcohol and cigars
The famous Hurricane cocktail mix and cocktail glass can be purchased at the historic Patrick O'Brien's bar. The Sazerac House on Magazine Street has a wonderfully classy bar that does cocktail tasting and sells traditional Sazerac bitters, whiskey, and Cognac.
Mayan Imports is a legendary cigar shop and features a range of fine high-quality tobacco from across Latin America, as well as a smoking lounge to hang out in.
For music souvenirs
If you don't pick up some tunes from a worldly roadside trombone-player, head to the Louisiana Music Factory, which has an incredible selection of CDs and vinyl from local and internationals acts.
For second-hand instruments and a laid-back vibe, try Webb's Bywater Music. Walk the streets of the French quarter and Jackson Square to find and support local musicians.
For cakes
For beignet's and beignet mix, nowhere beats the historic Café Du Monde, whose evergreen reputation for coffee and cake stretches back to 1862. When shopping for King Cakes, there is a lot of controversy over what is the best bakery. There are many, many places that sell them in season, from between January 6th and Ash Wednesday.
Antoine's Bakery is a local institution, and the Dong Phuong bakery has recently become highly acclaimed for its culinary excellence. For the more sophisticated European version of the cake, head to Maurice's French Pastries, which serves artful takes on the cake with chantilly cream and fresh fruit.
Manny Randazzo is exclusively dedicated to King Cake and bakes all years round.
For books
If you speak languages other than English, especially if you have French heritage, the Arcadian Bookstore is the place to go. William Faulkner lived and worked in what is now the Faulkner House, home to an excellent bookstore. The favorite of locals in the Blue Cypress store, which has a cozy feel and resident cat.
For antiques and vintage collectibles
Royal Street and Charter Street are both packed with antique shops and historical paraphernalia. The Dark Matter Oddities and Artisan Collective stocks weird and wonderful, occult, and medical antiques.
For bric-a-brac, including old posters and postcards, the French Market sells antique and vintage wares. Vintage 329 sells collectibles, costume jewelry, and antique cocktail glasses. The Antique shop M.S Rau in particular is a popular spot with visitors. It is widely believed to be one of the best antique shops in America.
For mementos
If you want a mug or keychain or general book on Louisiana, the New Orleans Gift Store stocks a great range or touristy apparel. Forever New Orleans is great for t-shirts and local art prints and other souvenirs from New Orleans.
For Mardi Gras attire, including masks and beads, try the Mardi Gras Spot.
Also Read: 15 Things New Orleans Is Known For
Souvenirs from New Orleans that are perfect gifts – Pin it!