Flagstaff, Arizona might not be at the very top of most people's American itineraries – but that's a real shame, as the beauty, culture and amazing uniqueness of this Southwestern city show.
Flagstaff is famous for its stunning geography, lively artistic subcultures, and its role as a historic gateway to the nation thanks to its placement on Route 66. Flagstaff is also known for its many breweries, its world-famous observatory, and for being a haven to extreme sports enthusiasts from all over.
Now, there's books that could be written about everything that Flagstaff has to offer, but for the sake of brevity we will limit ourselves to 16 things that this city is famous for throughout the world. Enjoy!
1. A Forgiving, Yet Breathtaking Climate
While some Arizonan cities such as Tucson and Phoenix are known for their sometimes cruel desert climate offering boiling temperatures and punishing monsoons, Flagstaff is a bit different.
Because the town is located more to the state's north, it exhibits more of a seasonal, almost mediterranean climate.
Sure, summers still get hot and dry over here – but temperatures over 100 degrees are unheard of, unlike places deep within the Sonoran desert.
On the flip side, Flagstaff actually gets a lot of snow in the winter! And as a bonus, the transitionary seasons are very mild and temperate as well.
This makes Flagstaff an excellent destination for those who want to see the beauty of Arizona's famous geography, but can't put up with the scorching heat of the state's heartland.
2. All-American Roads
Flagstaff's population ballooned in the years following the war, and one of the direct causes of this was its location right on Route 66, probably the most famous highway in world history.
Flagstaff is known for being the largest city in Arizona that was once served by this important route, and today a big chunk of the former Route 66 is preserved as a 'historic' road, attracting plenty of visitors every year.
It's not just the scenic drives: Flagstaff has preserved, renovated, and even expanded on the many historic roadside diners and attractions that used to dot the town between the 30s and 60s.
3. Winter Sports Galore
As I mentioned before, Flagstaff is unique within Arizona for having a relatively mild climate. A big part of this has to do with its elevation of over 6,000 feet, making it the perfect winter getaway in the Southwest. Nearby mountain peaks can reach up to 11,000 feet!
Thousands flock to the Flagstaff area during the snowy season for its many attractions during that part of the year.
From snowboarding to skiing, tubing, and more, it definitely has a lot more to offer in this department than the flat deserts of Tempe or Tucson!
4. The Grand Canyon
True, the Grand Canyon isn't actually in the municipality of Flagstaff. On the other hand, it's the next best thing: so close you can visit in less than a day's trip!
Most of the millions that flock to see the Grand Canyon each year do so transiting through Flagstaff, and for local residents the journey is even easier of course.
The Canyon's vastness and scale are the stuff of legends, and you could do worse than visiting it by way of one of the nation's most vibrant and interesting cities!
5. An Amazing Blend of Cultures
"Vibrant" is also the word I'd choose to describe Flagstaff's unique and famous cultural scene. Not only does the town benefit from its Native American history, having been founded on Navajo and Sinagua land and to this day harboring a sizeable Native community.
Flagstaff is also known for its one-of-a-kind mix of subcultures, artistic communities, and other groups, a particular mishmash that can only be called "the Flagstaff vibe".
From punk rockers and hippies to bohemian painters and from gym addicts to brewery fanatics, Flagstaff's many faces add color to the town and make it an excellent – and unforgettable – place to get to know people and make friends.
6. World-Class Beer
About those breweries, by the way: if you in any way appreciate the fine art of craft beer, you should listen up. Flagstaff is a bit of a hidden gem in this regard, and it's no coincidence that it's officially been designated by its state as an "Arizona Craft Beer City".
On an average walk through downtown Flagstaff, expect to come across the sight and smell of fine beer as far as the eye can see.
There is even a Flagstaff Brewery Trail, a free expedition of sorts sponsored by the city that takes anyone curious enough through the many obvious and not-so-obvious stars of the local brewery scene.
7. World-Famous Stargazers
Like much of Arizona, Flagstaff offers clear skies year-round. Because of its high elevation and mountainous landscape, this particular town is even more suitable for the construction of observatories and large-scale telescopes than nearly any other city in the nation!
It is here in Flagstaff that researchers at the Lowell Observatory discovered an object in the solar system in 1930 that they dubbed Pluto.
Sure, in the many years since then we have argued and argued again about whether Pluto is actually a planet, but its discovery by native Flagstaffers is indisputable!
8. The Flagstaff
You didn't think that the city was named Flagstaff for no reason, did you?
Yep, in fact Flagstaff gets its name from a literal flagstaff that's planted right in the heart of town for everybody to see.
There are many folk tales and legends about how it got there – a popular theory claims it was erected on July 4, 1876 to celebrate the Centennial of the United States – but what we know for sure is that it's been there since the 1800s, and it for sure is going to stay for a long time to come.
9. The Seven Wonders
No, I'm not talking about the classical seven wonders of the world – you'd need plenty of frequent flyer miles (and a time machine) to see all of them in a day.
However, Flagstaff is still known as "the City of Seven Wonders", and for good reason! The moniker refers to the seven breathtaking natural sights that await you both within the city limits as well as at a distance of no more than an hour's drive from it.
I already mentioned Grand Canyon, but what about Oak Creek Canyon? Maybe not as world-renowned, but no less beautiful for sure!
The other five are Walnut Canyon, the Wupatki National Monument, the San Francisco Peaks, Sunset Crater, and Coconino National Forest.
Between them, you can explore gorgeous mountain ranges, unique wildlife, some of the nation's most ancient preserved pueblos and pre-Columbian artifacts, and excellent winter skiing opportunities.
Of course, there's a lot more to the seven wonders than just that, but for the whole experience, you would have to go there and find out for yourself!
10. America at a Junction
Route 66 is not the only way in which Flagstaff served – and in many ways continues to serve – as an intersection for many domestic travelers.
Flagstaff is also known for its Station and Railroad District, which passes through the same part of town as the historic Route. From here, you can still board the Amtrak Southwest Chief train that serves every major destination on the route from Los Angeles to Chicago.
The Railroad District also seamlessly blends into downtown, making it a key destination for nearly anyone visiting the city.
In addition, Flagstaff maintains its own airport, and most of the inner city is very bike-friendly, having been continuously developed in this regard since the 90s.
11. Volcanic Marvels
Flagstaff is in the middle of a geographic area dominated by volcanic activity in the past.
None of the many volcanoes in the general Flagstaff area are active anymore (and thank god for that!), but today you can still visit one of the region's most distinctive geological wonders: the Lava Tubes.
These caves, ranging in age from a few hundred thousand to over a million years, formed through complex processes of erosion and volcanic flow.
They offer marvelous sights that are unlike any other kind of natural cave you'll ever see. In fact, due to their length and tell-tale shape, the caves are more like long tunnels or tubes, hence their name!
12. Hollywood Fame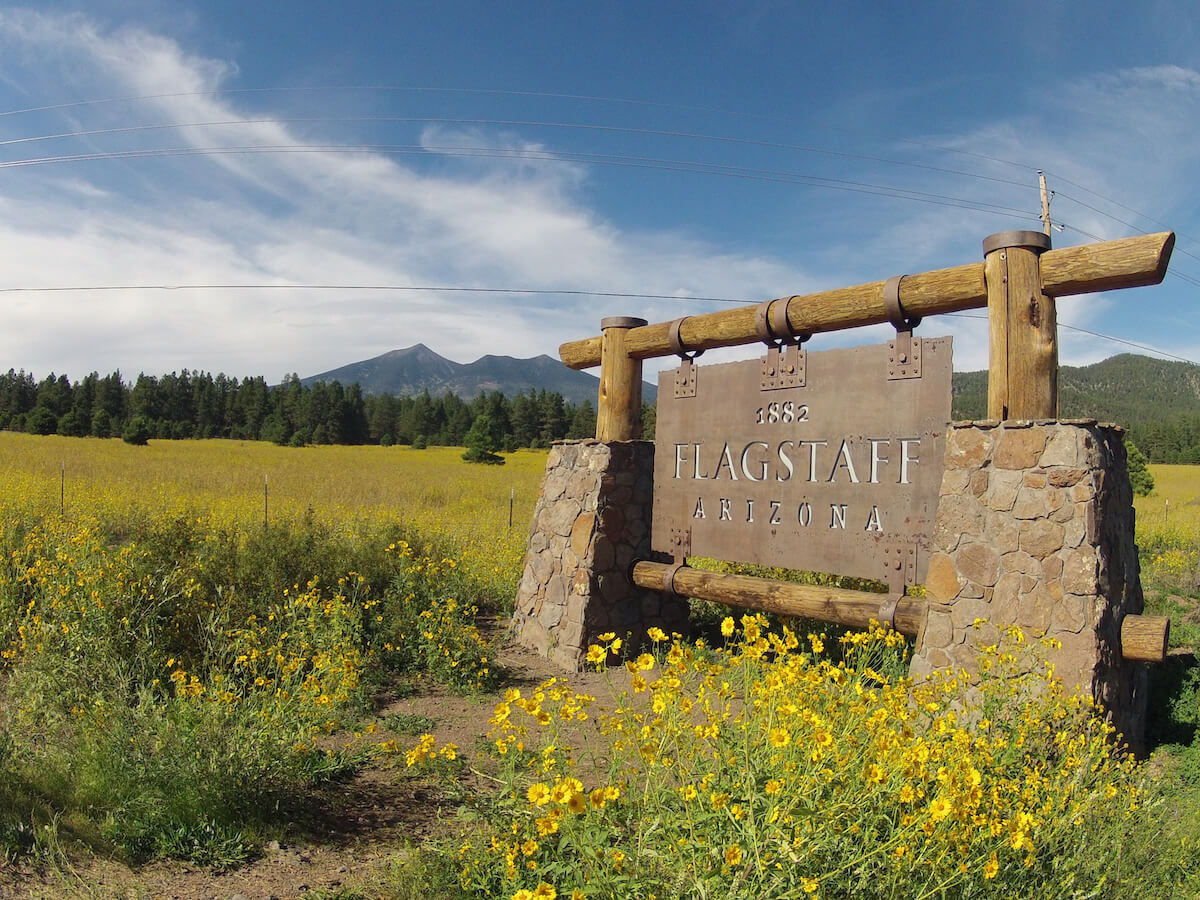 Because of its connection with Route 66 and the associated car culture, classic hits of the 60s such as Easy Rider and the Route 66 TV show contained large segments filmed in and around Flagstaff.
The picturesque mountains and desert feel of the town's outskirts was a perfect fit for classic Westerns – even if many of those had some of their scenes shot far away in Nevada or California.
Some moviegoers will also remember the Flagstaff segment from Forrest Gump; just one more of many little contributions that this town has made to the world of cinema over the years.
13. Strong Winds
Sure, in Flagstaff you're relatively safe from most of Arizona's infamous climate hazards. Monsoons exist, but rarely if ever develop into the flash floods that you get in Tucson.
Likewise, extreme temperatures are rare as well – in fact, extreme cold during the winter is more likely than dangerous heat waves in the summer!
On the other hand, Flagstaff does have one particular weather quirk, and like so many other things about this town, it's all about the fact that it sits so high up.
Yep, thanks to the surrounding volcanic mountain ranges in particular, Flagstaff is known for its perennial gusts of wind, which are the heaviest during springtime.
Sure, truly dangerous storms are rare, but the near-constant windiness in Flagstaff has been known to put off the odd visitor here or there.
It's one of those things you will just need to adjust to!
14. An Excellent University
Flagstaff is famous for being the seat of Northern Arizona University, the third public university in the state after the University of Arizona and Arizona State University. Hosting over 20,000 students, the university community makes up a huge chunk (almost a third!) of the town's young, energetic population.
It's true: compared to its two brothers, NAU has suffered from neglect, with many freshmen and college counselors deriding it as a second-grade choice.
The reality, however, begs to differ, as NAU has consistently shown excellent results in student retention, quality of teaching, and – quite importantly for many of the students there – value for money.
As an interesting aside, Northern Arizona University is also special in that it was the last institution of its kind that was founded before Arizona joined the union in 1912.
15. Golden Hours to No End
No, I'm not talking about the kind of "golden hour" that happens just after sundown, when the sky shifts colors.
I am talking about the beautiful autumn weather that envelops all of Flagstaff in shades of gold and yellow by the end of summer. Because of the many pine trees and the vast mountainous forests surrounding the town, you get some colorful fall landscapes that are quite unlike anywhere else.
16. Legendary Ghost Stories
It might surprise you, but Flagstaff is also famous for its many (supposedly) haunted places.
The Hotel Monte Vista is arguably the most well-known of these, earning fame as a guesthouse for the rich and famous of Old Hollywood's elite, but there are others, like the Weatherford Hotel and the Museum Club.
All of these buildings have been with Flagstaff for at least a century – and all of them have had a reputation for harboring supernatural spirits for just as long.
Do you dare to go and find out for yourself if the rumors are true?