*Some of the links in this post are affiliate links. For full information, please see our disclaimer here.
When learning the French language, nothing beats having a personal French tutor. I speak from experience because I've been learning French using various methods for over a year now. Luckily for you, there are plenty of websites where you can find French tutors online – whatever your goals and budget!
Why get a French tutor online?
I get it. There are tons of ways to learn French. You could download apps like Babbel and sign up for the highly-raved Pimsleur program (try it absolutely free here). You could buy a bunch of French grammar books to practice your conjugations, and you could also listen to French podcasts like Coffee Break French or the audiobooks by French Today.  
And guess what? Each and every method comes with unique benefits that will push your level of French higher and higher. However, having online lessons with a French tutor will really complement other tools and resources. I argue that it's even essential if you want to reach French fluency. Here are some benefits of having a French tutor online:
You get one-to-one lessons: This means personalized French classes, tailored to your needs, your goals, and your level of French. With a personal French tutor online, you can go at your own pace and ask all the questions you want.
It doesn't have to be expensive: For many French learners, the major deterrence of getting private French tuition online is cost. Thankfully, there are platforms to fit any budget. You can use Italki and Preply to find affordable French tutors. For those with a bigger budget, consider using Rype or Fluent City. More on all this coming up soon!
It's convenient: There's no need to travel to a language school when your French lessons are conducted via Skype, Zoom, or other tools. Many of these tutoring services also offer you a flexible schedule, where you can choose your preferred day and time for lessons.
You will improve your speaking skills: It took me about 8 months of learning French, including 300 hours of French lessons, before I was comfortable to speak the language (albeit still with a lot of errors). Your apps, books and podcasts might not be enough for you to hold a spontaneous conversation in French. Having online French lessons with a teacher will pretty much force you to speak French – and get comfortable with it.
Now that's out of the way, let's check out the best French tutoring websites.
Editor's note: To reach fluency faster, combine your lessons with French tutors with other resources, such as apps, books, podcasts, online courses, and YouTube channels. For your convenience, we've compiled a comprehensive list of 50+ French learning resources, including FREE ones. Read it, save it, and share it!
The best French tutoring websites
Italki is a personal favorite of mine. I was hooked on Italki the moment I got started because… it was so fun!
So what is Italki? It's a platform for people like you to find language tutors online. There are over 5,000,000+ language learners on Italki – that's how awesome it is.
On Italki, you'll find a wide variety of community tutors and professional French teachers with whom you can have conversation practice, informal tutoring or structured French lessons.
Lesson prices begin from as little as $4, though most tutors charge between the $10-$20 price range. As I'm on a tight budget, I typically search for low-priced tutors and spend about $8/hr for a conversation class or $12/hr for French lessons. Lessons are conducted via Skype or other communication tools and they run for either 30, 45, 60 or 90 minutes.
To find your tutor, you will view the short video introduction, see the kind of lessons he/she offer, and read the previous reviews left by students.
The best part about Italki is cultural exchange. I speak from experience to say that you can build connections (and friendships!) with French natives and advanced French speakers in France and around the world. Don't wait. Sign up now!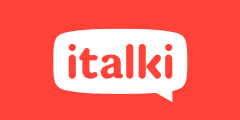 Preply is another website where you can find French tutors online. Like Italki, French tutors on Preply set their own prices, so you can find classes to fit your budget, whether it's $9/hr or $25/hr.
I actually have a gem of a French teacher that I found on Preply. We have weekly lessons where we focus on revising specific French grammar concepts (last week was passé composé and l'imparfait, and this week it's le subjonctif.)
I recommend checking it out, especially since it's free to register and new users have the benefit of trial lessons. Lessons take place on the Preply Space, a video-chat platform designed for your online learning.
I find that compared to Italki, Preply is more focused on structured lessons with a study plan. Italki, on the other hand, seems more focused on conversation practice even though you can find a wide variety of lessons to target specific needs.
Once a brick-and-mortar language school. Live Lingua is a family-owned business that aims to bring language immersion into your home.
There are two types of private French tutoring available: Standard Classes to improve French levels in all areas, and Exam Prep for students who want to excel in a particular certification like DELF or DALF.
In Live Lingua, the hand-picked French tutors are certified and native speaking. Students get auditory and visual learning resources, and they will study French with focused goals and a flexible schedule.
Live Lingua offers a free 30-minute trial session. Subsequent Standard French classes cost $29/hour, with discounts depending on how many hours you purchase.
An online language school, Lingoda conducts French lessons online in small groups or with a private French tutor. To study French on Lingoda, you just need three things: a stable internet connection, a computer, and Zoom.
As a Lingoda student, you'll be exposed to the Lingo learning method and you'll receive free class materials, exercises and quizzes. These materials are created by experts at Lingoda and they comply with CEFR standards.
Prices depend on the subscription you select: whether you'd like to maintain, improve, "step change" or immerse… or whether you'd like to go full-on with a French learning marathon.
Rype is a language membership program that has over 100,000 language learners. They advertise three value propositions: premium teachers, fair prices, and its suitability for busy people.
With Rype, you can learn on-the-go, anywhere and anytime you want. You'll work with professional language teachers online that have been pre-vetted via live one-on-one interviews. These teachers will offer you a personalized language program based on your proficiency level and goals.
You can choose your membership plan based on your desired number of hours per month (4, 6 or 10), and whether you want to pay monthly or prepay for 6 months.
Next up on the list is Fluent City, a language company that offers online classes in 11 languages, including French. You can choose from either group classes that suit your level of French proficiency or learn one-on-one with a French teacher online.
Regarding the payment, you decide on either a monthly subscription with a fixed number of hours each month or go with a prepaid package of 12, 48, 96 or 144 hours.
With any plan you purchase on Fluent City, you will gain access to learning resources including a textbook, video-based learning activities and audio files. Fluent City uses the latest AI and natural language processing technology to ensure you receive highly-relevant content to get fluent faster.
Unsure of your current level? Take a language level assessment now. It's fun and it's free!
If you've fallen in love with sites like Italki and Preply, then you should also check out Verbling which is yet another platform where you can find French teachers online.
On Verbling, you can select from a range of professional French teachers. All Verbling teachers have previous experience teaching their native language to foreign students.
New Verbling users can redeem a first trial lesson that's free of charge. Lessons are taught using Verbling Video instead of other platforms like Skype.
What I like about Verbling is that I can easily see where the teacher is from and how many lessons he/she has conducted thus far. Also, Verbling tutors can only teach only one language, meaning they're teaching you their strongest language. (Because I do have doubts about tutors who teach multiple languages and claim to be a master in them all.)
The downside is that there are fewer French tutors to choose from, especially at the lower price range. However, in all, you can still get excellent value for your money on Verbling.
French à La Carte has been conducting French classes in Paris since 2012. Students have lessons when and where it suits them best – at home, in the office, or in a cafe. These days, French à La Carte offers online French lessons via Skype and Zoom, so you don't have to be in Paris to benefit from their services.
The company comprises a small team of 13 native French tutors that are all highly experienced in teaching French. Reading the incredible reviews that the tutors received on Google Maps, I have no doubt that each and every one of them is passionate about what they do.
A single lesson costs €48/hr, after which you can commit to a package of 10 lessons. And if you end up in Paris in future, you can continue your lessons face-to-face with your tutor. How nice is that?
You want to learn French faster, and French Faster knows it.
This online French language school has been operating since 2005 and they boast an accelerated learning method to help you learn French 3x faster! This method is based on three principles: constructivism, participative learning, and memorization techniques. All teachers are trained in this method as well as in teaching French as a Foreign Language.
You can sign up for a free trial where you'll be assigned the most suitable teacher based on your availability and objectives. Following that, you can purchase a program of 4 to 40 hours. Students of all levels from A1 to C2 are welcome and lessons are delivered via Skype.
Verbal Planet is a language training and tuition service that employs over 2,000 native speaking language teachers improving the skills of students in over 100 countries. They offer lessons in over 30 languages, including French.
After signing up, you can browse through French tutors' profiles and choose based on his/her availability, price and reviews. Many tutors offer free or discounted first lessons, in which you discuss your goals or get a free learning plan.
Lessons on Verbal Planet are conducted through Skype. At the end of each lesson, the tutor will assess your performance and provide you feedback. This continual assessment enables you to monitor your progress and strive for improvements.
We are all here because we want to learn French from the comforts of home. Started in 2004, Learn French at Home was the first school on the internet to offer French lessons on Skype!
Students have access to in-house materials in the form of e-books and they will get homework after lessons (yay!) which will be corrected and returned. Even more extra work is available for students who want them.
Learn French at Home has Regular and Intensive Programs, DELF-DALF Exam Preparation Courses, Business French Lessons, as well as Conversation Sessions. French tutors on the team are carefully selected based on their past teaching experience, ability to speak English, flexibility and patience, and other factors.
Chegg Tutors is another website where you pay for French lessons via a membership fee model. For a subscription fee of $30/month, you will get 60 minutes worth of lessons with French tutors.
This learning platform isn't specialized for languages; in fact, on Chegg Tutors, you can find a tutor that can help you with Algebra or Biology too. That said, Chegg Tutors has hundreds of French tutors who can help you master the French language.
To get started, you first have to submit a form detailing the kind of help you need. The platform will match you with tutors that are best suited for what you'd like to achieve, and are ready to help right away. Then, you enter your live lesson and begin.
Other websites to find French teachers online
The internet is a vast space and if you keep looking, you'll find an endless supply of websites offering private French tuition online. Some of these websites are run by highly-experienced individual French teachers, while the rest contains a wide selection of French teachers and tutors.
Here are the honorable mentions:
If you know any other awesome websites to find online French tutors, share it with me in the comment box below and I might just add it into this list!
Best websites to find French tutors online – Pin it!