*Some of the links in this post are affiliate links. For full information, please see our disclaimer here.
Learning Indonesian will enrich your life. Whether your goal is to learn the basics or to master the language, you can take advantage of a variety of apps to learn Indonesian. Trust us, when you're in Indonesia, a little bit of Bahasa Indonesia will go a long way.
So, what are the best apps to learn Indonesian? We highly recommend using Babbel, accompanied by the well-known Pimsleur app. Also, consider Duolingo and Rosetta Stone, and lesser-known apps such as Rasa Bahasa, Learning Indonesian and Learn Bahasa Indonesian.
Nothing beats the human touch while you're learning a language, so use Italki or Preply find affordable native tutors for lessons or conversation practice.
Below, you'll find information on these great apps to learn Indonesian.
1. Babbel
If you want to have a comprehensive curriculum crafted by experts around the globe, Babbel is the app for you to learn Indonesian.
Upon registration, you will take a diagnostic exam to assess your skill level. The app creates a learning path for you. You configure the speech recognition, you choose a lesson and then you're ready to start learning.
Babbel integrates a lot of storytelling to keep users engaged. It teaches new vocabulary and grammar through exercises like multiple choices, the repetition of words, and the matching of phrases or sentences. You'll also encounter interesting dialogue with audio clips. In between every exercise, there is a short rundown of the lesson to highlight points learned.
Why we love Babbel:
Gets you ready for everyday conversations
Top-notch speech recognition
Thorough lesson plans
PRICE: Babbel offers a free trial. After that, subscriptions start from as low as $6.95 a month.
A platform that connects language learners with tutors, Italki is used by millions worldwide. With Italki, you can find Indonesian tutors and have on-on-one lessons online via a video call. These lessons run for either 30, 45, 60 or 90 minutes, and prices start from just $4.
The nature of the lessons depend on your goals; you can find community tutors that offer conversation lessons and informal tutoring, as well as professional tutors that offer structured lessons focused on vocabulary and grammar.
The best part about Italki is the cultural immersion. You can get to know Indonesians and chat with them about anything under the sun! It can get quite addictive to make friends while learning Indonesian on Italki. Try it now.
Why we love Italki:
You pay per lesson
Useful for conversation practice
Affordable Indonesian tutors
It's really fun!
PRICE: It's free to use Italki's community feature to search for language exchange partners. Lessons with tutors start from $4, though most tutors charge around $8 per hour.
3. Duolingo
Duolingo is one of the most well-known language learning apps in the business, and with good reason! Upon registration, Duolingo lets you set a daily goal and creates a program filled with five-minute lessons suited to your language level. It then sends reminders to keep you on track with your learning.
The lessons are set in a game-like environment complete with levels and rewards. This keeps you motivated throughout your journey of learning Indonesian.
In the beginning, lessons focus solely on expanding your vocabulary. Later on, it develops into lessons that work on your listening comprehension skills to prepare you for IRL use.
Why we love Duolingo:
Great for beginners
Fun to play
Drills in vocabulary
Teaches you how to construct sentences
PRICE: Free! But if you want to get rid of ads and have unlimited lives, Duolingo Plus is available for $7/month.
If you're looking to invest in an app that will improve your Indonesian conversational skills by leaps and bounds, Pimsleur is here for you.
You'll learn Indonesian based on the world-famous Pimsleur Method that will get you speaking Bahasa on your very first day. The Pimsleur Method combines well-established research and an intuitive learning process. With the Pimsleur audio course, you'll dive into the basics of the Indonesian language using essential vocabulary and grammar. Try the full program free for seven days!
Why we love Pimsleur:
Learn simple but useful phrases
Strong focus on conversational skills
Tune in to the audio anytime and anywhere
PRICE: The whole course is free for seven days! After that, you can buy a bundle of five lessons for $21.95, or pick up the full course for $119.95.
5. Mondly
Mondly is an app that is accessible on both mobile and PC. It is the same as Duolingo in that it gamifies the learning process for users. Heck, their tagline is even "playing your way to a new language."
This app makes use of a combination of course materials, augmented reality and chatbots to keep you engaged and motivated.
It allows users to learn practical phrases for daily conversation. The range of topics include greetings, phrases that allow you to introduce friends/family, order a cup of coffee, ask for directions, and so on. This way, you can slowly build your language fluency and practice in real-life every day.
Why we love Mondly:
Thorough in teaching vocabulary
Gives proper context to words
Based on methods that aide memorization
PRICE: Free for the initial "hello" topic (level 1) which includes seven lessons as well as a daily lesson. A paid account starts at $47.99 per year and unlocks the rest of the topics.
6. Learn Bahasa Indonesian
If all you're willing to learn at the moment are key phrases to get you by, then this is the app for you.
Learn Bahasa Indonesian is an easy-to-use phrasebook with a carefully translated list of essential phrases. The list of phrases include topics such as greetings, phrases for general conversation, eating out, and directions. The app also includes audio files spoken by a native speaker adjusted to make it easily understandable for non-speakers.
With the app, you will get comfortable with using the Indonesian language. It also aids in making you familiar with the sentence structures and pronunciations.
Why we love Learn Bahasa Indonesian:
Good range of phrases organized categorically
Save your favorite phrases
Search based on keywords
Convenient for travel to Indonesia
PRICE: Free
7. Learning Indonesian
Learning Indonesian is an app that plays a beginner's audio course in Indonesian Bahasa. It is based on a very popular online course.
The app features 20 lessons geared towards developing conversational fluency and best suits beginners. The method used in the course is Challenge and Response. They will teach the meaning, proper use, and pronunciation of a word. You are then expected to repeat it back. At the end of each lesson, you will partake in a mini quiz to test and recall what you have learned. Lessons includes greetings, how to introduce yourself, and how to express love and affection, among others.
When you register, you will also receive a learning guide for support while you listen.
Why we love Learning Indonesian:
Fun and easy-to-follow lessons
Lessons are done in bite-sized segments
Easy to retain knowledge
Can be used while in commute or running errands
PRICE: Free for twenty 10-minute basic lessons. Premium costs $149.96 for lifetime access.
8. Rasa Bahasa
Rasa Bahasa is a simple and easy-to-use app developed by the South Australian Department of Education. It supports students in the early years to develop and practice their Indonesian language skills. The app teaches primarily through flashcards but also features five other games.
The app has audio clips that help you learn correct pronunciation of words, and also allows you to record how you've said it so you can play it back to yourself later on.
Why we love Rasa Bahasa:
App is tetris-like and includes memory games with Indonesian words
Engaging and enjoyable, even for younger learners
PRICE: Free
Related Questions
Why is it important to learn Indonesian Bahasa?
There are just some things that cannot be translated. A little Indonesian goes a long way in distinguishing you from a passerby tourist to a person who appreciates the local culture.
With the language in your back pocket, you'll have the key to unlock many more doors which would otherwise not have been an option. Language proficiency helps you travel more independently because you don't have to rely on another person to translate everything. It also affords you better prices and you get to avoid scams.
In addition, Bahasa can be understood in Malaysia and Brunei as well. Hence, if you are not happy communicating with the 250 million Indonesians during your stay, you have a couple more just across the sea to have real conversations with. Sounds like a good deal to us!
Is Indonesian easy to learn?  
In comparison to other Asian languages, Indonesian Bahasa is much easier. The language uses the Roman alphabet, meaning it does not contain any special characters. There are no tones or tenses, and it does not require changes when it comes to saluting a certain gender. It's one of the easiest languages and sometimes all it takes are apps to learn Indonesian.
How long does it take to learn Indonesian?
According to experts, it takes 900 hours to learn the Indonesian language completely. This means that it will only take roughly three months of dedicated language learning and you'll be ready to hit the streets!
What is the best way to learn Indonesian?
In conjunction with apps to learn Indonesian, it is also good to have classes or a study group. You can hire tutors on language learning platforms such as Preply and Italki to assist you on your course or just to put your lesson into practical use and have conversations in Indonesian.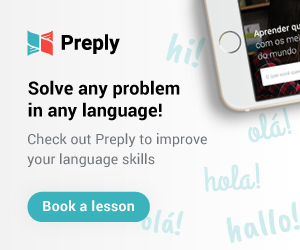 You can listen to Indonesian language podcasts. For example, IndonesianPod101 is a popular podcast that features audio lessons for every type of learning. It has a seven-day fluency fast course. Fan of Gordon Ramsey? Good. You could even watch the cooking competition, Master Chef Indonesia!
As you can see, there are plenty of awesome media in Indonesian that would be both educational and enjoyable for learners. All it takes is a search on Google, or a quick join on Indonesian language learning groups on Facebook.
Whatever route you choose or whichever app gets the download, what's important is to stick with the lessons and enjoy the ride. Every adventure starts with a single step, but if these steps lead to the temples of Java, the streets of Jakarta, or the waves in Bali, then it is all worth it.
If you're learning another language apart from Bahasa Indonesia, check out other articles in this series! We've covered the best apps to learn languages such as Thai, Turkish and Tagalog.
Apps to learn indonesian – Pin it!